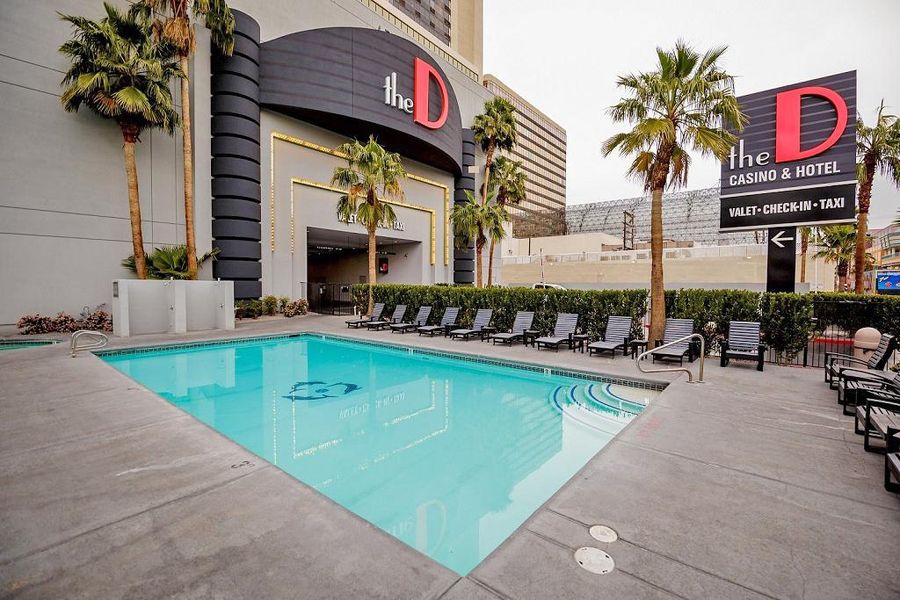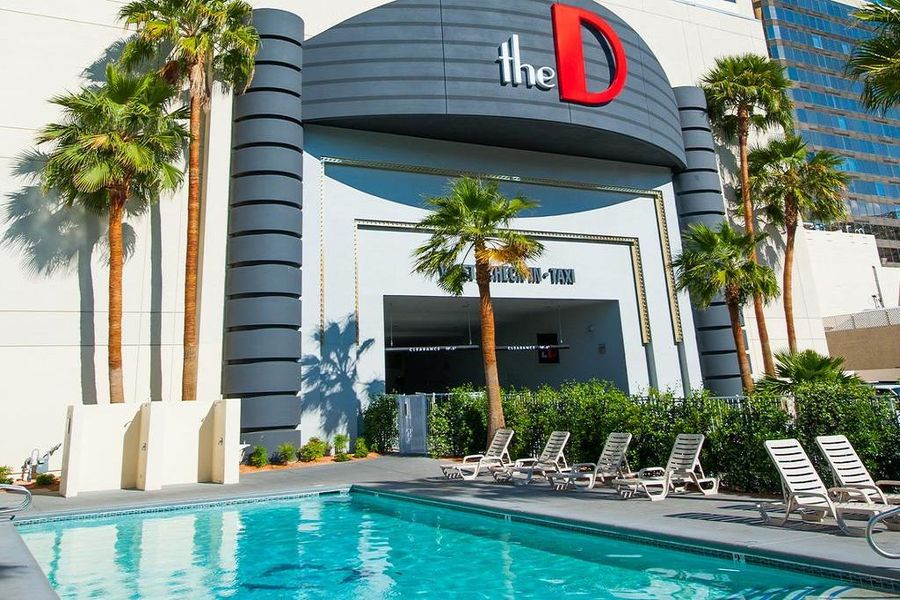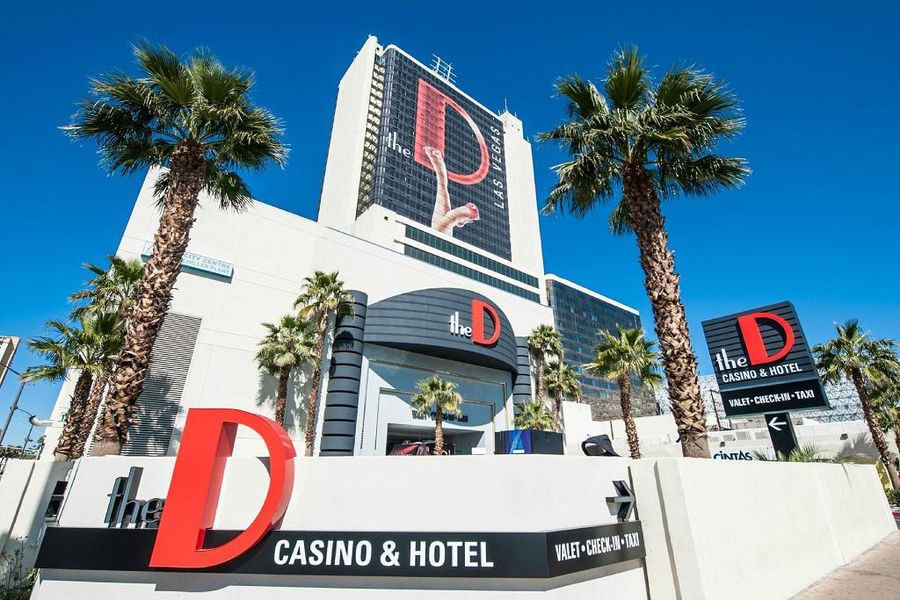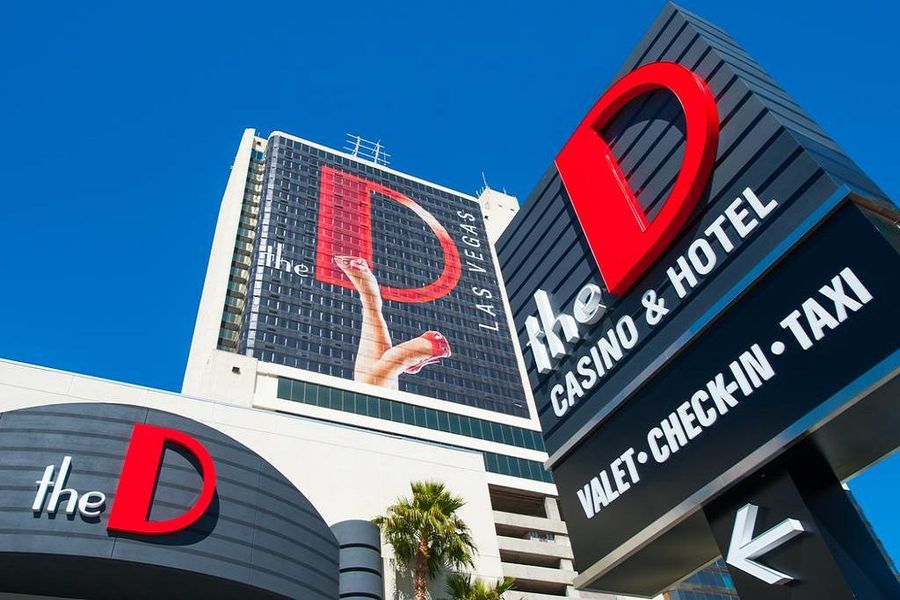 Property Location The D Las Vegas is centrally located in Las Vegas, a 3-minute walk from The D Casino Hotel and 6 minutes by foot from Mob Museum. This casino hotel is 1.1 mi (1.8 km) from Smith Center for the Performing Arts and 1.5 mi (2.4 km) from Las Vegas Premium Outlets North. Distances are...
More details
OpenWeather
Select the date of your trip to check room availability.
Property Info
Check-in starts at: 15:00
Check-out ends at: 11:00
Property Location The D Las Vegas is centrally located in Las Vegas, a 3-minute walk from The D Casino Hotel and 6 minutes by foot from Mob Museum. This casino hotel is 1.1 mi (1.8 km) from Smith Center for the Performing Arts and 1.5 mi (2.4 km) from Las Vegas Premium Outlets North. Distances are displayed to the nearest 0.1 mile and kilometer. - Fremont Street - 0.2 km / 0.1 mi - The D Casino Hotel - 0.2 km / 0.1 mi - Fremont Street Experience - 0.2 km / 0.1 mi - Four Queens Casino - 0.3 km / 0.2 mi - Mob Museum - 0.5 km / 0.3 mi - The Neon Museum - 1.3 km / 0.8 mi - Discovery Children's M...
301 Fremont St, Las Vegas, NV 89101, USA - Las Vegas, Nevada - U.S - 89101
Property Amenities
Check-in starts at: 15:00
Check-out ends at: 11:00
Guest rating
TripAdvisor
Travelers rating
Excellent

1220

Very Good

1159

Good

574

Reasonable

282

Bad

281
Travelers profile
Business

218

Couples

1278

Solo travel

285

Family

539

Friends getaway

852
Scores Summary
Cleanliness

Location

Rooms

Service

Sleep Quality

Value
Don't don't stay here if you want to sleep
Reviewed 5 august, 2022
As someone who has come to Vegas well over 50 times in the past 10 years, This has to be my worst hotel stay. I travel often for work, and because I had a speaking engagement close to the hotel I was about booked at The D. I paid extra for a smoking room. The room I was assigned was fine, generally clean, but dated with a view of machines on the roof. The issue began at 5 o'clock in the morning when I was woken up by what sounded like jackhammering and drilling. It was beyond loud enough to wake me up and I wasn't clear if it was my AC making the noise or something else. After a few minutes I couldn't take it anymore and called the front desk (it took two calls, the first time it rang for three minutes and no one answered) where I was informed that they would send someone up to check on it. (Mind you this is still 5 AM.) When the people came they said that the noise was not coming from my room air conditioner but from a construction crew that they have working underneath my room. The repair guy said they were not supposed to start drilling until 8 AM but sometimes they did not listen. I called back to the front desk to see about getting moved and they said the only thing they had available for me was the room directly above mine which would give me the same noise, or even noisier room on the Fremont side. She also said that she could move me to a non-smoking room —but didn't have many & could not refund me the additional cost that I paid for it. She also said she did not have the power to stop construction from being loud at 5 AM. She was unhelpful and said If I wanted any further options I had to wait until 9 AM when a manager showed up. I spent the next four hours wide awake on 3.5 hrs of sleep before my huge presentation because of the loud noise —- this is not passerby sounds or distant music, this is LITERALLY a jackhammer in your room. When 9a rolled around & I finally got to the front desk the person on duty said that they usually have "regulars" in that room which is why they feel OK about starting construction at 5 AM. They basically made it seem like I was being unreasonable for not wanting to deal with their construction noise like the regulars do. There was no apologies given, And I was told that I could either check out, not comping anything for the miserable night I just spent, and find a new hotel (again this one was selected because of its walking distance to the work venue) Or they can move me to a non-smoking room but finally agreed to give me my additional smoking room fees back.. The new room I was assigned was quieter, but definitely even more dated… no outlets next to the beds and a 22 inch TV. Any hotel that believes that customer should have to deal with 5a construction is absurd. The customer service here is severely lacking, and the fact that their workers don't have the autonomy to move guests in extenuating circumstances is disappointing. Do not recommend
lwhitneyb
D best location
Reviewed 3 august, 2022
Let me start by saying, We love the D and will be staying there again. When we arrived our room wasn't ready. Now to be fair, we got to the D a little after 9:ooam. We knew the room wouldn't be ready. So we checked our bags and went to grab some breakfast after our long flight and trip from the airport. Our room was ready around 1:00. Plenty to do on Fremont St. so not a problem. When entering the room it was very hot. I checked the A/C it was set to 72 and was on high. I noticed there wasn't much air flow coming out of the unit for high. I didn't call the desk to complain. I instead pulled the filters out and it looked like they hadn't been cleaned in months or at all. They were clogged. I took them to the sink, washed them out and put them back in. Air was flowing much nicer then. We left for about three hours and when returned, the room was nice and cool. I noticed the room wasn't filthy but wasn't as clean as it could be. The bed was nice and crisp and the bathroom was spotless. The door to cabinet where the minifridge is at was just hanging on by one hinge. Also ice machines are on every other floor. So we had to go up one or down one to get ice. The pool its self is great at The D. The issues I had, was with the area around the pool. The chairs are all black and sit in the Vegas sun almost all day. I get that black is the D color scheme, but really. I'm surprised someone has gotten burned badly on those. Then one morning we came down and there were no towels. I went to the desk and was told "we ran out of towels. Should have some tomorrow". We got our towels from the room and came back down. Then as we were enjoying the pool. the far gate opens up and someone runs in, does a flip into the pool. Then she climbs back out and does it again, get out and runs out of the gate. it was a homeless bowman fully clothed expect for shoes. We didn't let anyone know, because what are they going to do, she was already gone. The issue is the gate. The handle and latch system is way to high. you can easily reach over and let yourself in without a key card. I did it twice to show my wife how the lady got in. Also they close the pool at 7:00pm that's just not right. Not everyone that stays there wants to go stand in your pool at Circa. Fix the gate and open the pool until at least 9:00 pm., even if you have to make it 21 and over after 7:00pm. The casino is great, lots of fun. Glad to see they have an actual Keno lounge. Not everyone like play the video machine Keno. Sigma derby is as fun as gets, I even got a free shirt. The drinks are great here too. I cant say anything about the restaurants in the D, we didn't eat at any except for McDonalds for breakfast a couple times. The thing that puts the D on our favorite list is the location and ease of getting to your from Fremont. The hotel and casino are not as big as most and if you know how to navigate the area, its a quick trip from the street to your room. Staff the we interacted with for the most part were nice, friendly and helpful. Like I said its not perfect, could be with a little work, but we still like it and will be back. Also having the stage right outside the door is great. Never far from a free concert.
rlee026
Absolutely terrible
Reviewed 27 july, 2022
Where do I start , charged resort fees when we got there $36 a night ( which is illegal in nevada, see my picture ) they said it was for house keeping and parking , we didn't have a car and we were there for 5 days and they never came in to the room Once or gave us fresh towels ,the music from Fremont street was so loud that the windows were shaking until 2 am , they started drill g and banging every morning at 6 am , the price of drinks from there outside bar . 2 coors lite for $38 it's a rip off , completly ruined our whole holiday , I'm Sri here now and can't wait to check out today and wi never ever come back here and am also contacting a lawyer about the illegal fees, if I could give minus stars I would STAY AWAY You do not legally have to pay any hotel resort fee. Resort fees are in violation of Nevada's Deceptive Trade Practices Law.
Roxybailey
Terrible guest service
Reviewed 18 july, 2022
We where booked 3 nights. Our room was terrible. The music from Freemont street was so loud our hotel room windows where shaking till 3 am. House keeping never came. So we actually checked out the second night. Would not recommend this place if you want to get any rest at all. Also there is No room service.
I2215LEnickw
Terrible place to take a family
Reviewed 10 july, 2022
The D is a low class motel casino and who ever wrote the reviews on this website was a not a real person because this motel is whoribble! Guest harassment services will give you major anxiety- if you want rest don't waste your money here-everything is dated and the walls are paper thin- if want drugs and hoes like a no tell motel than this is the place for you!!! I don't see this establishment being around too much longer -Have a nice trip and save yourself the headache and do yourself a favor no matter how good the deal seems pass this one by! It isn't worth it!! A motel 6 and an Uber ride to a better Casino are a better option I promise! Don't stay at the D.....ump
MommaBear1976