Green Nature Diamond Hotel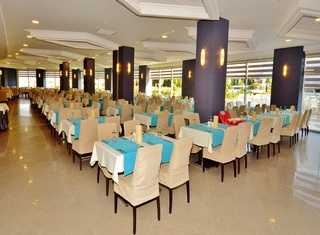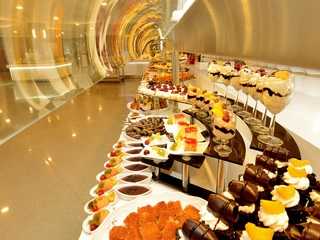 TripAdvisor Review
Based on 4104 review
See all
This modern, all-inclusive resort hotel is built on 40.000 hectares of land and offers the complete holiday experience for both families and couples. Its beachfront location guarantees that its guests will be able to step on the sandy strip just minutes after leaving their beautifully appointed room...
More details
Availability
Select the date of your trip
Select the date of your trip to check room availability.
Property Info
This modern, all-inclusive resort hotel is built on 40.000 hectares of land and offers the complete holiday experience for both families and couples. Its beachfront location guarantees that its guests will be able to step on the sandy strip just minutes after leaving their beautifully appointed rooms. It also boasts an outdoor pool where they can enjoy the Mediterranean climate when the sea isn't that calm and an indoor pool for year round fun. The modern Spa and wellness centre is the place where one can feel truly pampered as it offers a sauna, hot tub, Turkish bath and a Hammam, plus profes...
More details
Check-in starts at: 15:00
Check-out ends at: 11:00
Property Amenities
Reception services
Concierge
Guest rating
TripAdvisor
Travelers rating
Excellent

2860

Very Good

610

Good

352

Reasonable

145

Bad

137
Travelers profile
Business

90

Couples

1073

Solo travel

86

Family

1805

Friends getaway

784
Scores Summary
Cleanliness

Location

Rooms

Service

Sleep Quality

Value
Lacklustre Luxury and repetitive food.
Reviewed 17 november, 2021
How many times can you go on holiday and say the best meal in a luxury hotel is a jacket potato and chicken ? Well after staying here I can I'm honestly say that I feel this hotel is an expired presence in the luxury market. I like adventure and variation when you are paying this kind of money, not poor and very repetitive, spicy beef noodles on for 5 days and no variation, this is not down to Covid times this is down to lack of imagination and not the best creative team, reputation is being spoilt here and those who have stayed before need to honestly think it's not the same hotel they know. Most luxury hotels have a 7 day profile where nothing repeats, not here, it was same old day in day out, there's lots of variation in the resort when going to restaurants, using the best ingredients but this hotel has not done that, I feel by offering poor choice it's driven people out and about. Read another review maybe right not catering for the uk pallet but I like to try local and good food freshly cooked. This wasn't it, feel that the hotel management made cutbacks and became greedy by offering the same poor choices, nothing cooked specially for you like pics showed you and you'd get in other good hotels. We weren't originally booked for this hotel, we were meant to stay at a favourite of ours the Casa de Maris, but they stayed closed as felt didn't have staff in place that could offer the calibre that they like to deliver, maybe the best thing for reputation to do. I like to eat out a couple of times and taste local cuisine, but after 5/6 days we were going out for meals inc breakfast as cheese on toast can get a bit too much. Nothing for kids. Snack bar chips and onion rings, plus processed poor kebabs. Spaghetti Bol every meal time is way too much. A slice of pizza would of been nice. Staff there were some that didn't care, a bit rude and just didn't want to help, I think on the whole 25/30 % cared and were friendly. Entertainment team and entertainment was poor, no shows of a decent nature, the team worked hard but it was lacking a lot. Rooms clean and tidy Hotel is way to big to care, has no soul and lacks friendly vibe. The little bar inside near reception was pleasant and some lovely staff in there who knew how to deliver good service. Felt reception lacked a good personal touch.
I4645VKmartinc
Nothing like what we expected
Reviewed 13 november, 2021
Chose this hotel after hearing and reading so many fantastic reviews, never again!. I'll start with the positives Location, daily restock of mini bar in room, Chinese food was the best choice, bell boy called Rambo, what a lovely lad! Negatives Cold food, dirty in places, the pool bar seating was not cleaned often enough so dirty plates on table resulting in flys. I got bitten while sat there leading to cellulitis and spending £100 to see the doctor for antibiotics. When the tables were cleaned it was with dirty cloths, no wonder we had the runs after we ate there! No waiter service. Russians got priority being served first. Not much entertainment especially during the day, there was bingo a few days but you have to pay. Room was ok, nothing special considering how highly rated it is. Only got 1 blanket which didn't even cover the bed when empty so the husband was left coverless every night lol. There are much better hotels in Marm than this for a lot cheaper so I'd advise you save some money and book elsewhere
charlottefJ9501CF
Defiantly not a 4/5 star hotel!!
Reviewed 10 november, 2021
We got moved here from the green nature resort for the last few days of our holiday, they claimed this was an upgrade well what a complete downgrade this was. Being moved to this hotel actually ruined the rest of our holiday, and will be using the resort from now on defiantly not returning ever. In a way I'm glad I got to see what it was like before I actually forked out the money to come stay here. The rooms were not cleaned before we got moved in ours, there was opened and used bottles of water which had been left. I had to ring down and actually ask them to come change bed sheets etc, where as in the resort they came everyday to change our bedsheets. You could just tell they hadn't put the effort into cleaning it properly at all. Under the beds were filthy 🤮 found alsorts underneath them. The staff I found were very rude and unhelpful whenever I went up to the bar- most were on the phones and didn't serve you straight away, everything just seemed to be a massive effort for them. We even went to one bar and they tried charging us for milk for our young baby? Quite laughable considering we were all inclusive. I went and asked for some straws as I saw them behind the bar and they told me they had none? The staff member did not understand at all and had to go ask someone else for them. Staff at the reception desk were rude and unhelpful. The jet 2 rep you also have working in this hotel his name was Cam or Can not sure which one it was, was extremely rude and after speaking to a few guests a lot of people have said the same. Another guest actually had to tell him to move away as he was shouting infront of my children, after I told himself to move away but he refused 🤷‍♀️ The security guard grabbed my partners hand and took his phone out of his hand- which is actual assault, not sure why they think it's acceptable to put their physical hands on their guests. Guests were smoking at non smoking tables outside which was pointless having them in place? On on occasion the entertainment team were dressed up as superheroes and completely ignored my son and walked past when he was so excited to see them, which I find disgusting. We played bingo one afternoon and couldn't even hear the numbers properly🤷‍♀️🤦🏽‍♀️The environment and vibe at this hotel just isn't very family friendly, Safe to say we've had an terrible experience here and will not be returning, we are put off 100% and will be taking this complaint further with jet 2. The only positive I can actually say is the location of the hotel, and how they refilled the mini bar everyday in your room. Food was okay you get what you pay for with all inclusive 🤷‍♀️ One chef in particular in the restaurant never cracked a smile and just slammed the food on your plate, not exactly a very approachle member of staff. A lot of people have mentioned covid and end of season but sorry that isn't an excuse, staff should still put the effort in for their guests and go above and beyond to make them feel comfortable etc.
DayTrip406262
Fab holiday. Cannot wait to return.
Reviewed 8 november, 2021
Cannot fault this hotel. All the staff are lovely, especially the entertainment team - they are so friendly and always happy. We loved playing darts, ping pong, boccia and other activities with Dean. The hotel has been quiet as it is the last few weeks of the season but we have still had a great holiday and would definitely come back. It is worth paying extra for the sea view room, the view is amazing.
helenelliott333
Beautiful hotel excellent facilities under the circumstances, all staff and entertainment team made us feel so welcome can't wa
Reviewed 7 november, 2021
Beautiful hotel rooms 1st class, all staff doing there best under the circumstances, entertainment team are so friendly, would 100% recommend and can't wait to return next year.we had a Seaview room and it was gorgeous, some lovely resteraunts within walking distance and direct acess to the beach and watersports.
linda p