Sheraton New York Times Square Hotel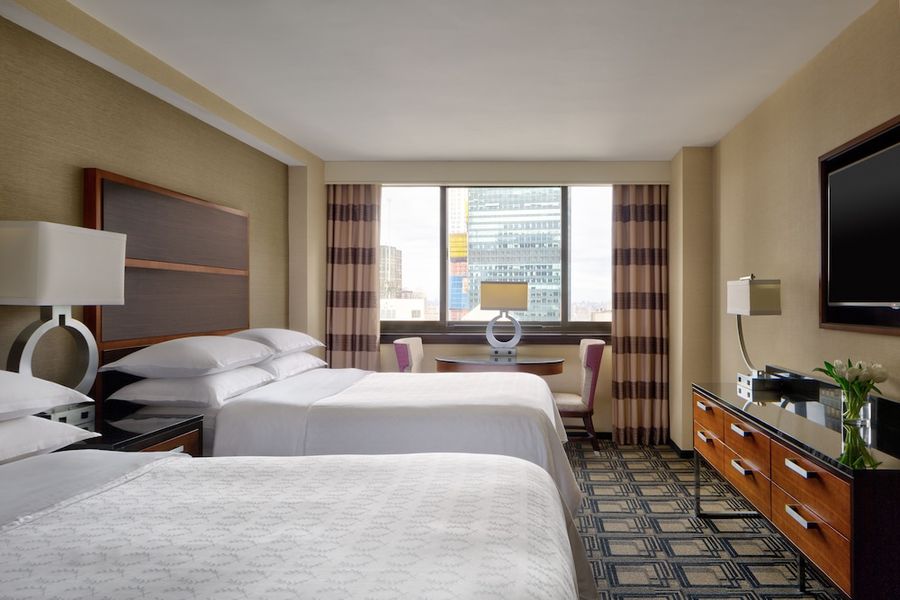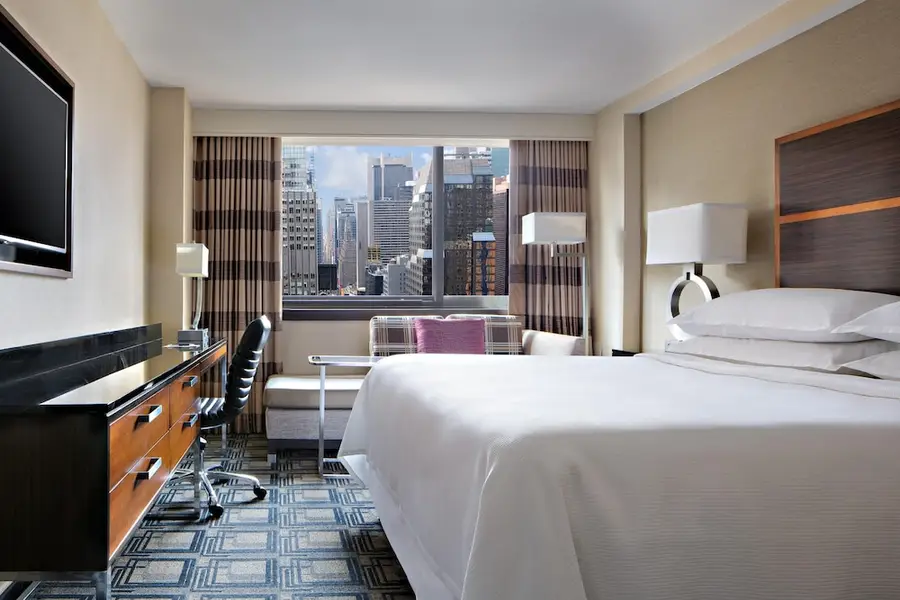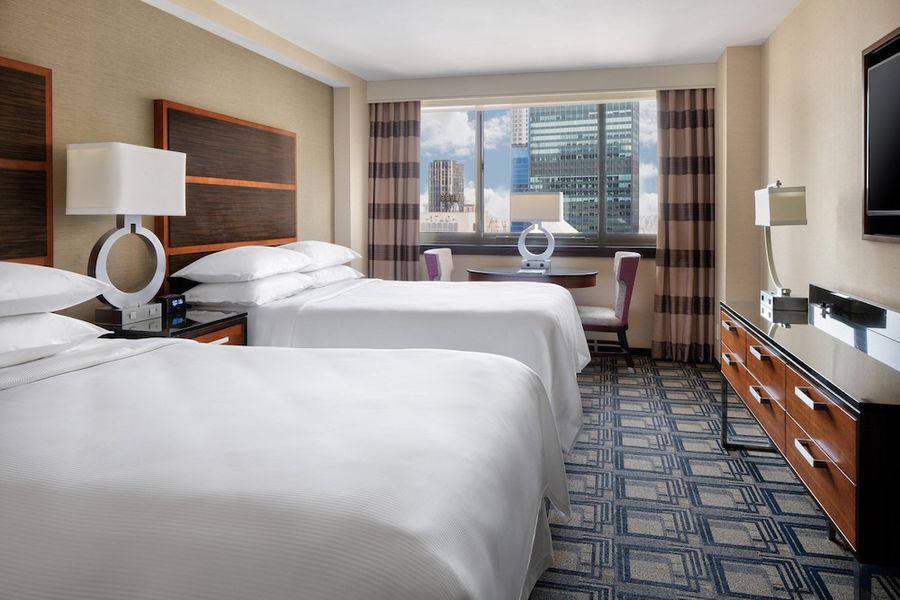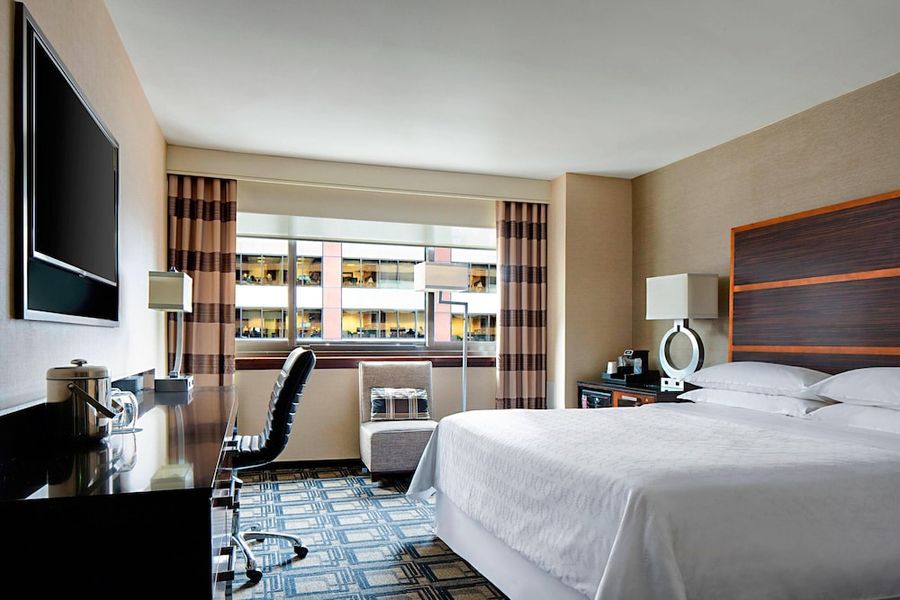 Property Location With a stay at Sheraton New York Times Square Hotel, you'll be centrally located in New York, steps from Broadway and 3 minutes by foot from Rockefeller Center. This 4-star hotel is 0.2 mi (0.4 km) from Times Square and 0.5 mi (0.8 km) from Central Park. Distances are displayed t...
More details
OpenWeather
Select the date of your trip to check room availability.
Property Info
Check-in starts at: 15:00
Check-out ends at: 11:00
Property Location With a stay at Sheraton New York Times Square Hotel, you'll be centrally located in New York, steps from Broadway and 3 minutes by foot from Rockefeller Center. This 4-star hotel is 0.2 mi (0.4 km) from Times Square and 0.5 mi (0.8 km) from Central Park. Distances are displayed to the nearest 0.1 mile and kilometer. - Broadway Theatre - 0.2 km / 0.1 mi - Winter Garden Theatre - 0.2 km / 0.1 mi - Broadway \- 0.2 km / 0.1 mi - Rockefeller Center - 0.3 km / 0.2 mi - Carnegie Hall - 0.3 km / 0.2 mi - Gershwin Theater - 0.3 km / 0.2 mi - Times Square - 0.4 km / 0.2 mi - Radio Ci...
811 7th Ave, New York, NY 10019, USA - New York, New York - U.S - 10019
Property Amenities
Check-in starts at: 15:00
Check-out ends at: 11:00
Guest rating
TripAdvisor
Travelers rating
Excellent

3991

Very Good

4016

Good

2099

Reasonable

856

Bad

683
Travelers profile
Business

2617

Couples

2733

Solo travel

412

Family

3749

Friends getaway

1234
Scores Summary
Cleanliness

Location

Rooms

Service

Sleep Quality

Value
WORST hotel experience ever!
Reviewed 15 march, 2023
This was one of the WORST hotel experiences I have had. From the flimsy blanked that was not more than a top sheet, to horrible pillows to the fitness center where only 5 of the 7 Peloton bikes even worked and of those, only 2 were able to adjust the settings. The coffee bar in the lobby was without a barrista and the hours were completely inconsistent. But worst of all was the lack of consideration of the groups. During my stay there was a large group of inernational Model UN Students. You would think these students who aspire to be ambassadors would have respect for other people. My room was right interspersed among these students who were up until 1am. Interestingly I checked in alongside another member of the conference I was attending. This guest was asked if he wanted to upgrade his room for $30 to be on a higher floor away from the students. I was not given that option. And lastly, the room was dusty and another colleague shared that there was a pair of underwear behind her pillows. I will never ever ever stay in this hotel again. Marriott, you can do better!!!!
WEndy W
Meeting at Sheraton plus a weekend extension due to a canceled flight
Reviewed 11 march, 2023
Good hotel in a strategic position. Good service. Rates vary wildly according to whether you ha ve particular agreement / discount / convention. Lift management is crazy and you may wait for half an hour before getting to your floor during rush hours. The reception guys / ladies were very helpful and supportive... I had to extend my stay and doing this in the Internet era does not seem to be so easy,,,
Giovanni G
Dated and impersonal but clean add terrific location.
Reviewed 26 february, 2023
Asked for a room with a view, and the receptionist pulled out an old mimeograph sheet with an upsell charge. The room had no view whatsoever, except for looking directly into office building across the street. They removed the charge at check out, but still. Room itself was sizable for that part of New York, and linens were very good as was the bed and bath. Furnishings are pretty banged up, and the entire hotel could use a refresh. But, the room and the public spaces were immaculate. The lobby has no character and just seems like a sad train station from the 70s. You can't beat the location though. Just far enough from Times Square to breathe, but close enough to a diverse array of eateries from Le Bernardin to Urban Hawker. I'd say this is more of a three star than a four star hotel, but the cleanliness and room size may tip it over into the four range.
Go4Travelyo
ADULT STAFF ENTER CHILD'S ROOM WITHOUT PERMISSION, DIRTY, POOR COMMUNICATION,
Reviewed 26 february, 2023
ADULT HOTEL STAFF REPEATEDLY ENTERED CHILD'S ROOM WITHOUT PERMISSION. DAY 1 We arrived to find out our room wouldn't fit the roll out bed we had requested as the hotel was unable to confirm with us ahead of time whether or not the room would allow a rollaway. A larger room at a similar price wasn't available so we had to pay double and rent another room. - Doorway light was burned out. - Bathroom corners were filthy. - Phone didn't work. - We spent 4 days trying to fix mistakes the hotel made with our reservation. We talked with several people at the front desk one of whom was talking over me, disrespectful and couldn't get it right. Every time we thought it was correct, something incorrect would show up on the reservation. DAY 2 - our daughter checks into her room with a program. She is supposed to have a roommate. She finds out that the hotel failed to put her and her roommate into the wheelchair accessible room her roommate had requested and required. Her roommate is moved to a different floor. Our daughter is told by her program chaperone that she will stay in the room by herself. This was a bit unsettling for all of us but we trusted everything would be OK as only children and chaperones were on that floor.  DAY 3 - our daughter returns to the hotel with her program for a few minutes to change clothes before leaving for another event. She is locked out of her room. She and her counselor run down 8 flights of stairs with little time to spare. The front desk person tells our daughter and chaperone that our daughter has to move into the room with her original roommate and they will not allow our daughter into her room quickly to change so they can be on time for the next part of the program. Our daughter witnesses chaperone being spoken to like a child and treated horribly by front desk staff and a staff member points at my daughter and accuses her of wanting her room for free when we had paid for it through her program. None of the front desk staff knew what was going on. Our daughter was locked out of her room, made late for the event and humiliated in public. In the midst of this all, our daughter calls us frantic and I have to pay almost $1000 extra for the whole room rental (since I had paid for double occupancy and her roommate was moved due to hotel mistake) for the week so my daughter can get back into her room. I still cannot believe this happened! I cannot believe hotel staff didn't think to let them in asap and solve whatever issues there were later, when there was time.Their behavior was cruel and unprofessional. DAY 4 - our daughter reported that she returned to her room to find the privacy door card on the floor (that reads "privacy on both sides) and her clothing folded and her bed made. She had left the privacy card on the door handle without question but even if it had fallen on the floor below the door handle, it reads "privacy" on both sides so it's obvious that it was on the door and that the guest wants privacy. That evening we find, while in a rush to an event, we are locked out of our own room. It made us late. They said it was because our reservation changed but had told us previously we didn't need new door keys. More bad communication and Inconvenient. A front desk worker told us "not everyone here follows protocol so things get messed up" which was truthful but it must be bad if a front desk worker is telling customers this.  DAY 6 - our daughter was in the bathroom getting ready and housekeeping entered her room with the privacy card on the door knob. My husband was headed to her room to help her pack. After our daughter wrote to me saying that she heard a person enter the room, I let my husband know and he took a photo of the privacy card on the door handle. My greatest concern with her staying alone in her room was that strange adults enter the room. What a nightmare!! The anxiety and guilt this caused our daughter during the program made it really difficult for her to concentrate, enjoy herself, connect with other kids and feel safe. She was pretty sure something bad would happen every day here, because that had been our experience. DAY 7 - our daughter was going to put on her favorite skirt and found it missing. We called security and told them of some Ken would just return it, we wouldn't report it. They showed up with the skirt in hand. We ordered room service twice during our stay. The first time, everything - yes every item - was incorrect. This experience was a damned circus and it traumatized our kid. Their staff locked her out, alienated and embarrassed her, disrespected her chaperone and entered her room twice without permission.  Manager, Jim Mooney's idea of compensation for this disaster was an amount of points that covers one night at that hotel when we had stayed eight nights and had problems every single day. I've written a formal complaint and they feel this offering is sufficient. We feel quite the opposite.
CasettaFavignana
Christmas holiday week in New York. Was really looking forward to going to New York again!
Reviewed 25 february, 2023
We got the Holiday package through British Airways , Hotel and flight , the flight was ok but when we arrived at JFK British Airways lost my checked in luggage, they said I would get it in a couple of days, that was 2 hours extra spent in the Airport that was not a great start, we eventually got to the Sheraton hotel rather late and was greeted by an oriental looking male member of staff at reception check in ! For some reason the man was barely civil and looked totally in a mood , not a smile in sight, I will say after that the rest of the staff were awesome, the rooms were adequate and reasonable, when we arrived we knew it would be cold but without my suitcase wasn't prepared for the ice storm that hit the state of New York, the real feel was -28 with the breeze, after two days of this I decided to contact BA about my suitcase, the chat bot gave me case tracking info, to which told me it was lost, when asked BA said I could buy clothes but be reasonable and keep your receipts, I spent nearly £500 which in New York is nothing as it is now the most expensive city in the world, for example a pint of Guinness 10-11 Dollars a pint, if you go for a meal, there is government tax added and on top of that a 20 % tip on top added to your bill so everything was very expensive which probably explains why I have never ever seen as many homeless people in my life, most of these unfortunate people live in the subway, the problem seems to have become far worse since the Covid pandemic , the smell of marajuana and urine intermittently fill the air , regarding my suitcase the hotel was as helpful as they could be as for BA nobody ever rang me to ask how I was doing without my case, I had the case delivered to my home address the week after I got back, I have six weeks after still not been reimbursed for the money I spent on clothes and had no form of compensation, they did initially say in a rare email that they would reimburse me but have not done so! They also offered me a fifty pound voucher, but as I would never fly with this uncaring airline again it would be a waste of time, before the pandemic I went with Virgin and had a great time, I must say that I probably wouldn't go to New York again and I would definitely never fly with British airways again.
putinmoore