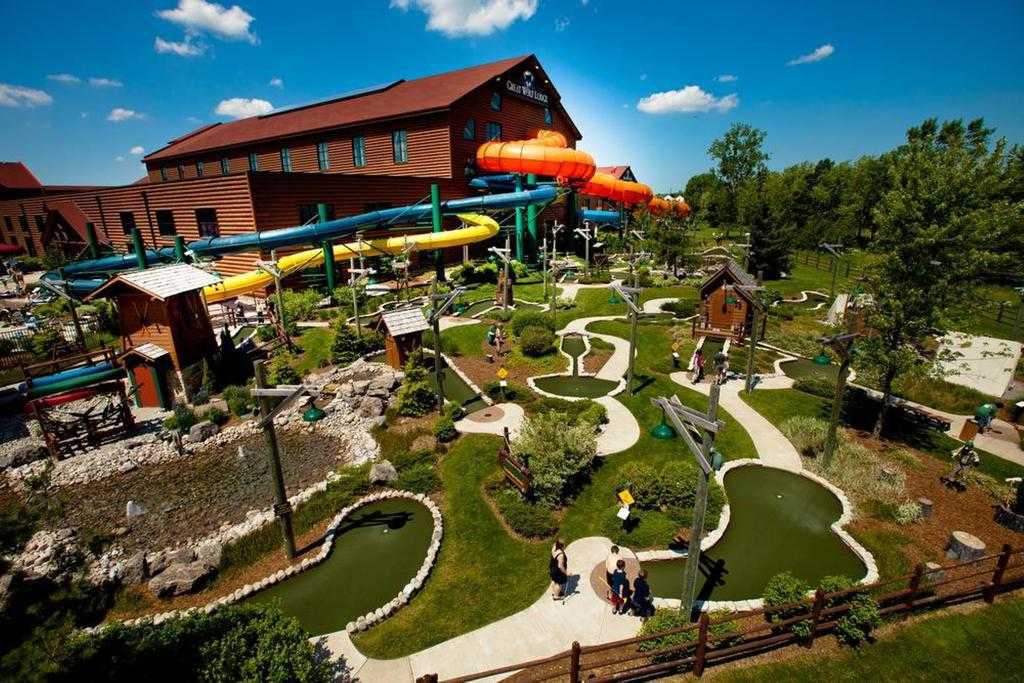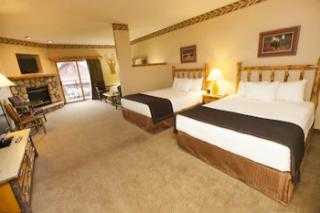 TripAdvisor Review
Based on 8539 review
See all
Great Wolf Lodge Niagara Falls is located at 3950 Victoria Avenue in Niagara Falls Ontario/Canada. It is located on the Niagara River 5 km north of The Falls. The Lodge is a full service private resort located on a secluded portion of the Niagara Parkway with a 100 000 square foot water park. Resort...
More details
Availability
Select the date of your trip
Select the date of your trip to check room availability.
Property Info
Great Wolf Lodge Niagara Falls is located at 3950 Victoria Avenue in Niagara Falls Ontario/Canada. It is located on the Niagara River 5 km north of The Falls. The Lodge is a full service private resort located on a secluded portion of the Niagara Parkway with a 100 000 square foot water park. Resort prices include parking and two days of water park play with a one nights stay.Great Wolf Lodge is a family resort destination in Niagara Falls. It is a first-class full-service family destination resort designed to capture the atmosphere and adventure of the northwoods. Cottage ONLY - there is no a...
More details
Check-in starts at: 15:00
Check-out ends at: 11:00
Property Amenities
Reception services
Concierge
Guest rating
TripAdvisor
Travelers rating
Excellent

4381

Very Good

2385

Good

1027

Reasonable

426

Bad

320
Travelers profile
Business

38

Couples

59

Solo travel

4

Family

7763

Friends getaway

169
Scores Summary
Cleanliness

Location

Rooms

Service

Sleep Quality

Value
Terrible Experience
Reviewed 29 november, 2021
Awful experience , staff are more than rude. they ruined our vacation and my daughter's birthday. Chlorine level in water are insane , you feel choked once you enter the water park. 5 friend families got sick from high chlorine level and we had to leave early and to do covid test to make sure we are safe to return to work. Managers are horrible, even more rude than their employees. Was a big mistake , Never again.
ezzatbeshay
Awful customer service with terrible policies regarding cancellations!
Reviewed 25 november, 2021
During Covid times, there compassion for allowing changes is unacceptable! We had to cancel a reservation 35 days from our arrival date and they still charged us a cancellation fee. They will easily be able to resell this room yet they still chose to charge us a fee for nothing. Based on other reviews they also aren't offering full attraction as a result of Covid which is causing congestions in the available attractions. As our child will not be fully vaccinated at the time we would travel we did not feel comfortable exposing him without full protection. As a result we cancelled well in advance and we're charged for nothing. I escalated my call to a supervisor who also did not have compassion and would not waive the fee.
E_Rebecca_35
Overpriced
Reviewed 15 november, 2021
We paid about $400 for a night stay and that's approx with a 25% discount used "CP24FUN" and then another $200 for food.Our last visit was 5 years ago and honestly nothing has changed in the place. The rooms need some serious renovations. They don't provide you with much in terms of toiletries. The food, well that has gone down hill. We had a dining pack and from the pizza, burger and buffet the food was so bland. Once you enter the swim park good luck finding somewhere to sit and place your belongings. It is enclosed and I understand restrictions have eased and apparently they check for proof of vaccine at check-in, they barely skimmed ours and didn't verify against any ID, so you can easily fake it (& I know many people who fake this stuff-sadly). The water park was so overcrowded, you are next to people at every moment and without masks. The lineups to the slides were ridiculous busy. Wave pool waves did not come on, lazy river was closed and the hot tub, well it wasn't hot. Story time is just so busy and crowded. I felt so uncomfortable and dirty in this hotel, truly felt like a motel. We won't be coming back again. Not worth the money.
Mad M
Ridiculously overpriced and rooms terrible
Reviewed 11 november, 2021
$700 per night for Kid Cabin Suite - this should NOT be allowed to be called a suite because there is no separate room with door, just a side wall. Extremely outdated rooms, washroom is disgusting, uncomfortable small beds, fridge is noisy and right beside kids beds, toilet is old and wouldn't flush and took maintenance over an hour to come fix. 1 washroom for 5 people waiting before bedtime was fun. And when asked for a change of a more suitable room they wanted an additional $320, so $1,000 for 1 night! Water park is barely functioning with lazy river closed and no sign when it's going to open. Wave pool not working and all the pools are freezing. Even the hot tub was cold?! And they said they're running at 50% capacity but you can still not get a seat in the water park. The buffet restaurant had huge lineups. Again 50% capacity. The evening entertainment - the animal show is so quiet you can barely hear them talking or follow the story, and again so old and outdated and not engaging for my 3 children 5, 8 & 10. Bowling is extra, arcade is extra, wand game is extra, filtered water is extra, food was extra. Overall very disappointed.
MariaA1639
Fun Family Vacation, with a bunch of hits and few misses!
Reviewed 10 november, 2021
We travelled Nov 8-10 (Mon - Wed) as a family of 5 (3 adults and 2 kids ages 5 and 14 months) and booked the Standard Family Suites (2 "queen" beds - I put that in quotations because they're more like double beds IMO, and a pull out couch. We brought a pack n' play for our toddler, the 5 year old got the pull out and hubby and I shared a bed and had my mom in the other bed. I think next time we'll spring for a room that has a separate bedroom, because the toddler was ready for bed at 7/730 which meant we had to turn out all the lights and be extremely quiet until he fell asleep. It was a little inconvenient, but it worked out okay. One thing I didn't love about our suite was that the sink is outside of the bathroom, and it's really loud when it's on, so if you use the toilet in the middle of the night, it wakes everyone up when you wash your hands. There is a Hamilton Beach Coffee Maker in the room which makes single serve coffees and a microwave, but you're NOT allowed to make popcorn...which is silly, but oh well. There's also a mini fridge, TV, hair dryer and retractable clothesline, located in the shower. We purchased the meal plan, but for subsequent visits we'll just pay as we go, we felt obligated to use them even when we didn't really want to. We went to the Antler Shanty (buffet) for dinner our first night. We went right at 5pm and were seated right away. It got busy very quickly though and the lines were long to get your food. One major complaint is that at the soup/salad/sautee station (I don't know what else to call it) there was only one person working. So they'd be serving someone at the sautee station and there would be someone waiting for soup at one side, and someone waiting for salad at the other, with no order on who to serve, when. It was very disorganized at that specific station. I'd expect there to be at least 2 people working in a spot where food is supposed to be available on every side. It wouldn't have been so hectic if it was self-serve, but at the entire buffet the food is served to you. The best part of the meal was the dessert though! The chocolate lava cake was DELICIOUS! Very rich, and decadent, highly recommend! The next day for breakfast we went back to the Antler Shanty. We were there around 845am and there was a huge line. We were given a pager and told it was about a 20min wait. So we went to the gift shop to walk around, but the wait was only about 10 minutes. Food at breakfast was great! Except the lines were long again and it took a LOOONG time for the wait staff member to come and take our drink order. We were half done eating before our drinks even arrived, so that wasn't great. But the food was good! The pancakes and the ham were stand out items! For lunch we had burgers at Buckets, located in the waterpark. Food was great, and reasonably priced (even though we had our vouchers from the meal plan.) We were in room 1116 which is at the VERY far west wing of the resort, which meant it was REALLY far from the waterpark. I will definitely make sure we are not that far next time. Even though we were on the same floor as the waterpark it was a very long walk there and back. The waterpark itself was GREAT! Lots of different activities for different ages and varying thrill levels. My toddler loved walking around the splash area, near the giant bucket. My 5 year old loved the pool with the basketball nets and the floating lilypads, AND the big waterslides. She is only 45 inches tall so she was disappointed she was too short for a few of the slides. My husband and I enjoyed all of the slides and the lazy river! My favourite slide was Canada Vortex (the one with the funnel). We did the Ten Paw Bowling, which was fun, but the far left lane had a broken pin, so every time the pins reset, the broken one would fall over. It was still fun, but seems like some repairs/maintenance needs to be done. The arcade seemed overpriced, at 26 credits for $10, but some games cost 6+ credits per play, so $10 doesn't really go far. Next time we want to try our mini golf and the kids spa! I know this review seems like a lot of complaining, but overall we did have a great time and would return again, but we've just learned a few things during this first visit that will help make our next one more enjoyable!
navychick88