Casa Bonita Hotel Boutique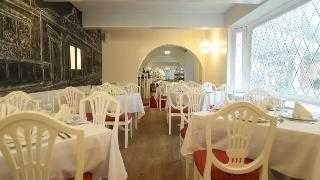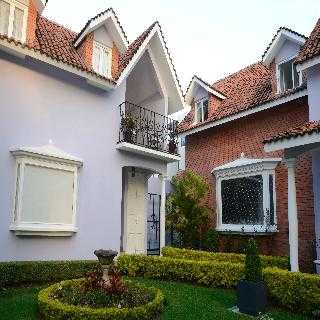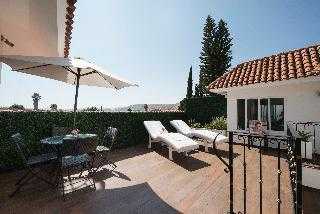 TripAdvisor Review
Based on 182 review
See all
The hotel is located north of Oaxaca, just 20 minutes from the downtown area and 45 minutes from the airport. This small European-style hotel has classical features and comprises a total of 11 spacious guest rooms. It addition to this it offers a business centre, wireless Internet access, large gard...
More details
Availability
Select the date of your trip
Select the date of your trip to check room availability.
Property Info
The hotel is located north of Oaxaca, just 20 minutes from the downtown area and 45 minutes from the airport. This small European-style hotel has classical features and comprises a total of 11 spacious guest rooms. It addition to this it offers a business centre, wireless Internet access, large gardens, parking and safety deposit boxes. Non-smoking rooms are available. Medical service, a laundry and dry cleaning service, a babysitting service and a concierge are also available. The spacious rooms are decorated and upholstered in European style and look out over the garden or patio. They are eq...
More details
Check-in starts at: 15:00
Check-out ends at: 11:00
Property Amenities
Reception services
Concierge
Guest rating
TripAdvisor
Travelers rating
Excellent

130

Very Good

26

Good

14

Reasonable

7

Bad

5
Travelers profile
Business

23

Couples

61

Solo travel

6

Family

61

Friends getaway

16
Scores Summary
Cleanliness

Location

Rooms

Service

Sleep Quality

Value
Very good boutique hotel in a quiet neighborhood
Reviewed 14 january, 2022
We traveled to Oaxaca City in December 2021, right before Christmas and in fool pandemic, with Omicron in full development. Thinking that travelling there would be hard and stressful – I was right – I thought I should look for a place to stay a few days to really rest and relax before we move to another hotel in the downtown Oaxaca to enjoy more of the historic center. When we arrived in Oaxaca there was a strike of the garbage collectors so downtown Oaxaca was covered in piles of garbage, so we ended up staying at Casa Bonita for six nights instead of three. LOCATION Casa Bonita is located 15 minutes by taxi when the traffic is OK from downtown – 30 minutes with bad traffic which happens every day. The neighborhood is very beautiful, and it looks very exclusive with huge houses surrounded by immense walls that you can not peak over or through. Some houses are old, some new, very quiet and safe neighborhood, we had no problem walking around even late at night. The hotel looks like a compound. It looks like it was somebody's big house transformed into a hotel. With different floors, rooms of different sizes. It is unique and interesting. It has two restaurants, one advertised as a steak house – which we never tried but we could smell the delicious steaks – and the other is set up outside in the courtyard it is called Estrella de Mar and it is where breakfast – which is included – was served. It has an outside pool, but you cannot use it in the winter. Even though it is very hot outside, it is still winter, and the water is heated by solar panels, and it is cold. It has also a spa, which we never tried, and a small gym, with a bike and a treadmill and weights, good enough. Also, there is a bar on the premises, very cool, it looks like a tower from outside and the bar is situated going down the stairs. It wasn't opened, we were there during Christmas, probably not a good time for bar business. It is an expensive hotel with almost every standard achieved. Air conditioned, good internet, even free Netflix in the rooms. We switched rooms mid stay and both rooms were very nice. The furniture is a little over the top, in my opinion, but this is a personal taste. I am not crazy about big white chairs (or black) and chandeliers in the outside restaurant. One thing that we really appreciated is free transportation where you need. Because the hotel is out of the way they have a nice van with a driver that speaks good English and it is very helpful to take you where you need, usually downtown. Oaxaca City is not very big, the old downtown takes maximum a day to visit. The Botanical Garden is also downtown. Also, notable and to appreciate, I felt very safe, everybody is wearing masks, all personnel, no exception. Another unique thing about this hotel is the booze, mainly Mezcal of course being in Oaxaca, where you hear Mezcal at least a hundred times a day. The owners of the hotel own a mezcaleria and they sell their mezcal to Walmart, so it must be pretty good, I don't know about mezcal very much. First day we had dinner at the same time with the owner, which was extremely gracious and offered us his mezcal and even taught us how to swirl it in our mouths to get the best taste. Anyway, there are bottles of good alcohol everywhere, never seen anything like that. PERSONNEL As anywhere in Mexico, people are extremely friendly and ready to help you. Probably being Christmas season, and pandemic, there were not too many guests in the hotel, so every time we turn around there was someone to ask if we need anything. The problem for us though is that our Spanish is not very good and only half of the staff speaks English. We had no problem except with the reception people. I could not get a decent service from them our entire stay. I tried, but usually ended up looking for the concierge or the driver to help us with translation. It was a little frustrating at times. We had a little incident. Like I said, breakfast was included but you needed some coupons with only certain items that are free. If you wanted extra, you pay. After we move, they forgot to give us the coupons so we got charged for breakfast. I did complain and it was OK finally we were charged correctly. But it was some frustration that could have been avoided. The concierge was exceptional, everything we asked he was more than happy to help. The driver also very helpful. Our favorite waiter made some delicious cappuccinos every morning, we didn't even have to ask, the moment he saw us he knew. Like I said, we had to move rooms mid stay because we changed our mind about going downtown and it was extremely smooth, we just packed our bags went for our activities and when we came back, we were in a new room. FOOD We had breakfast every day at the hotel, very good all the time. Good coffee, a various menu with fruit, yogurt, eggs and also traditional Mexican dishes. We also had lunch only one day at the hotel, because we were doing something outside the hotel every day. For lunch we had the camarones (shrimp) cocktail and the pulpo (octopus) cocktail, both very good fresh and chilled perfectly. We had dinner one evening there too; I had fish cutlets and my husband had pasta with lagostina (which is a big shrimp or a small lobster). Both delicious, good size also, not to stuff yourself and nice presentation. To conclude: A luxury hotel in a nice neighborhood, far from downtown but with free transportation there. Good restaurant, I really am sorry we didn't try the steaks which looked fantastic, good personnel but they could work on the reception people a little to improve their service.
281carmenc
Wonderful hotel and very helpful staff
Reviewed 30 october, 2021
I spent a week in Oaxaca by myself and was rather nervous - I'm a solo female traveller with limited Spanish skills. Thankfully all of the staff at Casa Bonita were incredibly friendly and helpful, making me feel comfortable throughout my stay. They helped me arrange outings, organize travel, and figure out where to get COVID tested for my return trip. From the front desk, to housekeeping, to the restaurant staff - everyone was wonderful. My room faced the restaurant which meant there was some noise, but nothing that bothered me personally. The bed was comfy, the bathroom clean, and breakfast was delicious. I was easily able to access wifi, and the TV in the room had all of the usual streaming services. The hotel is about a 10-15 minute drive outside of El Centro. The staff were always able to help me arrange a taxi there, then I typically used the app DiDi to arrange my own way back. There are several restaurants within walking distance of the hotel, but just be aware that it is a different atmosphere to the center of the city - if you're looking for a riotous night out, this is not the place :) If I make it back to Oaxaca - and I certainly hope that I do - I will likely stay a little closer to El Centro, just to see how it differs. However I wouldn't hesitate to recommend Casa Bonita to anyone wanting a little quieter location. I truthfully loved my stay there and couldn't ask for more friendly staff.
samanthawC7617GQ
Pure bliss
Reviewed 19 august, 2020
The hotel is wonderful. Our bedroom was so beautiful and comfortable I didnt want to leave. The staff is amazing, they were all so atentive and kind. The food was fantastic, i tried the garlic noodles on the first night and they were soooo good; the last day we ordered the tomahawk and it was so good, one of the best steaks I've had, I just recommend sharing because it was very big. Hopefully I will be returning soon.
215marielb
Oaxaca
Reviewed 9 august, 2020
Beautiful boutique hotel, feels like home. The service was unbelievable, the best local and international cuisine. The hotel has an amazing karaoke bar, pool, spa and gym. Everything you need and want is personally catered to you. Don't miss it wether with family, friends or a couples retreat.
Aaronsaenze
Hidden away beauty
Reviewed 24 april, 2020
We decided to get out of the Zocalo and find a different neighborhood to stay in. In fact, we ended up going on day trips out of town and coming back to dinner at the hotel for several days. Felt cared for.
NancyF819