Ramada Plaza Resort and Suites Orlando International Drive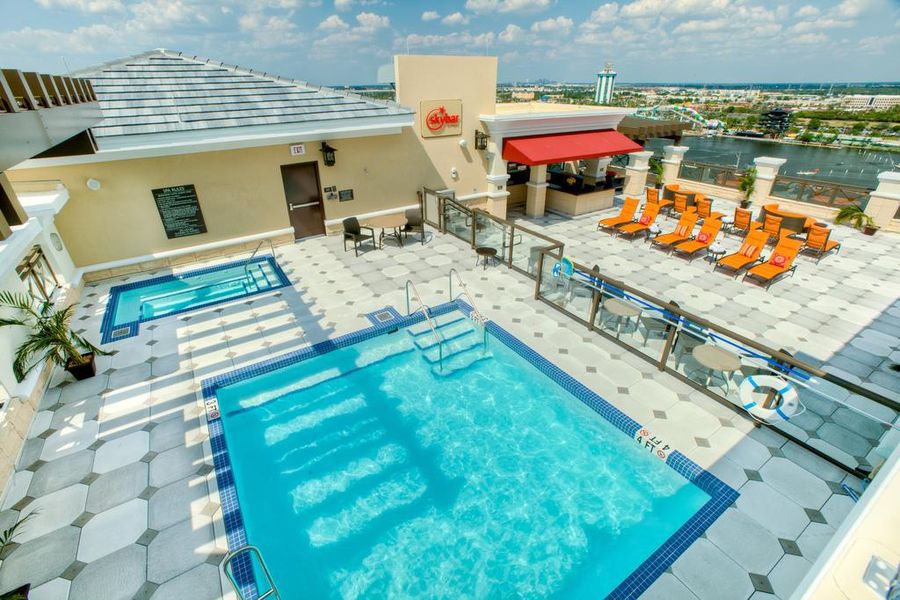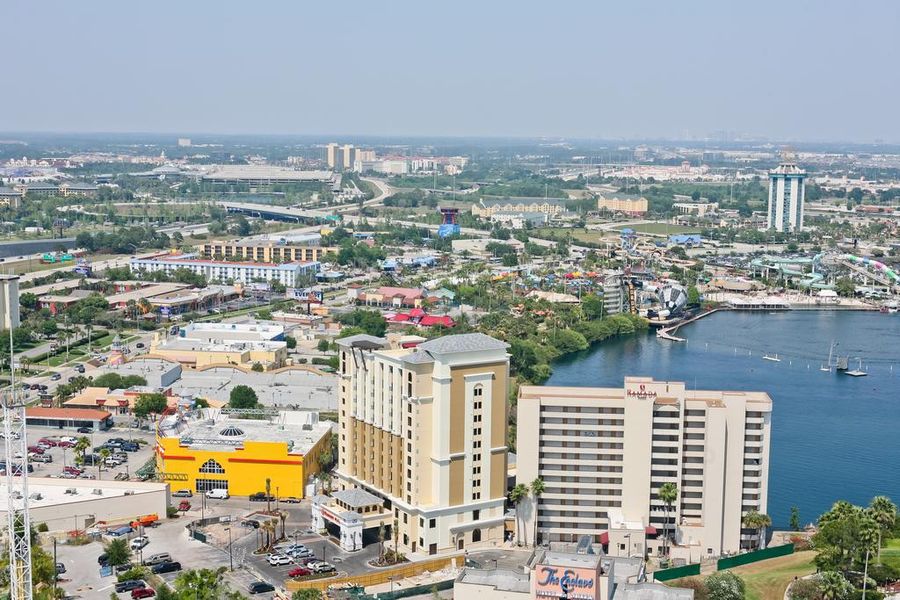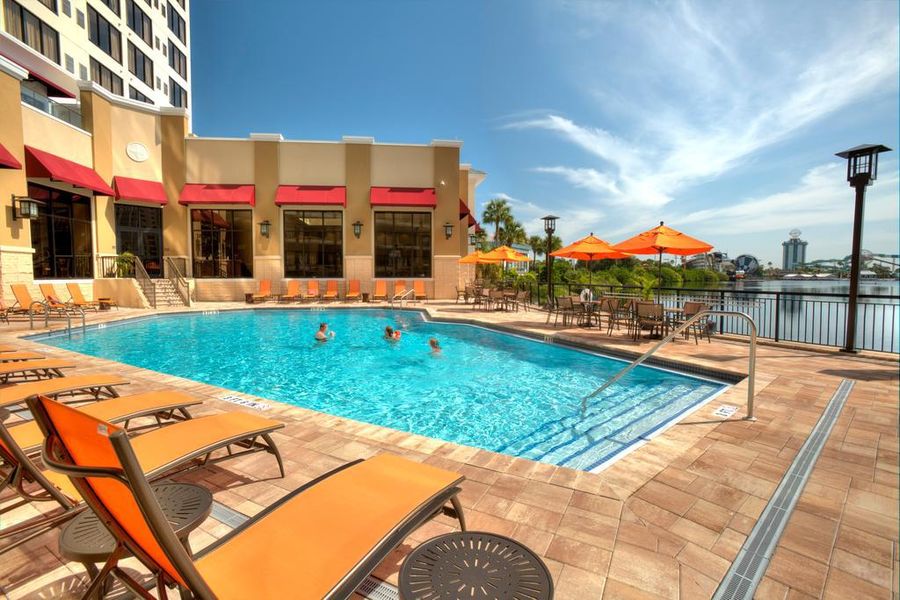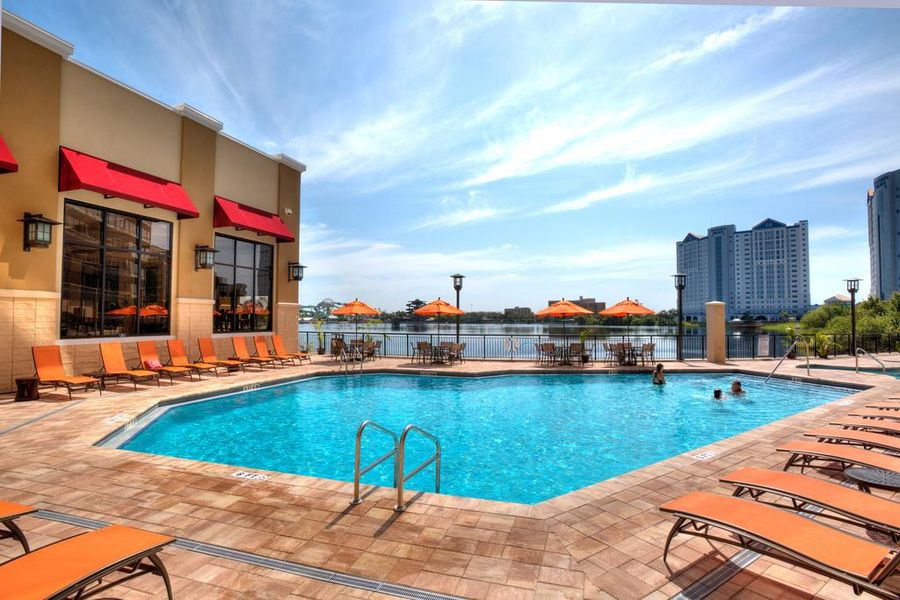 This family-friendly hotel comprises of 164 well-appointed rooms. Guests are received in the foyer with 24-hour reception, hotel safe, cloakroom and lift access. There are on-site parking spaces available for those arriving by car. The hotel offers scheduled transportation to Walt Disney World.
More details
OpenWeather
Select the date of your trip to check room availability.
Property Info
Check-in starts at: 15:00
Check-out ends at: 11:00
This family-friendly hotel comprises of 164 well-appointed rooms. Guests are received in the foyer with 24-hour reception, hotel safe, cloakroom and lift access. There are on-site parking spaces available for those arriving by car. The hotel offers scheduled transportation to Walt Disney World.
6500 International Dr, Orlando, FL 32819, USA - Orlando, Florida - U.S - 32819
Guest rating
TripAdvisor
Travelers rating
Excellent

721

Very Good

1131

Good

896

Reasonable

503

Bad

619
Travelers profile
Business

196

Couples

792

Solo travel

74

Family

2115

Friends getaway

364
Scores Summary
Cleanliness

Location

Rooms

Service

Sleep Quality

Value
Do not stay here!!
Reviewed 10 august, 2022
We stayed here for 3 weeks in 2018, enjoyed so booked to stay again this year for 3 weeks. When we arrived we were disappointed that we had a run down room as returning guests booking for a long stay. We have complained about various issues to members of staff and an email to the manager who couldn't be bothered to reply so this is the last resort. See issues below - - the tap in the sink is falling apart, when you change from hot to cold or put it on it almost comes out of the sink. - when running the tap water is leaking out from it onto the vanity unit. - There are small ants/creatures all over the vanity unit, some sort of infestation. - the tap in the bath pulls out of the wall when you change the mixer to use the shower. - the pressure of the water is ridiculous, just a drip some days and today there is no water at all due to a burst pipe (didn't realise this until after I put shampoo on) - the room is very dated and it only gets cleaned/bed made once every three days. We are three adults in the room so run out of coffee and towels quickly. - coffee maker advertised was not in room so after a long journey we couldn't have a drink before bed until we requested one the next day. - the first morning the pool area was open at 7am so I enjoyed a nice swim and hot tub. The next morning I went down for 7:20 to find it locked up and was told it doesn't open until 8am so had to sit there 40 minutes until it opened. Some days it opens early, some days it opens late so it's a rush to have a quick dip before the theme parks. - there has only been pool towels 4/14 days so I've had to go up to my room in the elevator dripping wet in swim wear in from of guests. - the bus service is awful. Last time we stayed there were multiple drop offs and pick ups in Epcot and magic kingdom, now there's just one at magic kingdom. - one night the bus driver crashed, the bumper was hanging off and there was oil all over the highway. No one asked if we were ok just told us we had to get off and call Ubers. There was a heck of a whack and I've been in pain since. - on two days the air con was broken on the bus, it was stifling hot and passengers started to feel ill. - one night the bus was an hour late picking us up, most days it's late, rarely it's early, you never know! - breakfast at the hotel - very repetitive - bread, cereal, pancakes, waffles, donuts, fruit. There's paper plates/cups and plastic cutlery. It can get very busy. - we've spoken to several members of staff and had bad attitude back from them. No one seems happy to work there. You don't feel welcome! - we've been stuck in the elevator twice because you need to use our room key to select a floor but the room key has stopped working. When this happens you cannot open the door. We've clicked the alarm and phone buttons but no one has come to rescue us until someone calls for the lift. Very scary. Appalled by this visit. Asked to change rooms due to the fact the room is falling apart but we were told we'd have to pay extra. We've already paid for 3 adults for 21 nights! No response from management from the email. No offer of anything to compensate the awful stay. Maybe I'll get a response over here? A week left, wish us luck!!
Traveler784151
Great central location
Reviewed 7 august, 2022
Stayed at this hotel during the Easter school Holidays. We upgraded to a superior room which had 2 queen beds and a separate lounge/kitchen area. It was great having the extra space. The kitchen was a great size and had a fridge. We requested a coffee machine. The kitchen had barely any crockery etc but we think that had been removed during covid. The hotel had a pool and sunbathing area. Each floor had a laundry and drinks machine and ice machine. The breakfast was the worst part of the hotel. Very basic and repetitive. Particularly hate eating off paper plates using plastic cutlery. The hotel provided a free shuttle to the theme parks which we had to book online to secure a seat. There was just one time leaving and one returning so on some occasions we took an Uber home so we could leave when it suited us. Good location on international drive with plenty of restaurants within walking distance. We read lots of negative reviews before we stayed but we liked it enough that we would go back. Definitely worth upgrading the room.
suzysmith496
Pros and Cons
Reviewed 4 august, 2022
Pro: We were on the 9th floor of the main building and our room was great. New bedding, smelled ok, great beds and pillows. Con: We were told they would only clean our room on day 3 (signs posted everywhere!). On day 2 we came back to our beds made. We had not put personal belongings away and did not appreciate the mis-information/room entrance. ------- Pro: We had access to the top floor. Pool was great and the lady taking care of everyone was attentive and helpful. Con: Warm appetizers were pizza from dominos and nachos. ------- Pro: Parking was not a problem and they have covered parking which is great in the Florida summer! Con: They only had 1 elevator running all weekend and then that one acted up... my husband was stuck in it for a few minutes. We were told they do not call maintenance on the weekends cuz they charge too much. Also, we called the front desk a few times (jetted tub was not working and when we complained about our room being cleaned). We were told they would call us back. No one ever called back either time. Summary: It was a great stay and we will return. Hopefully management can see the feedback and make minor adjustments.
Suebee4u71
Not a good stay
Reviewed 3 august, 2022
Pretty much everything was NOT great!!!! Terrible Breakfast!!!!! No Wifi, Bugs, AC issues, No cups in the room, Ice makers broken, the beds were AWFUL, the rugs were nasty, NOT CHEAP and the list goes on!
brenny1101
Ramada plaza resort
Reviewed 2 august, 2022
We stayed for 10 days it was a terrible hotel. Staff not helpful. Rooms dusty smelt of damp. I wouldn't stay here again. Stay away from Ramada plaza international drive Orlando. The air conditioning made a very loud noise. I asked to change rooms. They showed us a different room in the bathroom there were ants everywhere . We got shown another room which also smelled of damp & dust. I asked to speak to the manager got told manager is not working today. We had to pay £200 extra to move to a better room. We got no apology and the manager never contacted me. I left several messages no contact. Poor customer service.
19anjuh