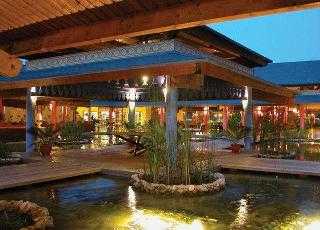 TripAdvisor Review
Based on 9151 review
See all
Playa Pesquero lies on Cuba's north coast, around a 5 minute drive from Santa Lucia. Cuba's largest luxury hotel lies right by the coast. Warm water and wonderful beaches are not the only attraction, guests are able to relax and unwind, swim in the sea, listen to Caribbean rhythms, taste quality cui...
More details
Availability
Select the date of your trip
Select the date of your trip to check room availability.
Property Info
Playa Pesquero lies on Cuba's north coast, around a 5 minute drive from Santa Lucia. Cuba's largest luxury hotel lies right by the coast. Warm water and wonderful beaches are not the only attraction, guests are able to relax and unwind, swim in the sea, listen to Caribbean rhythms, taste quality cuisine and drink a mojito in the swimming pool. Only around 10 minutes away by car, guests will find the hotels and tourist attractions of Guardalavaca, ideal for shopping and restaurants. Around a 45-minute drive away, guests will find Holguin, where Christpher Columbus first landed. Bahía de Naranjo...
More details
Check-in starts at: 15:00
Check-out ends at: 11:00
Property Amenities
Guest rating
TripAdvisor
Travelers rating
Excellent

4530

Very Good

2901

Good

1052

Reasonable

411

Bad

257
Travelers profile
Business

49

Couples

3829

Solo travel

239

Family

2925

Friends getaway

958
Scores Summary
Cleanliness

Location

Rooms

Service

Sleep Quality

Value
Lost its charm
Reviewed 4 december, 2021
My first time at playa Pesquero was Feb 2021. It was awesome. 10 out of 10, in every category. This time (November 2021) my overall impression is struggling to reach 7 out of 10. I am writing this review from playa Pesquero since I am one week into a 3 week holiday. Never a manager to be found. NEVER. Food quality detoriated significantly. Every restaurant lost staff who cooked great food and replaced with what seems like children in confusion. Food quantity is OK, but it's the quality that is bad. No seasoning, no salt, no garlic, etc..., but readily availablefrom local sources... no one can cook good anymore. All good cooking staff are gone. Managers appear to be hiding in the back office and do not care. Everyone is looking to run out of the country. DJ plays music for his friends and doesn't properly read the audience. And dose not appear to care. People get up and leave as DJ leaves his booth with pre recorded music. Creating a Cuban only vibe. Good rooms are closed off and only old run down rooms available. But the amenities of this hotel is still excellent. Just the decision makers need to be coached up from below average standards to that of average. Nothing is wrong with the workers, but the managers need to get out of their offices and manage.
145rustyp
Not worth it.
Reviewed 29 november, 2021
We are here now for our anniversary. First let me tell you about the pro's. Landscape is sprawling and lovely(some clean up everyday because of garbage thrown around), room is dated but comfortable, most service people are wonderful. Weather has been good. Con's, Food, we are not picky eaters but it has been hard to find anything to eat and not feel ill. Buffett in the morning is a joke, if you get there after 8:30 almost everything is picked over. Covid test was a nightmare, lots of people all around in one tiny area, it needs better directions. The biggest con, they cater to the locals. Especially on tge weekend the resort is full of locals, they are loud, push thier way in front of you and are served as they are above all other travelers here. We went to deal with something at the front desk got in line to wait, three ladies there looked at me continued doing thier work, looked at me again two more times and didn't ask me what I needed or even try to help me, a group of locals came up pushed in front of me and the staff stopped what they were doing and spent 10 minutes helping them. It was extremely rude and insulting. We will never come back. As nice as it is to get away not worth the money.
T7899NAcrystalc
5 star resort with 3 star service
Reviewed 26 november, 2021
Finally opened! Excited about it! But it's bit awkward wear a mask everywhere, except of the ocean. Every little bar demands a mask, when you talk to personnel or order beer/food. I guess its a small trouble, its Ok. I m first time to Playa Pesquero. Does it meet 5 star? No. Why? Here we go. 1. Facilities sure were built as 4-5 star. It is nice. But since then, maybe 20 years without good renovation or face-lift. Everything is bit dated. Resort is big. Lots of walking. I did 10,000 steps per day, which is not bad I say. Too many personnel in "buffet". This ability to create bottleneck anywhere. Lots of food ready to grab (buffet), but No - one person will hand it out, so line is waiting on each station. 2. Guests: Nov.12 resort had 500-600 guests. 95% are Cuban. Look like government subsidize them, or give tickets for free. Problem with cubans, they usually travel in big groups, and shout to each other everywhere. They make your vacation less enjoyable. Locals eat 4 times of regular tourist, so food supply ends fast. In 3 days disappeared yogurt, ham, cheese, chicken. I was for 7 days. 2. Food: it's not 5*, for sure. 3* maximum. Food selection is very limited, at the same level with Club Amigo 3*. They need to work on a menu. If you charge like 5*, please deliver like it. Servers are friendly, they do their best, no complains. Beach is great, Crystal clear water. But it is a fence, segregating hotel grounds from the beach. And they keep only one entrance from resort. Cubans treated as 1st class, foreigners - 2nd class or ignored altogether. Swim up bar bartenders ignoring foreigners, I would fire them on a spot for such behavior. Managers - you need to explain your personnel to serve those who pay the bill. If foreign guests feel uncomfortable, or unsafe, they might not return next time. With local only guests you can go bankrupt. I suggest do not go now in 2021, wait for 2-3 month, hopefully when be less locals.
Grig2020
Terrible service. Part of covid scam in Cuba
Reviewed 13 november, 2021
The resort itself was amazing but the service and the food (especially the foods) are terrible! If you like over cooked and terrible food, by all means. I was one of few Canadian tourists in Cuba who got victimized by their PCR test scam. They pick 1 random person per hotel/Resort to get a vindictive positive pcr result and send to a hotel-clinic for mandatory 5-day observation and then will insist for you to take a medication called Heberon Alfa and tells you that they guarantee negative pcr test result if you take it. Even if you refused multiple times the doctors will keep trying to convince you to say yes to it. They won't tell you how much it'll cost you for medication and for staying there even if you asked multiple times. They will not give you a copy of your bill until they finally charged your card - watch out! They will over charge your card as well. I strongly advise avoiding travel to Cuba if you don't want to get victimized by this organized crime making profit out of pandemic! #notoCuba #scaminCuba #hotelplayapesquero #playapesquero #terribleservice #terriblefood #terriblecountry #covidscam #pcrtestscam #pandemicscam
Jeannemarvie
Amazing Hotel.
Reviewed 2 november, 2021
11 years ago, my husband and I went for the first time to Playa Pesquero, and we fell in love with the place. A year later we returned and got married there, since then we have returned several times with our daughters and families . We feel an immense affection for that place, no matter how much we travel to other countries, we always have to return to Playa Pesquero. In October 2021 we went for 2 weeks, we were a little scared by the current situation that is happening in the whole world. The truth is that we could not have made a better choice, nothing has changed. Practically everything is open ,bars, restaurants, night shows amazing as always, gym, kids club. The hotel very fresh and renovated, painted, the food is amazing, the most beautiful white sandy beach, and the best of all the attention to the client and the children is exceptional. They really made us feel like VIP clients during our stay. I would like to mention Doris from the commercial department who helped me so much with all the information to decide this trip with my family, to all the workers in the customer service department for giving them the best experience, to Susel the worker who attends the children in the miniclub, for being so special with our daughters, to Ronaldo in the cafe-bar for making the best Caipirinhas in the world. We can't wait to go back and spend more time. Thanks to all the workers at Playa Pesquero for making our vacations the best experience. Five stars hotel for sure !
FitnessbyVivi1