2 adults - 0 children - 1 room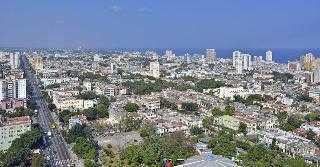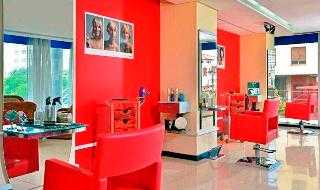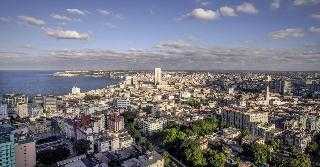 5114 TripAdvisor Reviews
See all
According to guests, it's ideal for:
This hotel is located at the heart of Havana. All major tourist and entertainment attractions are easily accessible. It is approximately 12 km to the nearest beach and 15 km to the airport. This air-conditioned 25-storey hotel comprises a total of 572 rooms of which 3 are suites and 4 are rooms adap...
More details
Select the date of your trip to check room availability.
Property Info
This hotel is located at the heart of Havana. All major tourist and entertainment attractions are easily accessible. It is approximately 12 km to the nearest beach and 15 km to the airport. This air-conditioned 25-storey hotel comprises a total of 572 rooms of which 3 are suites and 4 are rooms adapted for use by disabled guests. Facilities include a foyer with a reception desk, a safe and a hairdressing salon. Drink and dining facilities are also available. There is a car park and a garage for those arriving by car. All rooms are fully-equipped as standard including individually controllable ...
More details
Check-in starts at: 15:00
Check-out ends at: 11:00
Property Amenities
Reception services
Grill/BBQ
several
Grill/BBQ
Grill/BBQ
Babysitting service
Check-out hour
Babysitting service
Babysitting service
Bicycle storage
Towels and bed linen
Newspapers
Grill/BBQ
Grill/BBQ
Towels and bed linen
Guest rating
TripAdvisor
Travelers rating
Excellent

519

Very Good

1575

Good

1732

Reasonable

728

Bad

560
Travelers profile
Business

180

Couples

2305

Solo travel

241

Family

1105

Friends getaway

904
Scores Summary
Cleanliness

Location

Rooms

Service

Sleep Quality

Value
Horrid nightmare
Reviewed 3 february, 2022
Staying in the tryp havana libre hotel was a horrid nightmare they ruined my wedding / honeymoon there is absolutely no customer service was treated like a criminal had my car searched by a garage attendant for no reason switched rooms 3 times no hot water most of my 19 day stay if I could get a refund I would have went to another hotel breakfast was not good at all staff has no notion of how to work in hospitality upon check out front desk agent Tanya I told her I was departing soon was loading all my stuff into our car she pretty much didn't even give us the chance to go to front desk she ran to get a housekeeper had my husband go back up so they can take inventory of there garbage old hangers and crusty stained towels never in my years of travel have I experienced such treatment learn to work in a hotel and treat your guest further more the building is in such bad shape no one takes the time to maintain the property the building is in desperate need of remodel so we had a room with no hot water then the next room was a pool of water and leaky cieling wetting the bed third room had a tv that dosnt work and the door didn't work either among all the terrible things I had to go through don't bother asking for silver wear or a plate to eat you food or feed you kid it's a problem Getting ice was an issue as well ice bucket in your room dosnt exist since u literally have to beg for ice housekeeper from first room was looking for a luggage mat the ones that they lay on the bed apparently it went missing so we had a rudely visit from housekeeping supervisor to take inventory in our room why would I even want to take any of the crap in there not to mention I'm staying there 19 days so we Couldn't even settle in our room ruined my entire stay in cuba so do yourself a favor avoid this place it was expensive and not worth it I will attach photos I'm still waiting for the manager to reach out to me To reimburse me for my daughter not being able to stay there we had to send her to grandmas because the hotel conditions were not suitable hot water ?? Buffet breakfast was not avail for at least 5 days then it suddenly was with poor selections and the quality of the food beyond poor they don't even have ketchup same egg omelet day in and out not even decent coffee the milk was powdered milk the fruit was not ripe ever filthy hall way disgusting carpets moldy odor from all the leaks not a single time they cleaned the elevator hello covid ??? and elevator out of 6 only 1 worked they advertise restaurants no no there closed the only one that is open never had guest eating there and the menu was maybe one or 2 items ever avail the 24 hr cafe not worth 1 cent rude staff gross food always out of menu items I can go on and on
Maria_ruiz_bx1
To avoid
Reviewed 7 january, 2022
Overall very bad impression. First day we changed several rooms since there was an issue in each. Standard rooms are very old and quite dirty. After changing several rooms that day we decided to upgrade to premium rooms. They are renovated and much better but again every day we had stains on sheets even after complaining. From 6 elevators only 1 was working for few days and this is hotel with 25 floors. Breakfast only eggs each day. Staff very unfriendly with some rare exceptions. i would suggest avoiding this hotel. Only location is quite convenient close to the town. Shops in hotel don't accept payment in their own currency only Eur or usd.
dijananemanja1405
The missing moisturizer and the scrambled eggs
Reviewed 27 december, 2021
UNHYGIENIC and DIRTY PLACE. YOU WILL BE VERY DISAPPOINTED. The staff are nice but those are people in need, always showing puppy dog's eyes, begging for anything you can give them, which is quite uncomfortable at times. Especially when you notice that your moisturizer is missing, and your hairbrush has another person's hair on it. I am not much of a confronter, but I ask the cleaning lady about it, and she instantly started to cry. Then another lady came to help with "the translation" and I told her: Hey, this is so weird, but I am hoping you can help me solve a little mystery here. My jar of face cream appears to have vanished off the face of the earth — or at least the bathroom counter. Could you ask her (the cleaning lady) if she has seen it, by any chance? Small white container, black lid? Does she remember moving it somewhere? No? Okay, if you could just keep an eye out for it, I'd really appreciate it, because it's a very expensive night creme for men and it's driving me crazy. Anyway, that night the missing moisturizer reappeared but only the empty jar. Unfortunately, there is no place in the whole Havana that you can buy quality skin care. So, if you stay at this hotel make sure to not leave anything with value in the bathroom. Cuba is a very poor country. Thats why you need to understand the behaviour of the staf. If you are in this hotel and want to help the staff with something buy them something to eat. Food is the second best present you can give cubans. In my last day something very horrible happened to me and my baby girl while having breakfast at this hotel. My daughter wanted scrambled eggs, but she got an exceptionally generous portion that I told her to not eat it all. While she was eating the eggs, suddenly the waiter came to us and ask to retreat her plate because there were some mistakes with the order, and I became very anxious about it. My daughter had already begun to eat the eggs and I not understood what the problem was. The waiter became extremely nervous and told me that he needed to withdraw a portion from the plate because my daughter was given two portions, and so he did. If you go to this hotel things like this can happend. You need to have an open mind about everything. So, there was another guest that got a portion of scrambled egg spiced with spit from my daughter in the mist of a pandemic and this is "one of the best hotels in town".
M4595XGmartino
Worst Hotel Ever
Reviewed 23 december, 2021
Very dirty, horrible attendance. I do not recommend it. The swimming pool was unclear, the mattress was super uncomfortable. I will not visit this hotel again, the houses of the population are too much better.
361reinierm
Not worth your money
Reviewed 18 december, 2021
Worst experience ever. Very expense for what it is. Place is outdated and food wasn't exactly good for the price. My daughter found lots of hairs on her bed and room service didn't do anything about it until after the next day so she slept with us.
vedadoapie