Cofresi Palm Beach & Spa Resort All Inclusive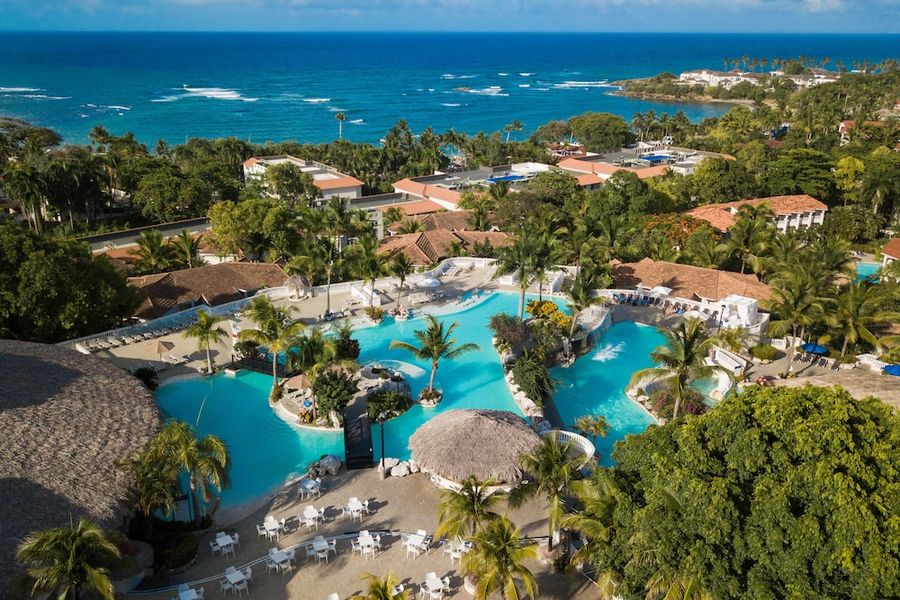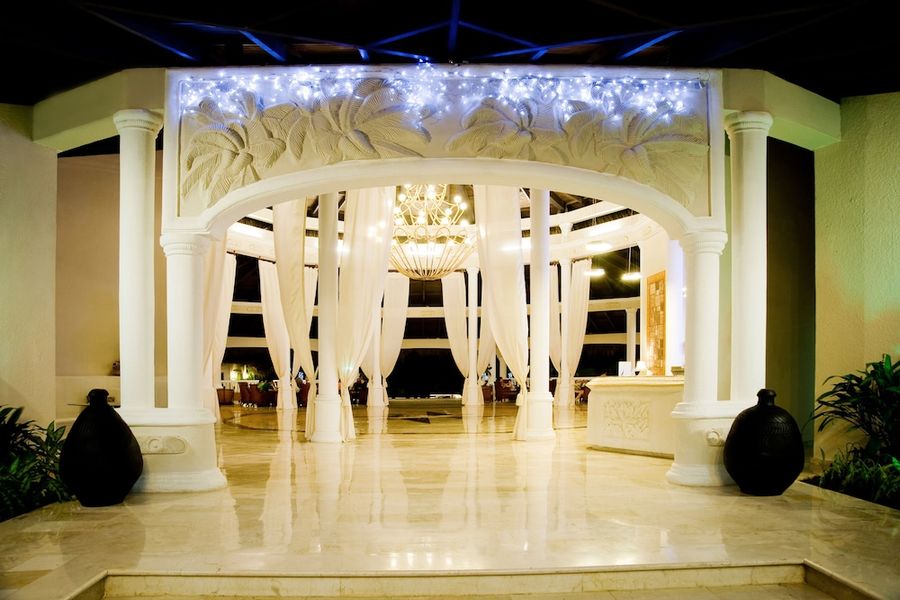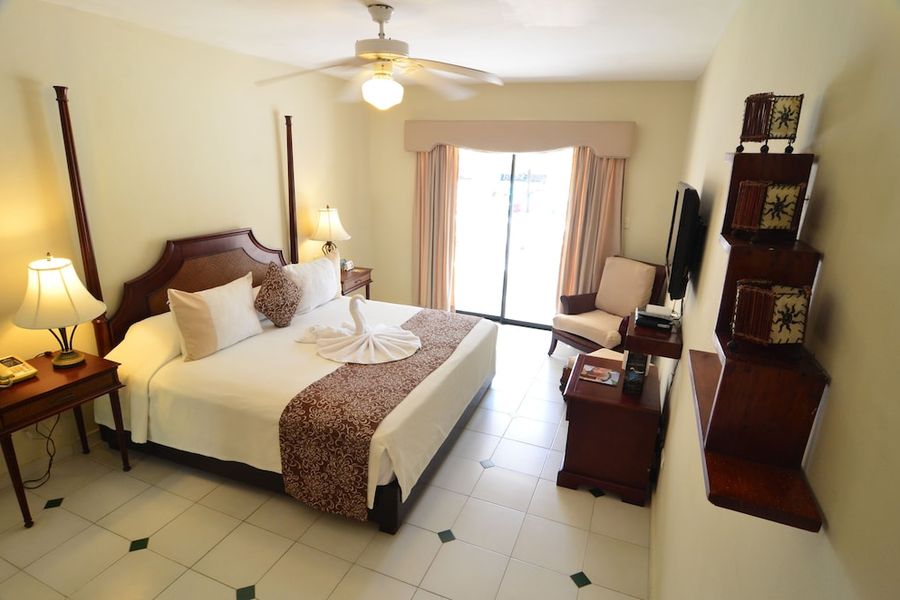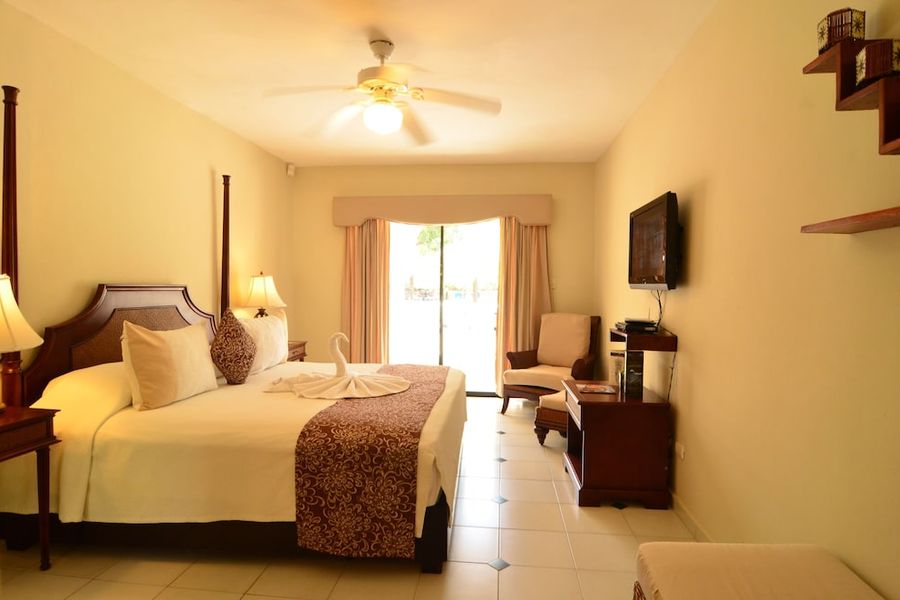 Located in Puerto Plata, Cofresi Palm Beach & Spa Resort All Inclusive is a 1-minute drive from Cofresi Beach and 5 minutes from Puerto Plata Cable Car. This all-inclusive property is 4 mi (6.5 km) from Amber Museum and 4.4 mi (7.1 km) from Fort San Felipe.Make yourself at home in one of the 468 ai...
More details
OpenWeather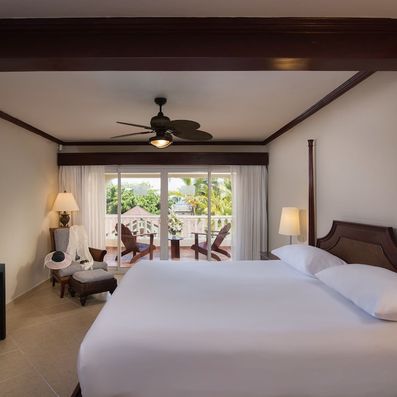 Superior (Only USA Citizens) + VIP Inclusions
1 King Bed or 2 Queen Beds
Features a private balcony
Internet - WiFi
Entertainment
See more details
Cancellation Policy
Amenities in this room: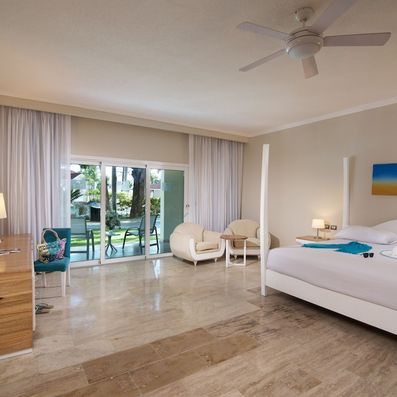 Suíte júnior
1 King Bed
Features a private balcony
Internet - WiFi
Entertainment - Cable channe...
See more details
Cancellation Policy
Amenities in this room:
Max 3 adults
Max 2 children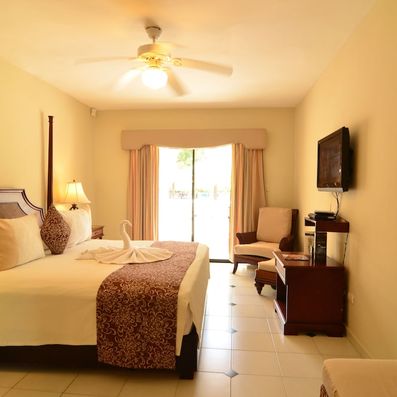 Quarto superior
1 King Bed or 2 Queen Beds
Balcony with pool views
Internet - WiFi
Entertainment -...
See more details
Cancellation Policy
Amenities in this room:
Max 3 adults
Max 2 children
Property Info
Check-in starts at: 15:00
Check-out ends at: 11:30
Located in Puerto Plata, Cofresi Palm Beach & Spa Resort All Inclusive is a 1-minute drive from Cofresi Beach and 5 minutes from Puerto Plata Cable Car. This all-inclusive property is 4 mi (6.5 km) from Amber Museum and 4.4 mi (7.1 km) from Fort San Felipe.Make yourself at home in one of the 468 air-conditioned rooms featuring refrigerators and minibars. Rooms have private balconies. Wireless Internet access (surcharge) keeps you connected, and cable programming is available for your entertainment. Private bathrooms with showers feature complimentary toiletries and hair dryers.This property i...
1 Paradise Drive, Cofresi Beach - Puerto Plata, Puerto Plata - Dominican Republic - 57000
Property Amenities
Check-in starts at: 15:00
Check-out ends at: 11:30
Guest rating
TripAdvisor
Travelers rating
Excellent

2054

Very Good

1362

Good

701

Reasonable

436

Bad

571
Travelers profile
Business

14

Couples

1550

Solo travel

104

Family

1470

Friends getaway

1341
Scores Summary
Cleanliness

Location

Rooms

Service

Sleep Quality

Value
2nd time wasn't as good the first
Reviewed 12 september, 2022
I want to begin by saying I visited pre-covid and post covid and some things have remained the same, some different and some disappointments. In 2018 this place was lively, food choices were unbelievable. In 2022, limited choices some things offered everyday. The casino has been minimalized by the cigar bar they added. They still serve the same popcorn and nachos in the casino. They use to offer wifi throughout the resort, now you have to pay unless your at VIP Beach. The folks who work for the Spa harass you more than the time share folk compared to 4 years ago. Along with the cigars. The beds are now hard. We had what felt like the boxspring with a make shift pillow top. The ants visited the bathroom sink area daily and that was with EVERYDAY housekeeping. Our housekeeper (Massiel) was the BEST!!! The ants were her fault. If you get her tip her well she's AWESOME. The morning shift at the bar in the casino can make a drink, make you feel welcomed. The transportation around the resort is slow. You do better walking and learning. It is large though. No elevators so bring comfortable shoes. Every restaurant was good except the Brazilian. Very rude and the sad part is they weren't before. I had to walk out. The nightly shows haven't changed much to the point I knew the routines. I returned because I loved this place and my first visit was BEYOND memorable. It was everything. I get it Covid-19 came messed a lot of ish up. Changed stuff DRAMATICALLY! Still had a good time. Just not like before. And it seems more locals vacation there now than before. I never visit the same resort twice but I felt so much love the 1st time I wanted to return. I was sad at the changes but still happy I went. Will I ever go again....ask me in 4 years.
NorfPhilly
RUN AWAY
Reviewed 3 september, 2022
The two rooms we were placed in were falling apart. We were first placed in room 20421. It was a twin/double room. The switch two the ceiling light was faulty. If you didn't push in forcefully on the switch, the light would not turn on. Flipping it normally will not turn it on. There was also a leak in the bathroom ceiling. The leak was so big it was practically raining indoors. There was a massive puddle on the floor. After complaining to Rohanny (the front desk person), he sent us packing our bags to go to a new room (Room 20323). Our night plans were gone. The bellhop that took our bags was incredibly rude. Upon arriving to the room and dropping the bags off. He handed me an NDA*. It said that if I signed, I would not be able to talk about my experience in the resort with anyone, online and n person. If they find out I am talking about the resort, their legal team will find me and sue me. They paperwork was in spanish, so it took me a moment to read it. That made the bellhop incredibly angry and he yelled at my boyfriend to translate and told us "we were making his job harder. And We should just sign it." When we refused to sign it he huffed and puffed then said he "doesn't have time for this" and "you'll just sign it in the morning." (That's why there weren't many good reviews. You can't leave a bad review if you signed that paper.) After getting dinner we came back to find that the for would not open. Almost as if it was glued shut. After getting help the person a few doors down, we found out that he was also upgraded because his bathroom ceiling was also leaking. However he did sign the NDA. Well the ceiling in this bathroom was also leaking AND it was caving in! THERE'S MORE! Get ready to be out of the room promptly by 8am otherwise you will be bombarded and harassed by cleaning every hour on the hour. They'll knock on your door and whether you respond or not, they will use their key to open your door. Don't bother locking your door because their key bypasses it. There was nothing to put on the door to notify them to NOT enter the room. Then with an attitude ask "when will you be getting out I have rooms to clean"; "You're getting in the way from me doing my job, I have other rooms to clean for the people checking in at 3"; then on the day before we left: "when are you leaving because you're interfering with my work." It just gets worse from there: * The food is generally not that good. Expect bland and tasteless. * Dinner reservations must be made between 8am and 11am the previous day. Or at 3pm the same day if by chance someone cancels. (They do not tell you this. You find out after trying to make a reservation.) * The Buffet staff were incredibly rude, giving nasty looks and talking down to us when we asked for water or utensils that weren't dirty. One even yelled at us when we had asked to use the bathroom and where it was. * Depending on the wristband you are only allowed is certain parts of the hotel. As part of a regular hotel stay, you get access to 3/7 sectioned off beaches and 9/18 restaurants which are scattered across the different hotels. * The shuttle only passes around every 25 minutes. Which would be fine if the resort wasn't massive. There are about 3 different resorts and multiple rentals properties tied together with a maze of streets under the Lifestyle Holidays name. * Alcohol service is inconsistent. You can order the same cocktail in any bar and get a different result. And some bartenders save the "good alcohol" for white people with the "money' and replace it with a whiskey that tastes like cigarettes. As if there is no color or taste difference between white rum and whiskey. The ingredients listed on the menu under the specific cocktail mean nothing to some bartenders. You will not be attended properly without hold cash in your hand and fanning them down. Even then, to be attended to a second time you must take out more money. Many patrons we spoke to had the same complaint! * Don't expect good service unless you look like a white english speaking American. If you have a touch of melanin, look hispanic/latino and speak spanish, you will be forgotten and disrespected. * From the cleaning service to bartenders and waiters all the way to front desk staff were incredibly rude. According to Gabriela (front desk person), the bellhop shouldn't have allowed us to sleep in that room (20323) if we didn't sign the NDA and should have "taken us to a lesser off room". She then said we should have complained before and there's nothing no one can do. We did complain before, to Rohanny. She sent us to guest services. Esteisy (guest services) said there was nothing she can do because we were checking out that day and offered a bottle of cheap wine. As if wine was going to resolve the issue. She said "that's just how it is everywhere since covid." She got incredibly flustered when I said, "Excuse you, but I frequently go on vacations to resorts, this is not my first since covid but this was the worst." She then had us fill out a complaint form and said it would be dealt accordingly. Well its been two weeks from that train wreck of a vacation and have heard nothing from them. *. NDA- Non Disclosure Agreement
fdezsquared
You get what you pay for
Reviewed 27 august, 2022
You get what you pay for. You have access to 3 resorts: Cofresi, Tropical and Crown. We got the VIP amenities for 2 @$61.54/night. It included a king-sized bed, all you can eat buffet (meals, snacks and alcoholic drinks), games, and nightly shows. Pros: * Price * Beach * Landscape * Architecture * Friendly staff * Beautiful cabanas (Get there early for the best spots. The VIP section has thinner overhead coverage so go to the regular area for thicker hut-like sun coverage.) * Many pools and staffed with lifeguards. (But no covering from the sun.) * Snorkeling including BBQ meat and drinks. The BBQ chicken, pork and hot dog were of the best flavors! (We bargained it down to $150 for 2 people!) * 3 hour welcome massage with mani/pedi for $235/person. Cons: * There's a sewage pipe leading into the ocean in the middle of the beach and it flows into the ocean where guests swim! * Beaches have no lifeguards. * Food is a hit or miss. No ice cream. The pasta and rice were undercooked. Best to get meat off the grill. (Go to the Tropical for better food.) * Service is slow. (Go to the Tropical for faster services.) * The hotel room that was originally assigned to us was very humid. The floor was soaked with a thick layer of water and the bed was damp. (Guest services accommodated the change to a different room but it had no hot water.) * The nightly entertainment didn't have live vocals. The women wore scantily clad clothing and danced provocatively. May not be appropriate for children. * No air-conditioning in the dining halls or main lobby. It's cooled by fans. (Go to the gym for air-conditioning.) * Constant soliciting for the add-in's. (Just ignore them.)
happylily2
no good
Reviewed 25 august, 2022
all I have to say is roaches in the bathroom, pillows were super uncomfortable, food was terrible. A fight broke into one of the restaurants it was really scarry. If you want to have a good time, go somewhere else.
skarleticr
GOOD
Reviewed 21 august, 2022
I rarely go to Puerto Plata when I vacation in the Dominican, but now it is one of my favorite places to go with my family, I really liked this hotel, the rooms are not the best and the internet has to be paid for, but the staff is very good and they help you with any inconvenience, especially my friend Rigoberto from the reception, see you next year.
Y9169DAmiguela