Be Live Collection Punta Cana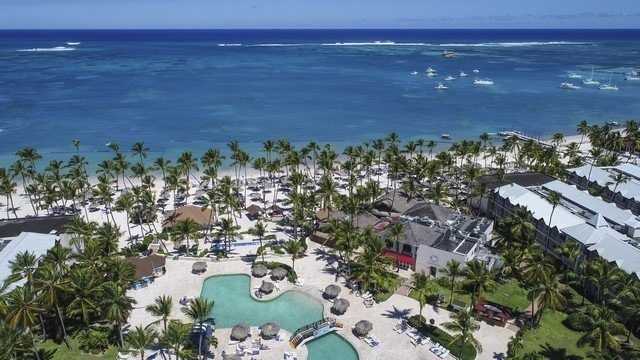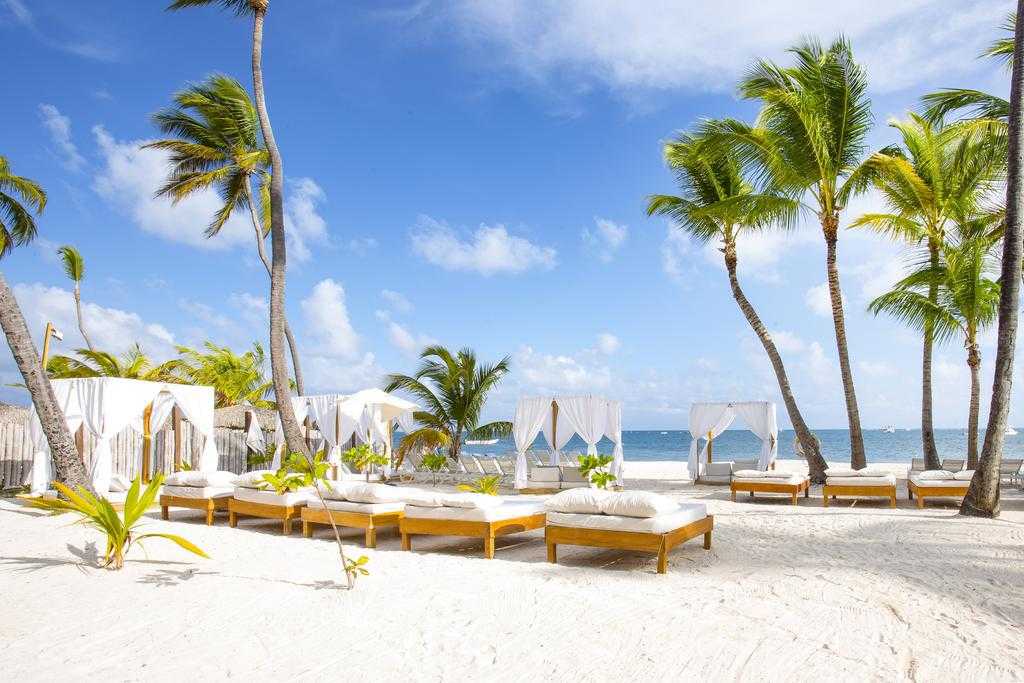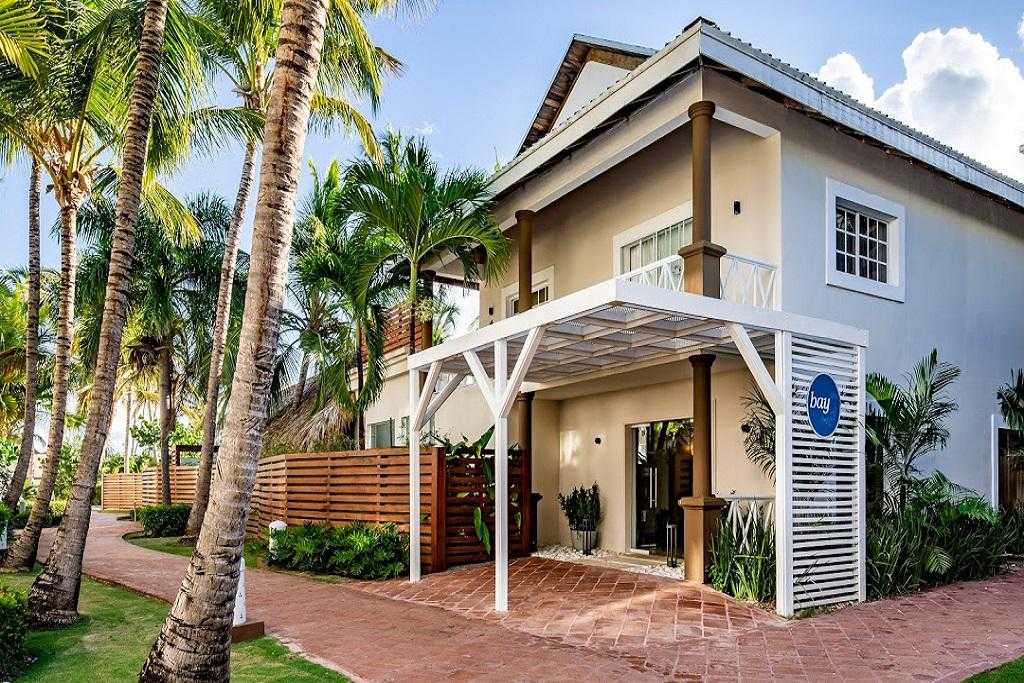 TripAdvisor Review
Based on 638 review
See all
Exclusivo 5 estrellas Todo Incluido de la República Dominicana. Es perfecto para disfrutar de unas vacaciones en familia, pareja, con amigos o simplemente de unos días de descanso. Cuenta con una zona de Spa y Casino. Contamos con la mejor discoteca del área Kviar Show, Disco & Casino
More details
Availability
Select the date of your trip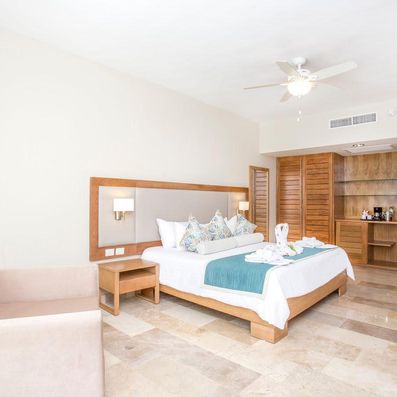 Superior Deluxe
Modern rooms with garden or sea views. One king-size bed or standard amenities. Maximum occupancy: 3 adults O 2 adults + 2 children....
See more details
Cancellation Policy
Amenities in this room:
Max 3 adults
Max 2 children -
by 1 years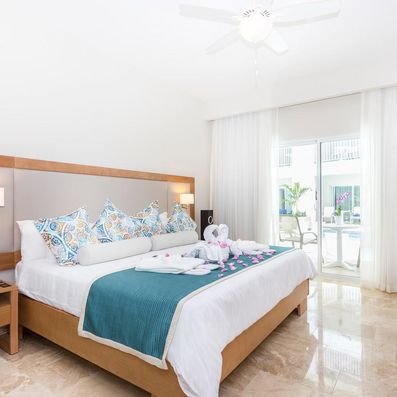 Superior Deluxe Swim up
Modern rooms with direct access to the pool from the terrace. Standard amenities. Maximum occupancy: 2 adults....
See more details
Cancellation Policy
Amenities in this room: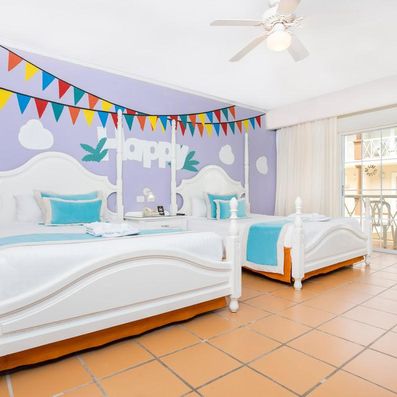 Family Room (Better Togheter)
Extends the room (42 square meters / 452 square pieces) with a view of the garden. It offers family decor and a king or 2 queen beds. Superi...
See more details
Cancellation Policy
Amenities in this room:
Max 3 adults
Max 2 children -
by 1 years
Family Junior Suite (Better Togheter)
Expands and modern room (44 square meters / 441 square pieces). It offers family decor, a king bed and a sofa bed. Superior amenities and ac...
See more details
Cancellation Policy
Amenities in this room:
Max 3 adults
Max 2 children -
by 1 years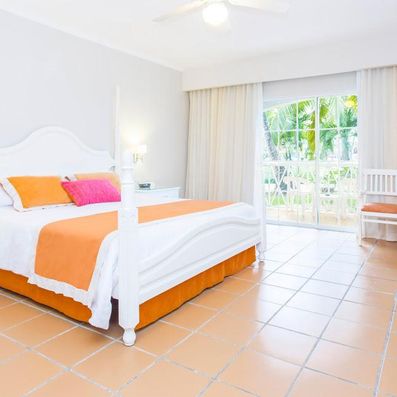 Deluxe
Rooms with garden views and standard amenities. Maximum occupancy: 3 adults + 1 child O 2 adults + 2 children...
See more details
Cancellation Policy
Amenities in this room:
Max 3 adults
Max 2 children -
by 1 years
Property Info
Exclusivo 5 estrellas Todo Incluido de la República Dominicana. Es perfecto para disfrutar de unas vacaciones en familia, pareja, con amigos o simplemente de unos días de descanso. Cuenta con una zona de Spa y Casino. Contamos con la mejor discoteca del área Kviar Show, Disco & Casino
Check-in starts at: 15:00
Check-out ends at: 12:00
Property Amenities
Reception services
Exchange
24 hour reception
Polyglot Team
Gymnasium
Wedding Service
Food & Beverage
Pub
restaurant
Buffet Restaurant
Private Restaurant
Transport options
Pool Bar
Free Parking
Pool and wellness facilities
Pool
Outdoor Pool
Massage Service
SPA
Business Facilities / Facilities
Meeting Rooms
Family entertainment and services
Kids Club
Guest rating
TripAdvisor
Travelers rating
Excellent

348

Very Good

135

Good

52

Reasonable

34

Bad

69
Travelers profile
Business

3

Couples

293

Solo travel

38

Family

77

Friends getaway

112
Scores Summary
Cleanliness

Location

Rooms

Service

Sleep Quality

Value
Worth the upgrade to this section!
Reviewed 29 november, 2021
My sister and I had originally booked The Be Live Collection Punta Cana and were very disappointed with our room. After the 1st night we upgraded for the remainder of our stay and it was well worth it! The rooms, the food, the service are all 100% better! I would not hesitate to stay here again! A few disappointments are the fact that at the nighttime shows not enough seating and parts of this property are run down but they are working on improving... Not all restaurants open and a lack of staff in general caused a few issues! All in all we enjoyed our vacay and Alvin "why not!" at the adult section of the beach is a true treasure and deserves to be reccongnized he was so attentive and helpful, he made our stay a great one!
naughtynat506
Not what I expected
Reviewed 20 november, 2021
I am going to add this declaimer before my "review" I never base my vacation totally on reviews, in fact I rarely rely on them because we all have different experiences. I have just returned from 10 days in the "adults only" section of the resort. So with the understanding we all have different experiences here is mine. The service staff is wonderful . The food is typical mid range resort DR fare, I really enjoyed the Milo's al a carte on 2 occasions. It is really hard to get into al a cartes, unless you line up at 7AM to book. The other 2 I managed to book in my 10 days, (steakhouse, and Mexican) were fair at best, would have preferred the buffet. The resort itself, is really dated, and in need of some maintenance, but my room, bedding and towels were clean. The cockroaches are plentiful, and some rooms are infested (I had to change rooms) they come up the drains, and from cracks around plumbing fixtures. The hookers and pimps, and cocaine are very overt, (I am not naïve, and have travelled plenty, and know there is always a layer of that) but never so prevalent as here, it is like being on the hooker stroll in any big city, in the bad part of town. I actually called this place, "The Ghetto Resort" I feel (KNOW) that many of the time share staff, and kitchen staff (males) prey on women of a certqin age, without a male companion, thinking that they are traveling to find and pay for male companions. I was harassed so badly by a time share guy (Ronal), that on days 5 I finally told him, I considered it sexual harassment, and if he didn't stop, I would report him to management. It was freaking crazy. He said things like, you come here for love, I love you first time free, you be back begging. So offensive, and a horrible experience. I get, being at an adults only, comes with some risqué behavior, but I have to tell you, I saw more in the pools in this resort then I did in the 80's when I worked at strip clubs all over Ontario… lol All this said, I loved the pool, I also loved the bartenders, servers and my very lovely housekeeper, which I showed my appreciation generously. But I will never return to this particular resort.
Kim H
No Progress
Reviewed 14 november, 2021
Having read the reviews of previous contributions and the replies of the management, I am afraid they are are making little or no progress in their action plans. The MarketPlace restaurant was closed for the majority of our time at the resort, the beach was clear of seaweed most days but the lack of umbrellas and the quality of those available (ripped, bent or missing pins) was poor. There is a basic lack of attention to detail within the food and drink operations, for example ran out of tonic water (and not just at the bar we were using (across the resort))! The morning queue to book the a la carte restaurants to collect your little slip of paper was crazy (ensure you allow 30-40 mins). The room was nice and kept clean, but again the lack of detail was prevalent....each day something was missing (water, coffee, spoons!) Think carefully and review the options available.
MartinP182
Nice for the price
Reviewed 9 november, 2021
We stayed at Be Live Adults only at the end of October. Because we were in Adults only we were considered VIP. Only thing VIP was check in and a lounge/bar. Best part of the stay was getting to meet Edvie. He was very hard working, service with a smile. Food was good but was not able to get room service. Our butler Manuel acted like he made our room special before he showed it to us but when we got to the room it was simply the room that we booked. Tried to get assistance from him the next day, he said he would be there in an hour. He never showed up and we never saw him again.
Karen S
Not a 5 Star Hotel as it claims
Reviewed 3 november, 2021
We stayed at this hotel as friends had booked it and we want to surprise them. Our view from the room was very pretty, but the rooms and resort are out dated and need of some TLC. The staff was all very nice, but you could tell they were short staffed. Several bar locations were not open and some only had 1 person working it. We were VIP status, but our friends were not. There really wasn't much difference except for a few things. The red wine was not to our liking. They couldn't even tell us what kind it was. Red or White period. The last night we ended up paying $35 for a bottle at the restaurant. The gift shop wanted $100! There is no transportation from the airport that is provided by the hotel. We were able to get our covid test complimentary. 2 couples we were with had backed up toilets. One couple was told to not put toilet paper in the toilet put it in the waste basket instead. They were fast to fix it, but it happened a few times. The water pressure in the shower is very low and the water doesn't get very hot. The wifi is very slow and had issues getting on, but the front desk helped fix the issue. As I said the staff was very nice.
110debt