Paradisus Punta Cana Resort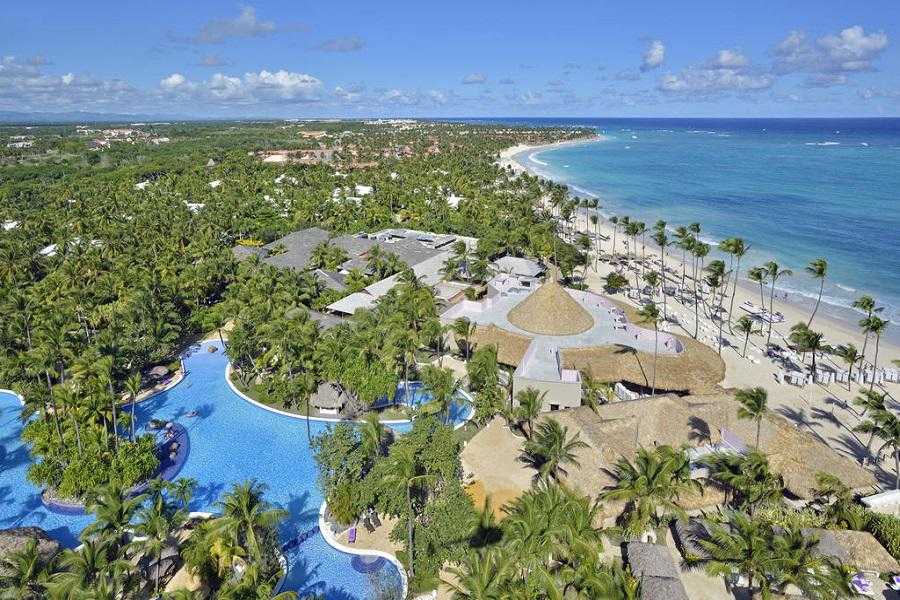 TripAdvisor Review
Based on 16680 review
See all
Surrounded by a tropical garden and pool landscape including a large lake- style pool, the elegant and modern Paradisus Punta Cana Resort enjoys a perfect location directly on a beautiful sandy beach and the turquoise waters of the Caribbean Sea. The eco resort features a mangrove forest with ecolog...
More details
Availability
Select the date of your trip
Select the date of your trip to check room availability.
Property Info
Surrounded by a tropical garden and pool landscape including a large lake- style pool, the elegant and modern Paradisus Punta Cana Resort enjoys a perfect location directly on a beautiful sandy beach and the turquoise waters of the Caribbean Sea. The eco resort features a mangrove forest with ecological park, 11 excellent restaurants, 9 bars, a casino and a world-class spa.
Check-in starts at: 15:00
Check-out ends at: 11:00
Property Amenities
Reception services
Concierge
Guest rating
TripAdvisor
Travelers rating
Excellent

10659

Very Good

3355

Good

1350

Reasonable

701

Bad

615
Travelers profile
Business

656

Couples

6181

Solo travel

240

Family

5700

Friends getaway

2308
Scores Summary
Cleanliness

Location

Rooms

Service

Sleep Quality

Value
Nice property, terrible service and most horrible food
Reviewed 12 january, 2022
We visited this resort for 4 nights right before Christmas and wanted to share our experience at this resort. While the property itself is beautiful and brand new, the overall experience with the resort was very underwhelming. There are several issues with the property, mostly service related and I would rate my experience just 1 star because of that. 1. First issue is the quality of food at this all inclusive restaurant. While I don't expect a Michelin star kinda food, I don't expect reasonable quality food when paying almost a $1000 per day of stay. The food quality is so bad and pathetic that we could not eat beyond bread on most days. The only saving grace would be their Teppanyaki restaurant but everything else just very bad. I am still not able to understand how on this earth can someone mess up something as simple as boiled pasta! 2. General service levels are poor - the staff is mostly untrained and don't know what is expected of them. 3. They try and hard sell this Club Meliá timeshare membership. And this is really sold hard to anyone visiting this hotel. Despite me being very upfront that I wouldn't ever be interested, I was still being persuaded to attend a 3 hour marathon presentation. The hotel needs to train its staff clearly that a NO is a NO. Please don't force me to attend a 3 hr presentation when I am on a vacation. Overall, this is one of the worst hotel experiences I have ever had and wouldn't recommend this place to anyone.
Roving241002
impressive resort with fantastically nice people
Reviewed 6 september, 2021
My family and I spent two weeks at Paradisus Punta in late August 2021 as Melia Circle members. We enjoyed our vacation except for the heat, which is difficult for us to bear and is the only reason I do not rate this experience a 5. We had been to the Caribbeans many times, but only one other time during the summer. We split our time between the pools of Paradisus and the adjacent Palma Real resort, and the beach, which was at the point free of algae. The food at Paradius was the best resort food that we ever ate, really impressive. The rooms were comfortable and very clean. We loved the musical and dance events in the evenings. The best part of the experience was the kindness and friendliness of Dominican people. We will go back just for that, but in the winter!
Q7027OHbernardb
Staff LACKS Attention to DETAILS
Reviewed 19 july, 2021
This was our first time in the Dominican Republic. It was me, my wife and my 18 months old baby. Let me break down the Pros and Cons: Pros - Room was large and had enough space for my baby to sleep and run around - Dinner at the restaurants was always amazing - Cabanas at the pool and the beach are always plenty and clean Cons: - From the time I booked the room until the time I checked out, there was always communication problems with the staff. My requests are constantly being ignored - I have never had worse cocktails at any other resort. Every drink we ordered was literarily disgusting. The only decent drink is beer and they only had one local brand available - The cleaning team seems to be a skeleton crew. Based on what I noticed, one lady for each building, the buildings are large, and there is only 6 buildings. Even when I specifically ask to have someone come over for turn-down service, no one would come for hours. The record I had was 4 hours later until I had to call again. And more than once they leave trash behind including diapers - Our Butler (Patry) CONSTANTLY harassed us about attending a 2 hour sales pitch to become a member. At one point she brought over a colleague to try to convince us simply because I told her let me think about it. - Speaking of butlers, not only was Patry's # 1 priority is to get us to sit through a presentation but she completely lacked customer service. One the first day I let her know that our anniversary was the second day of the trip. She asked us what we like to eat so she can arrange for the right dinner place. My wife told her she prefers a Fish place. She said she will make arrangements. On our anniversary day she sent us the reservation list (after I asked her 5 times) and she put us in a random restaurant that we didn't choose claiming that the seafood place is closed down this season. A few days later we had dinner scheduled at a seafood place which was open ALL WEEK long. Just a simple request that could have made my wife very happy. There were many other requests that Patry failed at fulfilling. The day before we left I asked for dish soap so we can prepare some plane food for our baby, she said she will take care of it, never heard from her that day. I ended up randomly seeing her as I was getting on the shuttle to the airport where she let us know she couldn't find dish soap. Ridiculous! I typically have a handful of criteria that make my experience during travel, customer service is a major one & a clean room is another. This hotel failed to meet my expectations and I won't be returning.
GlobalPal
Out for sale !
Reviewed 22 november, 2020
Wife and I had booked 2 wks from Feb 10Th 2020...Paradisius reputation had attracted us,,,but what a disappointment...Most of the property closed and to share with other comments we've read, the quality of room was awful although the staff was nice and full of excuses !!! definitely this place is worn down and most likely up for sale to a future operator... Anyhow, 4 days before return home both of us suffered from severe FOOD POISONING and we insisted for an early departure 3 days earlier with the promise from the Customer Service Mngr ( Mr O, De la Cruz ) that Paradisius would re-reimburse our 3 days lost from the Royal Service upgrade we had booked on arrival and after signing a Release Form,,,which we did at least twice via repeated emails ..»BS»! even after 7 or more contacts and efforts to reach the said Manager and Assistant, we are still waiting our money ( ± 300$ US) and never received any feedback despite their promise !!! Definitely, this place not up to par with Melia's Reputation and left us with very bad memories...Sad !!!
fromontreal
Staff is ok but room we had was horrible
Reviewed 6 may, 2020
At first glance the hotel looks amazing, it has a large lobby with pink flamingos in the lobby pond. BUT 1- we upgrade at reception for a ocean front room+ section on beach with waiters+ special bar (upgraded alcohol and pool) The person at the reception told me that most of those services were not available due to construction, I said I just want ocean fron and section at the beach ( with beds and cushions on the chairs) he said yes I will have that 2- our room has an amazing view right in front of the ocean WOW 3- the room was so dirty and old and full of rust, it took 4 days to clean the patio door, we could not see outside if the door was closed, the rack in the bathroom was hanging out of the wall 4- we went there not being told that most of the restaurants were closed AND there was construction ( AIR TRANSAT) 5- a lot of the items on the menus were not available ( BBQ restaurant) 6- at the italian restaurant my husband ordered a chicken cordon bleu and he received a chicken breast with cold ham and cheese inside with a cup of white rice, THAT IS IT THAT IS ALL, i mean really??? 7-there was one buffet open for lunch and supper and it was out of pizza, out of parmesan, no refill of water, priorities given to local people even if they were seated after us. 8-dirty utensils, glasses, coffee cups, plates 9-it ended up that anybody had access to the section of the beach that I paid for so why did they charged me? 10- I fought with transat ounce back home and we received a total of $400 credit. for a PARADISUS it was awfull.
sunglow