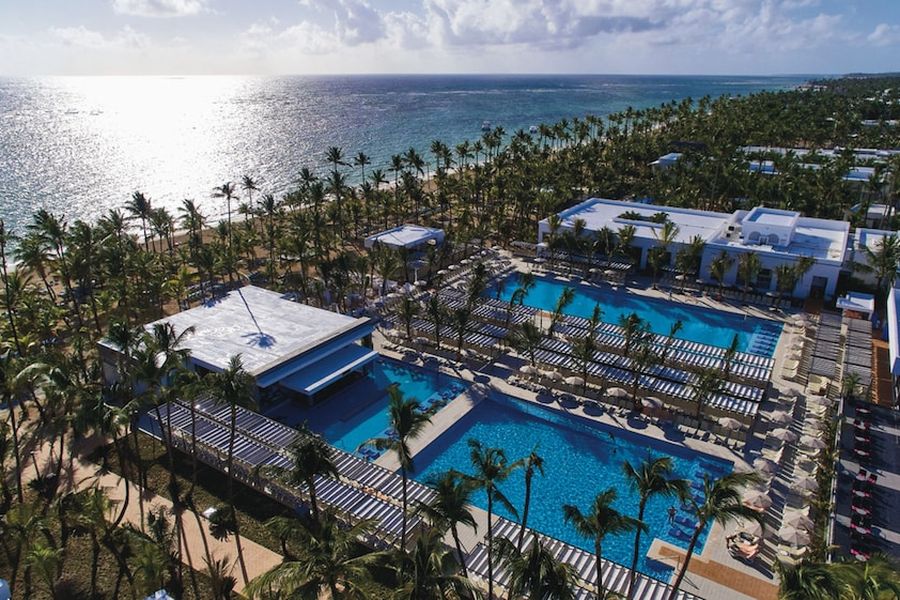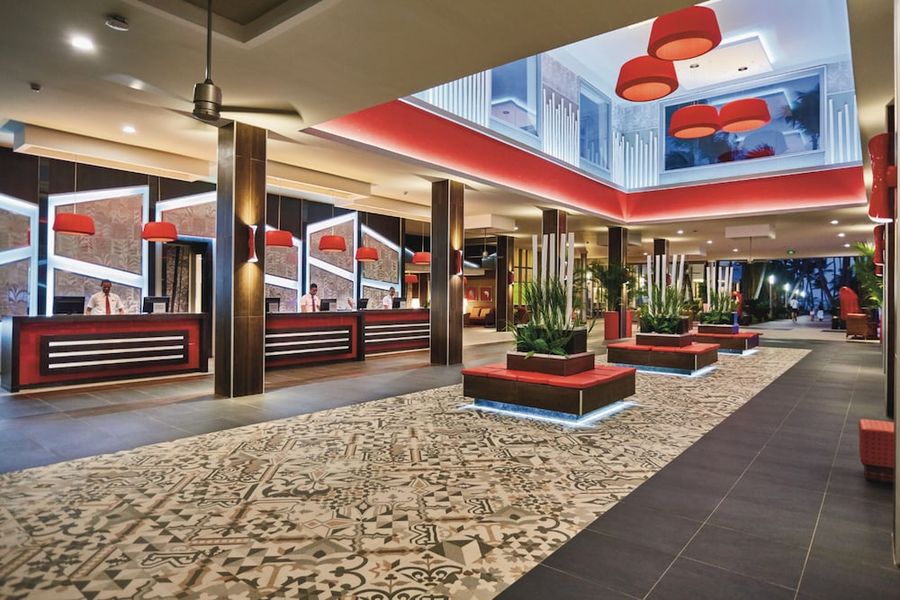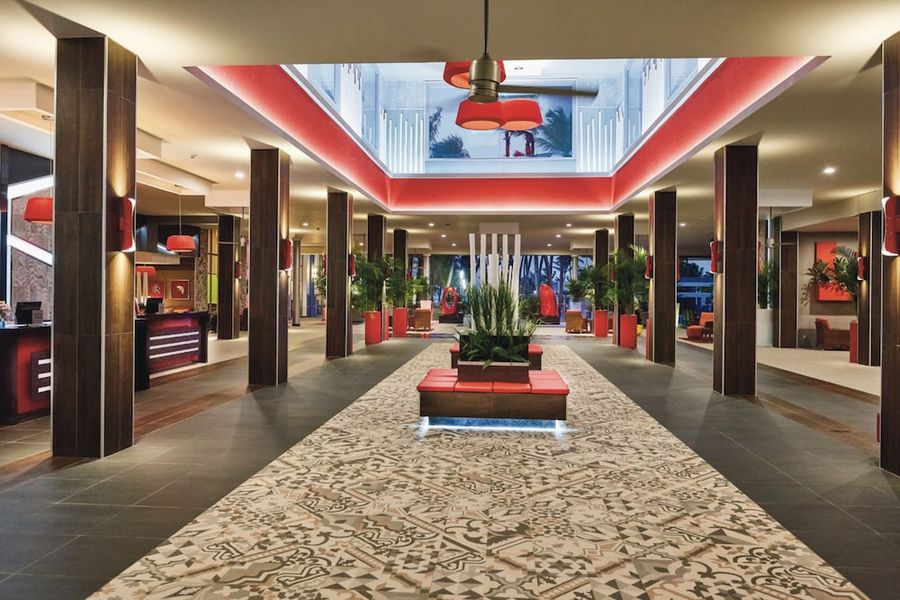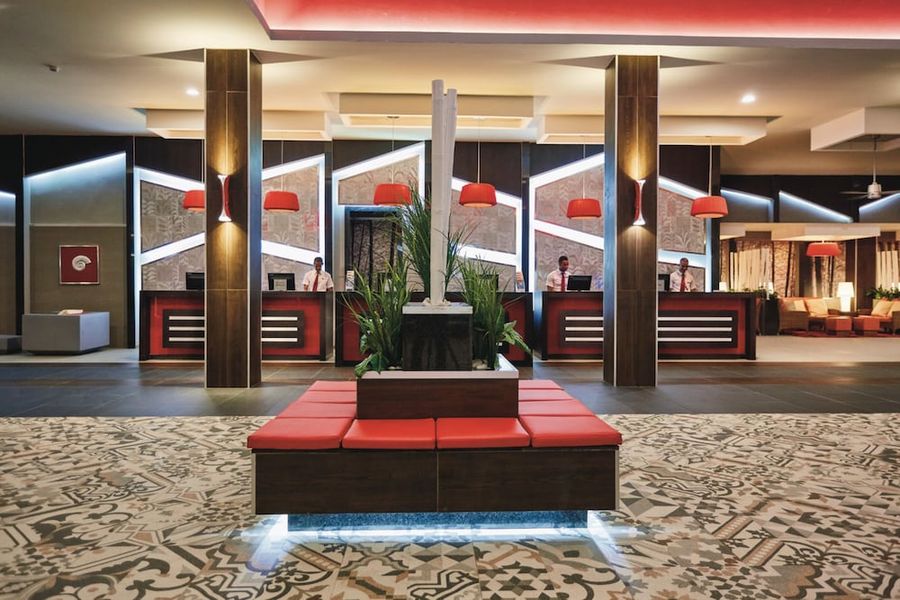 Property Location With a stay at Riu Bambu All Inclusive in Punta Cana, you'll be a 1-minute drive from Arena Gorda Beach and 9 minutes from Cana Bay Golf Club. This all- inclusive property is 8 mi (12.8 km) from Bavaro Beach and 8.5 mi (13.6 km) from Macao Beach. Distances are displayed to the ne...
More details
OpenWeather
Select the date of your trip to check room availability.
Property Info
Check-in starts at: 15:00
Check-out ends at: 11:00
Property Location With a stay at Riu Bambu All Inclusive in Punta Cana, you'll be a 1-minute drive from Arena Gorda Beach and 9 minutes from Cana Bay Golf Club. This all- inclusive property is 8 mi (12.8 km) from Bavaro Beach and 8.5 mi (13.6 km) from Macao Beach. Distances are displayed to the nearest 0.1 mile and kilometer. - Arena Gorda Beach - 0.7 km / 0.4 mi - Iberostar Golf Course - 2.7 km / 1.7 mi - Punta Blanca Golf Course - 3.5 km / 2.2 mi - Cana Bay Golf Club - 4.9 km / 3 mi - White Sands Golf Course - 6.6 km / 4.1 mi - Princess Tower Casino Punta Cana - 8.2 km / 5.1 mi - Casino Di...
Playa Arena Gorda, Punta Cana, 23000, Dominican Republic - Punta Cana, La Altagracia - Dominican Republic - 23000
Property Amenities
Check-in starts at: 15:00
Check-out ends at: 11:00
Guest rating
TripAdvisor
Travelers rating
Excellent

1016

Very Good

801

Good

465

Reasonable

260

Bad

391
Travelers profile
Business

9

Couples

825

Solo travel

50

Family

1240

Friends getaway

294
Scores Summary
Cleanliness

Location

Rooms

Service

Sleep Quality

Value
Lee
Reviewed 6 august, 2022
To say I'm disappointed at the obvious decline in levels of quality of the Dom Rep Riu resorts would be an understatement. Having been a visitor to DR off & on for 20+ years and a patron of Riu for the majority of visits, I found the substandard food choices and quality in the main dining areas on my current stay at the Riu Bambu uncomparable to anything previously experienced - it has likened itself to a 'circa 1978 holiday camp'....gone are the elaborate ice sculptures & welcome clapping on entrance to the dining room....such a shame! And when did 24 hr pools become a thing...more like an 18 - 30 holiday but obviously suited to the majority of the current clientele....never again!
lees755
It's ok...
Reviewed 5 august, 2022
Went there with friends in the first week of April and hotel is ok but nothing close to 5 stars. I had better experiences in 4 star hotels. Hotel grounds are beautiful. The look of the hotel from the pool to sitting areas are above average, clean and just a good scenery. No complaints there. Rooms are small but clean. We did expect more as it was supposed to be a 5 star hotel. We had better rooms in a 4 star hotel in Cuba which says a lot. It was clean and A/C worked well but again it just wasn't 5 stars. Food was for the most part disspointing. Buffet definitely had some good days but most were average. Service was ok except for breakfast where it was you and your luck. Their system for a la carte restaurants needs changing. They have a first come, first serve policy but if you don't get there around 6-6h30 then there either is no more place or you have to wait a while to get a table. Mexican and asian were good, steakhouse is the most popular one and you have to get in line an hour ahead of time to get a table but our group found it disspointing. Rest of the restaurants were ok but nothing special (didn't try the Italian due to all the bad reviews about it here). Beach is beautiful. you have some waves which is normal for the area but the water color is amazing and not a lot of seaweed but that'll depend on which time of year you travel. Only negative, which is a big one, is that outside of a couple of palm trees you have 0 protection from the sun so never forget to put suncreen on or else good luck. They have a shuttle service that can take you around as the casino and disco are a little further away but they are walking distance. That shuttle unfortunately doesn't run all night so if you're out later you'll have to walk back which isn't too far but we had someone injured in our group and we were initially told the shuttle service is 24h but that wasn't the case that night anyways. The disco was almost always empty which is explained by the fact that you have to pay for your alcohol which we found ridiculous. Casino is small but you have a few tables for blackjack, roulette and poker (which was always empty) with a lot of machines. They have a sports bar that's open 24h but you have to pay to play pool or some of the arcades they have which again is ridiculous. We're in a 5 stars all inclusive hotel, why are you charging me 3$ to play a game of pool?? Made no sense to all especially as these things were free in all other all inclusive hotels we've been too. 4 times a week they do have pool parties where guests from all the RIU's can go. I'll give them this they know how to throw good parties. Place was always packed, great music (except the last one we went too, DJ was horrible and was replaced towards the end), alcohol there was included (thank god) and just the overall vibe was crazy. A must go if you're into that kind of stuff regardless of your age. Overall this hotel is ok but is nowhere close to 5 stars in regards of amenities offered, quality of service and very average rooms. If you get a good deal for this place then it's worth going too but don't pay a premium price for it and especially do not expect it to be a 5 star hotel, closer to 4 would be fair. If this hotel was cheaper and rated as a 4-4.5 stars than this would've been a 5 star review which is why it's rating keeps dropping.
G6910TYmikep
If you can get it at the decent price go for it
Reviewed 4 august, 2022
Budget place, with a nice beach as far the hotel beach goes.but from may to october big waves and a lot of seaweed(it does make a difference) Food is good for the price and for a week stay you will be able to taste something different each day. Some days you can find special items like caviar or anchovies at the main buffet. 5 restaurants in this resort, you do not need reservation and can eat there everyday if you wish however, be prepared to eat your dinner 18.30 or wait 30-40 min to get a ticket to eat later that night. Kulinarium is i my opinion the best, not that long waiting times they do have lobster on the menu and tenderloin is huge and tasty. Steakhouse is the most popular. But in my opion food is only ok. I think Taco place also does a la carte main dishes and again steak fillet is excellent there. like others i did suffered from diarrhea 10 days in my stay, and i had a couple of close calls where i almost did not make it to the toilet:) The pools are dirty, especially adults only, and i have to say i often sneaked in to other Riu( Macao) and use their pool especially afternoon. Bambu does have privilege exchange with another budget Riu hotel but dont do it, its not worth it, you also have access to Riu palace where we actually went shopping for couple of items ans they were cheaper there then in shops at Bambu. Drinks are made with local spirits and its not a bad thing but there is not even one drink on the menu with fresh juice. I dont mind cheap booze but please at least get one ot two cocktails on the menu with juice( even from concentrate) not that super sweet slush.Luckily i did notice they do have tomato juice and ask them to make me bloody mary and the did( again drink not listed in the menu) This is much better because its made with real juice not that dreadful premade stuff they use, but bloody marry is not exactly "beach" drink. The biggest surprise and one of the highlights was definitely Riu Party its a separate pool complex at the back of the hotel with easy access to it trough the electronic gate ( same key as for your room. I think 4 times a week you do get a pool party with this ibiza vibe, a lot of buzz from the young croud Music is a mix of bachata hip hipp and you do get sime house/ techno although i would expect more from the venue that market it self as ibiza disco. Nevertheless its included in your stay. drinks are free but be prepared to wait at the bar You can use uber now in PC and when in app just select the pickup point at the gate of the resort to get uberx fees( the cheapest) you can go to bavaro beach or macao beach for around 700 round trip sometimes even less. You can book day trips at the desk. We didnt. You will get better price online, or you can organize day teip yourself and save even more money. We DIY Santo Domingo over night stay and we lived it we even went to see SD bario and this was eyes openings experience. Rooms are basic and unfortunately ours was infested with mould on the walls. Fresh air helps to get rid off the smell. Bed is big and comfy. On your arrival you will get and envelope where you will find qr code, scan this and it will tell you everything you beer to know about riu party restaurants you can call in maintenance or order service or more drinks.thats a nice touch. Late checkout available but expensive 20$ per room each hour. Hotel grounds nice ro look at a lot of palm, but in the end this is only ok. I have been in DR before 15 years or so ago and the hotel in Uvero Alto and i remember it was much better, luxurious clean. This is my first AI since 2006 then usually we do backpacking and have seen same amazing beaches and to be hones Saona is nice but you will see even better beaches in Indonesia or 🇵🇭. Overall is it worth it? Well, get it at cheap price and then yes we payed almost 1600€/ per person for 2 weeks stay and for that price i cant really recommend it.
RomanRumun
Sunrise
Reviewed 30 july, 2022
After coming back a few weeks I have decided to write a review. We had a family room but the second bed was a bed sofa which unfortunately it was very uncomfortable looking back we would have been better to have booked two double room. I was with my daughter and her two children. 13 and 12. The staff at the hotel are all great and are very attentive. My favourite was my cleaner Zuliki I think her name was. Also as we had a room for four we only ever got three towels but my cleaner often made me towel art xx. The fridge which is only stocked up 3 times a week was only really stocked up for 2. But plenty of bottled water. I'm sure the hotel would have solved these if we had asked. The food is great and we went to all the restaurants but to be honest I was happy with the main one in reception. On the first two mornings because of the difference in the time from uk we went to watch the sunrise which was beautiful. The weather was great take your factor 50. We went on 2 trips a snorkelling from the guys along the beach and the dolphins. The dolphins pictures I felt where expensive for an email. The only thing I didn't like was the shops on the hotel complex. I would have liked to buy some things from the shops and have a look round but often the starting prices were like 75 dollars for (cheap necklaces which he said he made the morning). We managed to get him down to 25 dollars but it's just not my way. 25 dollars for a small ball which I did let my grandson have. If you don't buy or except their free gifts then they guilt trip you. Take extra money for tips and always tip your cleaner they work so hard. Sit down and write a list of everything you could possibly need as the shops are so expensive. We too came back with covid and a doggy tummy. I think with the tummy I feel it's the change of diet and the free flowing alcohol. All and all we had a great time children in our group of fourteen had a brilliant time.
Tina F
Dissapointed
Reviewed 28 july, 2022
We are here on a two week holiday with another couple, celebrating our engagement, and still haven't managed to get in to any of the a-la-catre restaurants. We've been here a week! There is no booking system, people are expected to que from 5pm in 30 degree heat to get a table at 6.30, and unfortunately this still isn't guaranteed. Whilst there is nothing wrong with the buffet, in fact the food is very good, but it's very much like a canteen. We chose this hotel because of the restaurants, so are very dissapointed that we haven't been able to have some nice meals in a nice setting, and celebrate properly.
Lisa P