WoodSpring Suites Raleigh Northeast Wake Forest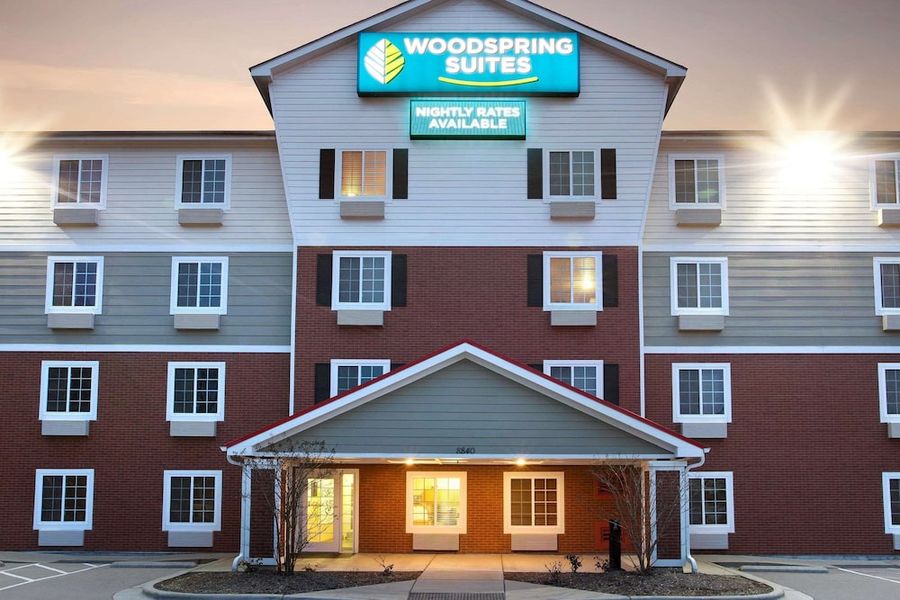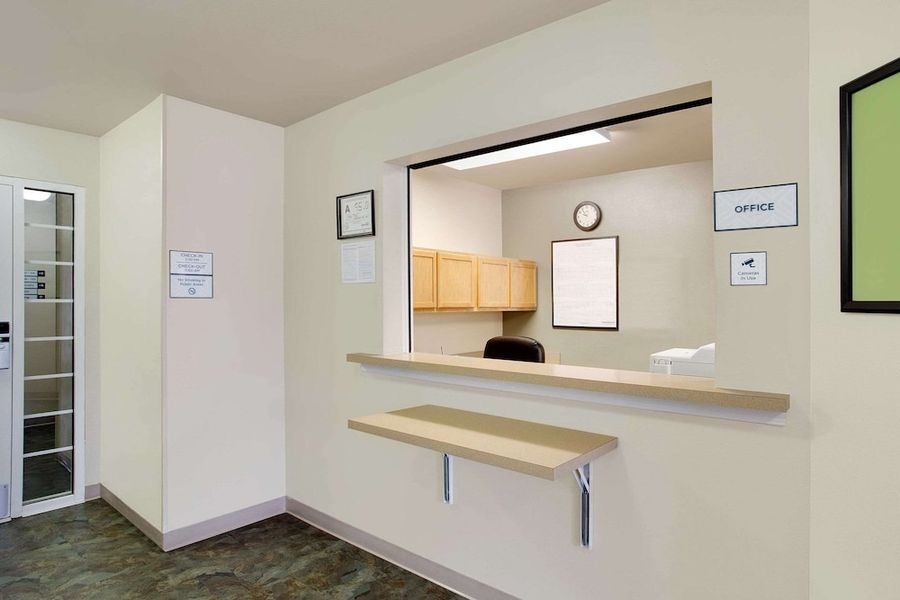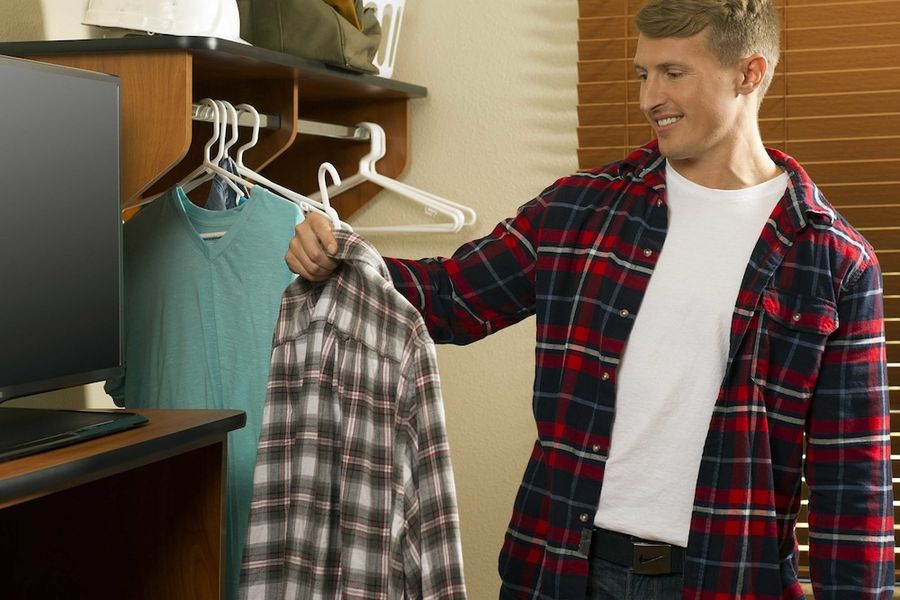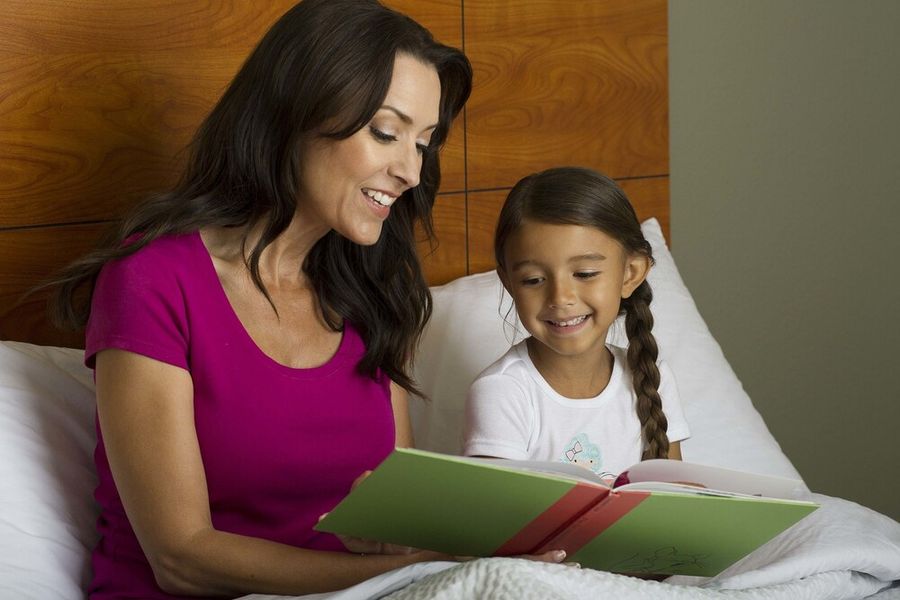 With a stay at WoodSpring Suites Raleigh Northeast Wake Forest in Raleigh (Northeast Raleigh), you'll be within a 10-minute drive of WakeMed North Hospital and Durant Nature Preserve. This hotel is 11.6 mi (18.6 km) from North Carolina State University and 13.5 mi (21.8 km) from Crabtree Valley Mal...
More details
OpenWeather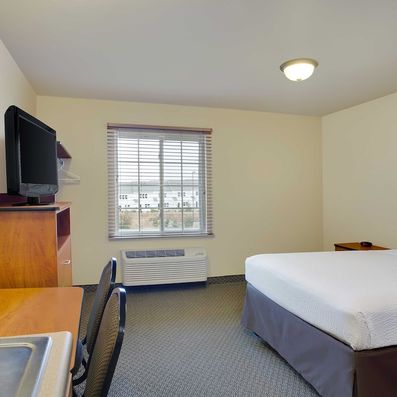 Suíte, 1 cama Queen, para não fumantes
Max. 2 adults and 1 child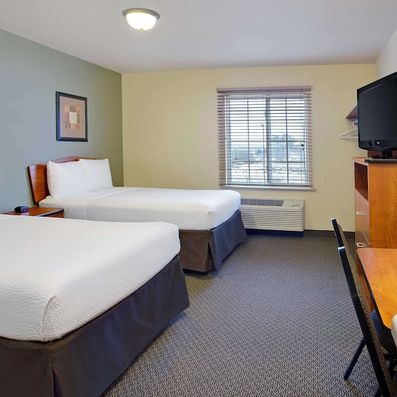 Suíte, 2 camas Queen, para não fumantes
Max. 4 adults and 3 children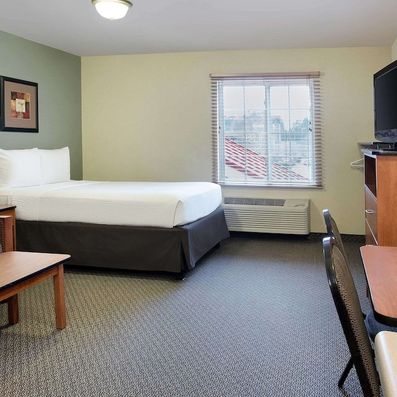 Suíte, 1 cama Queen, Acessível, para fumantes
Max. 2 adults and 1 child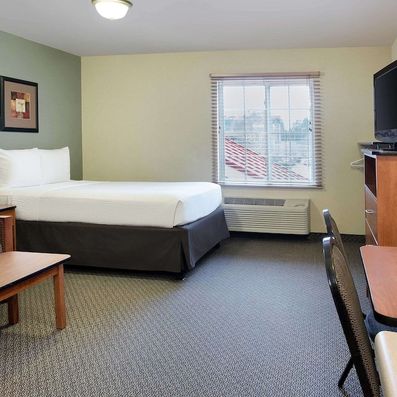 Suíte, 1 cama Queen, Acessível, para não fumantes
Max. 2 adults and 1 child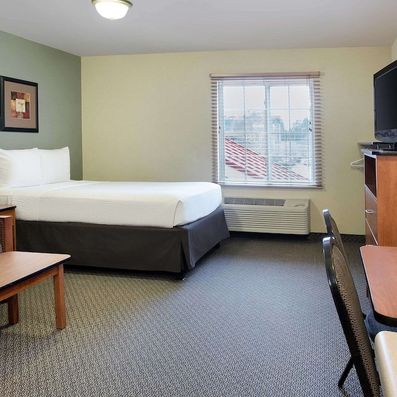 Suíte, 1 cama Queen, Acessível, para não fumantes
Max. 2 adults and 1 child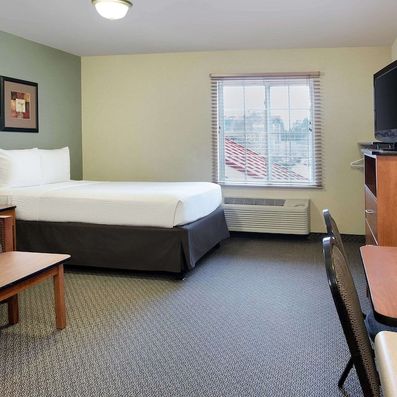 Suíte, 1 cama Queen, para fumantes
Max. 2 adults and 1 child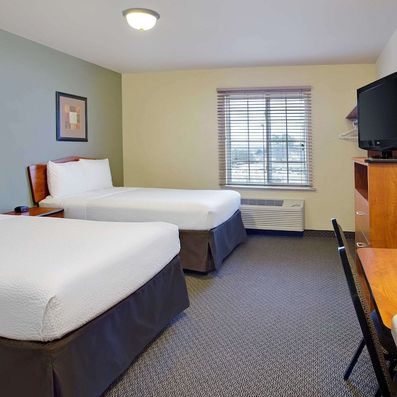 Suíte, 2 camas Queen, para fumantes
Max. 4 adults and 3 children
Property Info
Check-in starts at: 15:00
Check-out ends at: 11:00
With a stay at WoodSpring Suites Raleigh Northeast Wake Forest in Raleigh (Northeast Raleigh), you'll be within a 10-minute drive of WakeMed North Hospital and Durant Nature Preserve. This hotel is 11.6 mi (18.6 km) from North Carolina State University and 13.5 mi (21.8 km) from Crabtree Valley Mall.Make yourself at home in one of the 121 guestrooms, featuring kitchens with refrigerators and stovetops. 32-inch flat-screen televisions with cable programming provide entertainment, while complimentary wireless Internet access keeps you connected. Conveniences include phones, as well as desks and...
8840 Wadford Dr - Raleigh, North Carolina - U.S - 27616
Property Amenities
Check-in starts at: 15:00
Check-out ends at: 11:00
Guest rating
TripAdvisor
Travelers rating
Excellent

169

Very Good

18

Good

5

Reasonable

6

Bad

29
Travelers profile
Business

35

Couples

30

Solo travel

52

Family

79

Friends getaway

7
Scores Summary
Cleanliness

Location

Rooms

Service

Sleep Quality

Value
Loving my extended stay at Woodsprings Raleigh/Wake Forest
Reviewed 28 september, 2022
When the offer came in for my house, I said really!!! Sold!!! Not realizing how difficult it would be to find a place to stay with my service dog in this new housing market. I was not paying $2,000+ a month just to lease or purchase a dwelling. After moving, cleaning in 100 degree summer heat for several days, my furry grandbaby & I checked in. Looking like the hot mess I was, I was greeted with a warm understanding smile and a key card to my room. She knew I was life tired and was so grateful to have a place to rest before my next journey. When I entered my 4th floor suite, I was pleasantly surprised at the size of the room. Nice kitchen area with full size fridge, countertop for my coffee maker, full size microwave and 2 cooking grills. Desk for my printer/laptop, LG flat screen, nice area for clothes and space for my few boxes. Bathroom was clean and A/C was pumping. OMG, the shower head was on point and washed away all the drama of the past few weeks. When I finally collapsed on the soft bed, felt like I was in my own little spot. When in my room, I do not hear my neighbors like in an apartment or a cheap hotel. Over the weeks, I have been treated well by staff from the awesome maintenance crew, the groundskeepers who keep the spot clean & manicured, the diligent housekeeping who keep the public spaces and laundry areas clean and the professional management that keeps me safe and handles everything. Nestled between residential behind and commercial on sides & front on a dead-end is perfect for walking my grandbaby. Financially it is an excellent alternative housing for $500/wk which includes dwelling, lights, water, cable, lawn maintenance, security, trash pickup, insurance, taxes, furniture, appliances, exterminator, towels, sheets, toilet paper, pet fee and maid service. For the "Karens & Kens" that are expecting Hilton accommodations for $65/night your expectation are way too high and you may be more suited to a traditional hotel that charges $165/night. This is an Extended Stay with Parents preparing dinner and rushing out to put their kids on the bus, dogs do bark and after a hard day of work some do socialize with their friends and neighbors. This is not my forever home, but a nice stop off before my next journey. Thank You.
deecM8641JG
We were exhausted and I dismissed the bad reviews- I made a big mistake!
Reviewed 10 august, 2022
After finally dropping off our car for repair we looked for a hotel to get some much needed rest. We saw this hotel's bad reviews but I decided they were exaggerated because the area seemed ok and it looked like a new-er property. That was a big mistake. We booked online from a nearby bojangles restaurant and drove to the hotel. Finding the front door was confusing because the front and back look the same. There was a group of people standing at both the front and back of the building as well. We would discover the reason for people standing around later. There was no parking available in the front of the hotel so I had to park on the street and walk across to the front door. Apparently the hotel is pet friendly because the pit bull that was tied to the mirror of a car by a yellow tow strap was led past the reservation desk by a woman and her screaming children as I checked in. The rate was less than other area hotels but the $89 rate was not low enough for us to ever stay there again. We dragged our bags to our handicapped accessible room and noticed the room smelled strongly of smoke. When I looked out the window above the ac unit I saw the reason for the smoke smell was that the area where people congregated to smoke cigarettes and other combustible material was outside the front door and a few feet from our ac unit which was pulling in the outside air and blowing into our room. Turning off the ac reduced the smoke, but then we could hear the loudly slurred conversation of the ladies standing outside smoking until 330am. Soon the pounding started as the unmistakable noise of kids jumping off of furniture and running around overhead, followed by dog barks began. I went to the front desk and asked to be moved but the girl working apologized and explained that nothing else was available, that there were no refunds and other hotels were full. While she checked the computer for another room, she received a phone call complaining about noise. It seems someone else was unhappy with noisy kids and dogs because she called the room in question and told them about the noise complaints. Upon returning to the room my wife showed me what she had "stepped on" while I tried to get our room changed. It was a glass vial from an injectable drug. As medical professionals, this freaked us out. While my wife searched every nook and cranny of the room for other vials and syringes, I called nearby hotels. Nothing was available. Eventually, the pounding above subsided as the children's public disturbance finally ended and we decided to try to get some rest. I put a towel over the air conditioner which seemed to limit the amount of smoke passively coming into our room. At around 330am the drinking, smoking party outside our window broke up and we finally got to sleep. That is, until a little before 8am when the room phone began to ring. I decided not to answer because we were exhausted and anyone who needed to talk to us would call our cell phones. A few minutes later, it rang again. I answered and a voice said "is you stayin' or checkin' out?" I said we were checking out that morning and was told "checkout at 11." I said "ok" and got back in bed. Soon, we heard voices and hollering in the hallway, it was the cleaning staff yelling down the hallway. I put the pillow over my head and tried to rest until my cell alarm went off at 10. 10 am came after what felt like hours of hell: people hollering, laughing, yelling, dogs barking, pounding on the ceiling, car doors and trunks slamming outside that you could hear inside. I staggered to the accessible shower and turned on the water- the shower head was the most restrictive water saver shower head I've ever had to use and I don't honestly know how a disabled person in a shower chair could bathe under the tiny stream of lukewarm water. But what was alarming was what my wife and I called "the brown smear." I pretended not to see it, but my wife would not "John! Get in here!" There were 3 distinct brown finger smears on the left side of the shower curtain. In order to try and facilitate "male- derived rapid extrication from situation intervention #3," I explained "Oh yeah, I saw that. It's just make up." The wife pointed out that she wears this make up stuff and that "that's NOT make up!" I then suggested "Chocolate? Chocolate frosting?" She gave me "the look" and said "it's FLAKY!!" I instituted intervention #4, walking away, saying "Well just clean up and we can get out of here." At 1030am, there was a pounding on the door. I didn't answer because I was packing as my wife tried to bathe under the trickle in the boom boom shower. The pounding happened again so I answered "Are you stayin or leavin?" I said we were "Leavin'!" The housekeeper answered "Checkouts 11." "Yeah. I know." And she walked off. As my wife towelled off and grumbled about "the worst excuse for a shower" and how "they" should "be ashamed" the room phone began to ring again. I answered annoyed "Hello?" The voice said "Checkouts 11." I recognized the voice but couldn't tell if it was the rude housekeeper who pounded on the door or the rude front desk clerk who called earlier. "I know! We're leaving!" There was a pause followed by ""Oh ok." I hung up. Within minutes we were grasping at the doorknob when the phone rang AGAIN. My wife and I looked at each other and my wife's eyelids lowered to a squint and she hissed through clenched teeth, "let me get it!" I decided that was a bad idea and answered "its 1045 and we're leaving NOW!" After a pause a familiar voice said "I just don't wanna hafta charge you a late check out fee." I answered "you dont," and hung up. As I turned to walk to the door I exhaled deeply and grabbed our bags. My wife exclaimed "Oh my God, really?" And then came pounding on the door. We walked past the same housekeeper that had paid a visit previously, and sat in the idling car processing one of the worst hotel stays we've ever had. Yes, the place was in terrible disrepair from stained carpet to chipped formica on the vanity. Yes, the ac/heater circulated smoke from outside. Yes, you can hear everything through the ceiling and walls. Yes it was dirty and could have health hazards like injectables and fecal smears on the shower curtains. But it was the rude and inconsiderate staff that wreck this hotel and make it one of the worst hotel stays we've ever had. I should have heeded the warnings of previous travelers, this place is really awful and it will take more than a makeover to fix what is wrong there.... Avoid. Not kidding.
Johninchicago
Woodsprings Raleigh/Wake Forest
Reviewed 5 july, 2022
Under the leadership of Nefertiti Roberts I had a pleasant stay here. My room was safe, clean and quiet. I also appreciate the little things she did. She made sure that amenities like toilet paper was always available for guest. Her staff was respectful and responsible. She's an awesome General Manager! Thanks Nefertiti Nick Rm#227
nlp1231
Service tech
Reviewed 17 june, 2022
I cannot believe anyone would try to rent a place like this. I do not know how this place Gm has a 3.5 rating. After have to argue and prove my point about my room being paid for an hour later the clerk admitted she put a number wrong and finally got me In a room. This first room I got the lights were off and I stepped I. The room and slid across the floor almost falling cause the floor was soaked so bad my shoes got wet and I called the desk they put me IN Another room. The second room again the carpet was wet, someone had spit nasty looking spit on the walls had snot smear on the walls In different areas. There was puke in the elevator trash up and down the hallways. The dresser drawer fell out when I moved the chair the tv didn't work a caverns I. The room disguised as a motion sensor. This place should be shut down. A healthy h hazard with mouse poop in the made bed and the nightstand drawer. The only simi-clean thing was the door of the refrigerator. There were bugs running all over the room. Dead bugs in the bathtub. Not recommending anyone stay at this hotel not even my worst enemy. Pics included
victorhN9386LD
Most disgusting place I've ever stayed
Reviewed 28 may, 2022
This is hands down the grossest place my fiancé and I have ever stayed. Dead roach in the tub. Roaches everywhere. Blood stained sheets. Grimy walls. Food crumbs on the bedsheets. Random body hair everywhere. Dirty fridge. All around dirty. AVOID AT ALL COSTS. Not sure where all these good reviews are coming from because they do not represent this place accurately at all. Be warned it is an extended stay place that advertises itself as a normal hotel.
Jrdtdd