Sunshine Rhodes - All Inclusive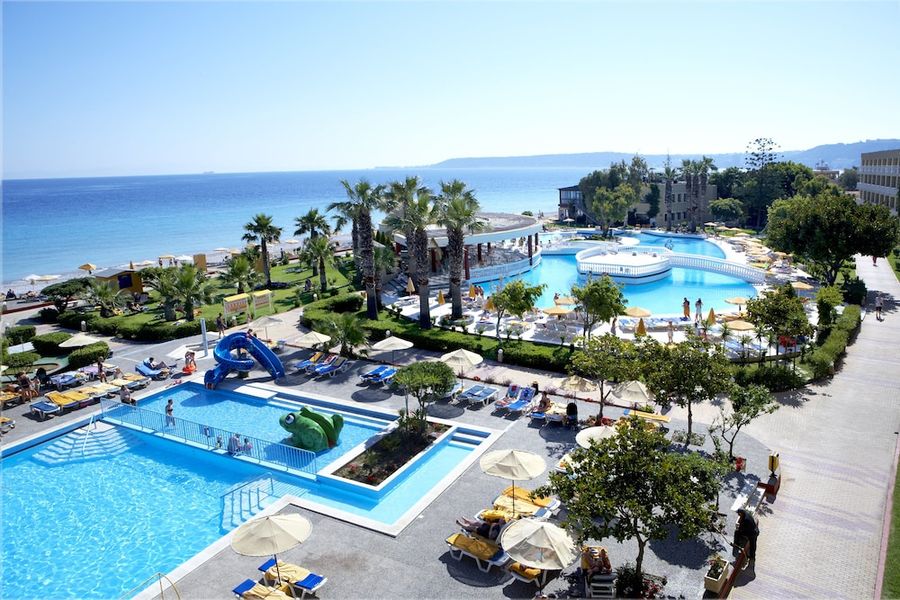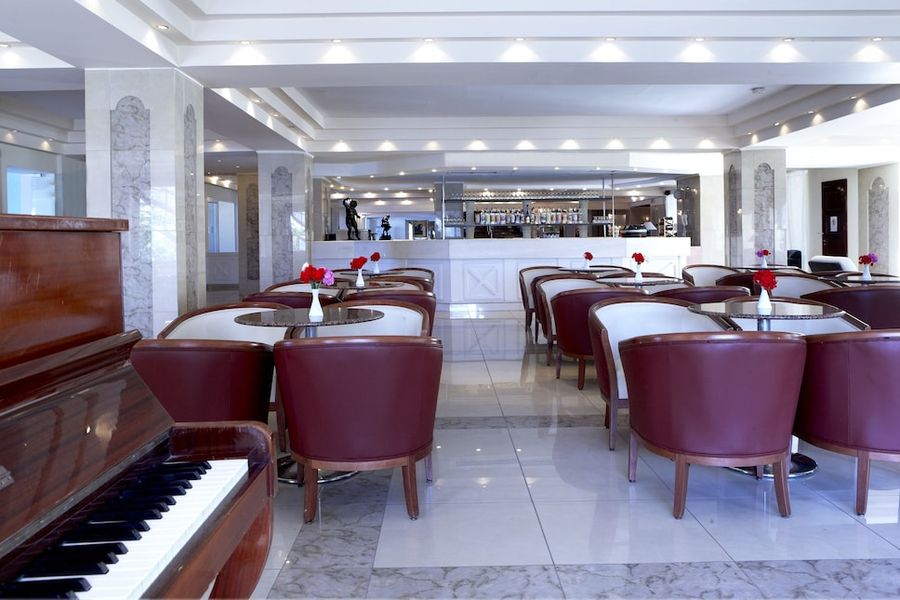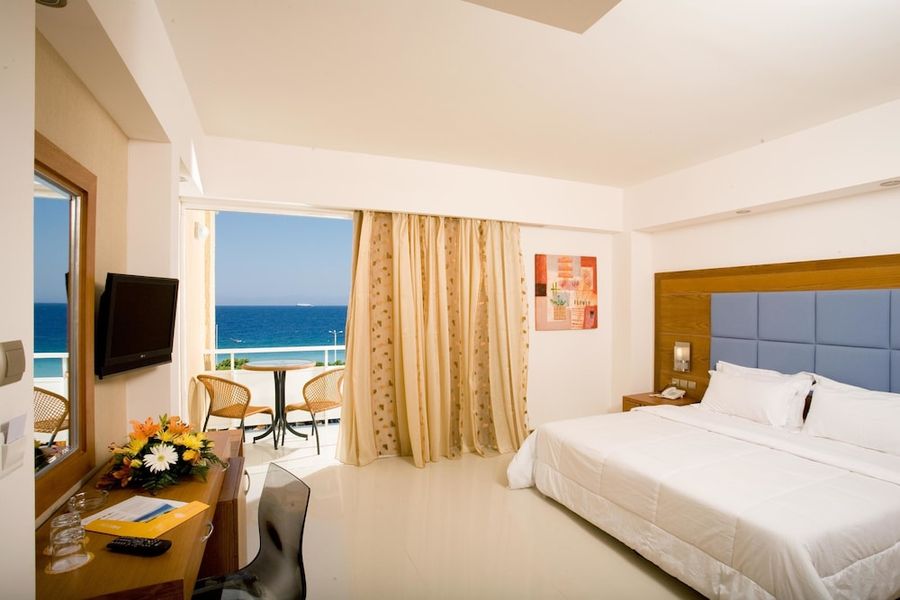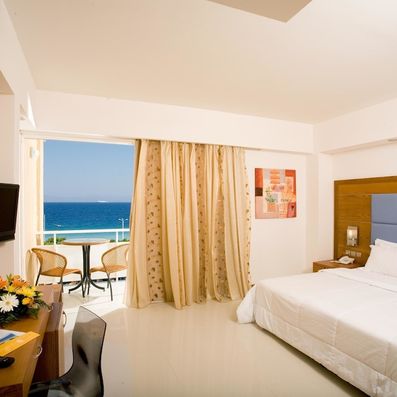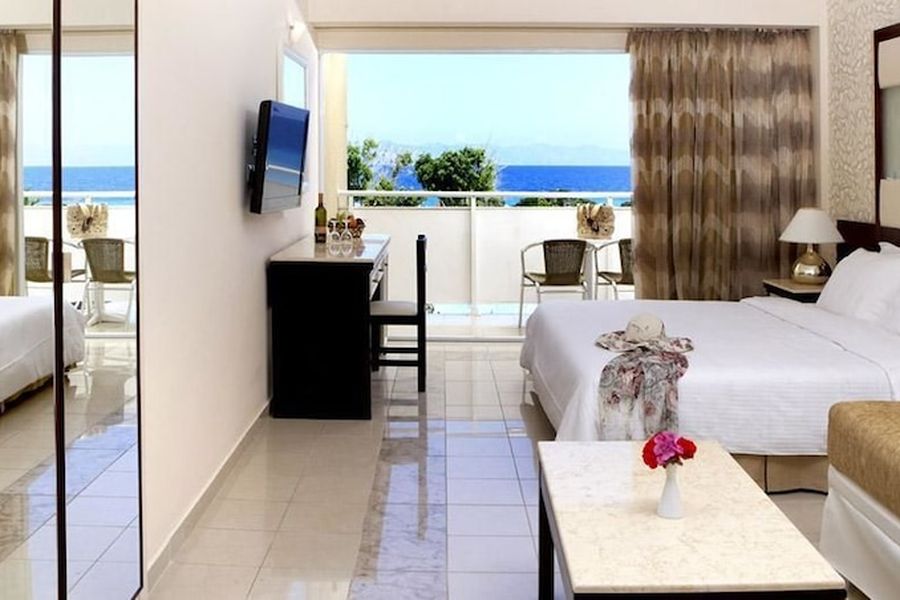 On the beach in Rhodes, Sunshine Rhodes - All Inclusive is just a 15-minute drive from Port of Rhodes and Elli Beach. This 4-star property is 7.5 km from Acropolis of Rhodes and 10.5 km from Palace of the Grand Master of the Knights of Rhodes.Feel at home in one of our 371 guestrooms featuring refri...
More details
OpenWeather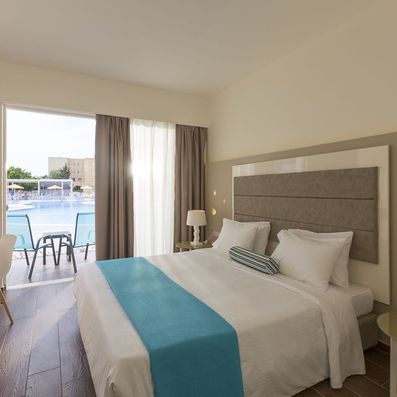 Quarto família, vista para a piscina
Max. 3 adults and 3 children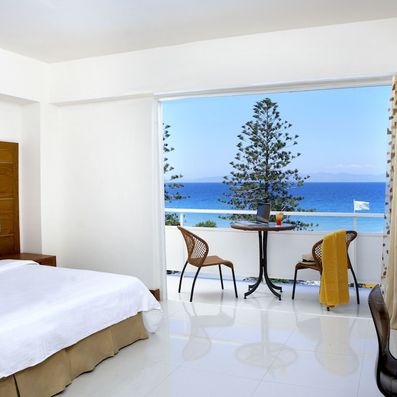 Quarto casal
Max. 3 adults and 2 children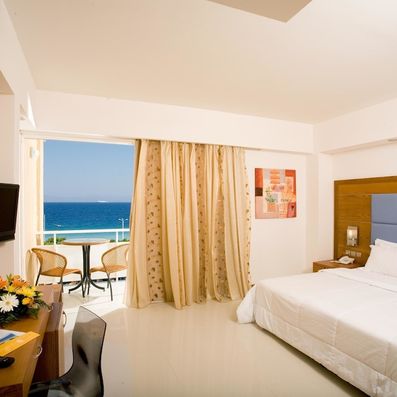 Quarto casal, vista para o mar
Max. 3 adults and 2 children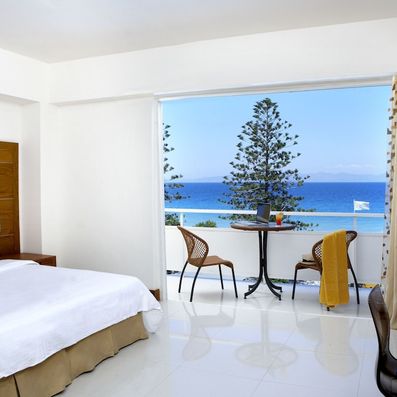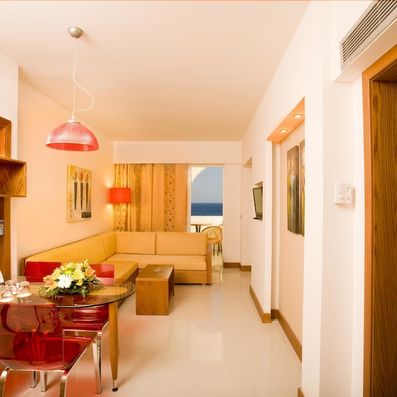 Quarto família
Max. 3 adults and 3 children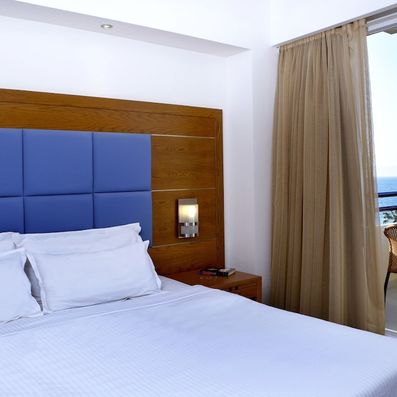 Quarto família, vista para o mar
Max. 3 adults and 3 children
Property Info
Check-in starts at: 15:00
Check-out ends at: 11:00
On the beach in Rhodes, Sunshine Rhodes - All Inclusive is just a 15-minute drive from Port of Rhodes and Elli Beach. This 4-star property is 7.5 km from Acropolis of Rhodes and 10.5 km from Palace of the Grand Master of the Knights of Rhodes.Feel at home in one of our 371 guestrooms featuring refrigerators and LCD TVs. Rooms have private furnished balconies. Wi-Fi (surcharge) keeps you connected, and there's satellite programs for your enjoyment. Bathrooms have complimentary toiletries and hair dryers. This property is all inclusive. Prices include meals and drinks consumed at the hotel's res...
1 Rapti Square Ialyssos - Rhodes, Rhodes Island - Greece - 85101
Property Amenities
Check-in starts at: 15:00
Check-out ends at: 11:00
Guest rating
TripAdvisor
Travelers rating
Excellent

626

Very Good

554

Good

351

Reasonable

214

Bad

124
Travelers profile
Business

7

Couples

516

Solo travel

26

Family

881

Friends getaway

214
Scores Summary
Cleanliness

Location

Rooms

Service

Sleep Quality

Value
Thomas Cook CATastrophe
Reviewed 3 november, 2022
My girlfriend and I visited this hotel the last week in October and unfortunately it was overall a very disappointing experience. Our biggest problem was cleanliness. On arrival our room had not been cleaned; bins were full, the bed was smelling of body odour, the mirrors and doors in the room had also not been wiped down, broken plug sockets, stains on the wall and holes and slashes through the lamps on the dirty bedside tables and in the curtains. For us ( and I am sure most people) cleanliness is THE most important standard when staying in a hotel and so this was a MASSIVE knock to our expectations. Thomas Cook unfortunately had to move us to this hotel due to my original selection being cancelled due to hotel closure. I trusted that Thomas Cook presented me with a 'like for like' hotel however I doubt this lack of cleanliness would have been in a problem in the original hotel I had chosen, as I had done quite a lot of research and inquiring. This lack of cleanliness showcased itself throughout our whole stay and throughout the hotel. To keep it brief here is a run down of some of issues we found; over the course of our 6 day stay our bed sheets were only changed once ( at our request on arrival when we were told we couldn't change rooms). Additionally, after the room being "cleaned", there was a foul damp, dirty water smell that traveled through the room; our fix to this was staying at our smaller pool and airing the room out all day by keeping the patio door open. This was highly inconvenient however the smell was not liveable so we literally had no other choice. **to note; there were additional issues regarding the room etc but I will try and keep this as to the point as possible. Essentially; the hotel was lacking in a satisfactory level of cleanliness. For us this trip was "all inclusive"; having just returned from an exceptional all inclusive hotel in Spain in August, I cannot express enough just how disappointed we were with the food/drink standard and selection. I am well aware that "you get what you pay for" with all inclusive however Thomas Cook/the hotel advertised a variety of different options that were not available to us. There was no snack bar throughout the day, the selection of drinks available were shocking and the food was quite literally rotational from the previous meal. For example if pesto pasta was served ( and not eaten) one lunch time; the following dinner would have a "pesto soup" option. Another example of this was one lunch time having vegetable soup and at dinner time having the same soup but it had been blended. The same pattern was seen across the "salad" tables and the hot "main dishes." It was lacking choice to say the least. The evening meal definitely put a damper on our spirits to the point where we eventually started eating out to avoid the dull tasteless evening we should have endured. Breakfast was definitely the most tolerable however the lack of nut milks make it impossible for myself to have cereal; which to me is a very simple ask in 2022 where lots of people have differing allergies and dietary requirements. For each meal there were several flies hovering around the fizzy drink station and the salad bars; this of course made those areas off bounds and so the selection at each meal just got smaller. I would not eat from an area where flies are hovering, but maybe that's just me. The hotel is rather big and there are 3 pool areas; despite this, the pools were all ICE cold making them virtually impossible to use. I had my legs in the pool once; this was another knock of our holiday ! There are several other little things I could discuss but I think this is a reasonable and fair account of our holiday. I would also like to add that across our stay we heard several families and groups discussing their disappointment in the hotel; it's cleanliness and it's lack of drink and food options. In fact on one afternoon in particular one gentleman actually told me not to eat a particular dish that he suggested made him very unwell the previous week. In all honestly my disappointment relies solely with Thomas Cook and not necessarily the hotel at hand. I think Thomas Cook are meant to be a trusted holiday provider and the holiday I was advertised and promised was far from my reality. However, in being honest I would like to commend the staff at this hotel. Although the hotel as a whole should be given 1 star at best, the staff here were very helpful and I must give credit where credit is due. They all made great efforts to speak English and make us welcome. Additionally, when we arrived and raised our concerns regarding the cleanliness of the room we had our bed sheets changed within 10 minutes. Although I believe more should have been done regarding this, from guest chat around the pool It was made pretty clear to me that our room standards were consistent with the whole hotel. While our trip was ruined by different standards within this hotel I do have to point the finger at Thomas Cook; I believe their advertisement to be very misleading and I cannot understand why a "reputable" holiday company would want to have this hotel on their records. I am disappointed and having not booked a holiday with Thomas Cook before, I would most definitely not be doing that again. I think it is the job of holiday providers to ensure the standards they are advertising are upheld. The area surrounding the hotel is small and quiet but there are a few bars and restaurants to see. Whilst we made the most of the time we had in Rhodes, the hotel really did let us down; the only positive being a gorgeous wee cat that seemed to find some safety around our room area. Quite frankly the stray cat problem in Greece is heartbreaking but we fell in love with a beautiful black cat that we are actually hoping to find a way to adopt and bring to safety in Scotland. While at the start of the holiday returning to this hotel was out with the realm of possibility, I would endure anything for this little cat… but maybe I'll find different accommodation if I do need to go back to get her. I hope you read this as being fair and authentic. I always like to give credit where credit is due but overall this hotel is definitely one to miss and I could not recommend it to anyone, no matter how lovely the staff and workers were.
Louisa K
Very enjoyable!
Reviewed 29 october, 2022
We had an amazing first family holiday here in Rhodes. Hotel Sunshine was close to the airport, staff were friendly and welcoming and all very helpful. Sheets and towels were changed very regularly and the place was tidy. The food was all cooked well it was a little bit repetitive but that's my only slight grumble, however it was still nice. We ate out a couple of times which broke it up a bit. The old town was lovely for a visit but be careful of the cocktail bars that pull you in for a "special price" they don't tell you the price before hand and we were handed a bill of €90 for 2 cocktails, 2 beers and 4 cokes! So ENSURE you look at the menu and prices BEFORE you order. The hotel was fab for entertainment for us, water aerobics in the morning , dart competitions 2 times per day. Kids mini disco and some nice little shows by the entertainment team in the evening. Billy , Babou and Shelly all made the holiday what it was for us. The kids loved them, they got everyone involved and they made it really memorable. Thank you guys! Love Kane, Kerry, Devon, Isla, lucky Luke and Aurora Princess!
Kpahe1987
Rob uk
Reviewed 25 october, 2022
We have been moved to this hotel for last 2 night's of our stay, due to our original hotel closing early, although the hotel was nicely situated, rooms where ok , but the drinks and food were discussing, really bad, I had problems with stomach since day one of staying in this hotel, food was so low quality that was unbelievable. I wouldn't serve this to a dog, i asked for gin and tonic in the bar only to find out the is no tonic,and forget about lemon, even water was discussing, you could taste chlorium in every drink, don't think thay use any filters in there, entertainment team ,( if I can call them entertainment team) another disappointment, 2 old enjoying man, that kids didn't want to have nothing to do with, seen them drinking alcohol while at work, overall avoid this place, it's not worth it
lasica10
Fabulous and beautiful
Reviewed 19 october, 2022
I was nervous in coming to the hotel after reading some of the reviews!!!! But my experience was fantastic I had a lovely room (214) room to die for, shower/bath great it was cleaned every day, and the view of the pool and sea was so beautiful. Food was ok general all inclusive but there was something for everyone. The hotel were outstanding as well as the fabulous entertainment team, billy, babou and Shelly. I will miss it here very much. Don't take the negative reviews at face value because my experience was amazing and I will be coming back
LisaRyan2013
3.5 - 4 stars from me
Reviewed 16 october, 2022
We had a huge apartment all together ourselves which was great and only a minute from the beach. Always able to get a sunbed by the beach or the pool. No activities going on that I could see. Staff were tending to the garden which was mell maintained. Could do with a coat of paint and a bit of a revamp but it was clean enough. Restaurant spotless. Plenty of food choices. Towels in the apartment were a bit hard and not enough shower gel left for us. Bed was comfortable enough and extra blankets available. Fridge was very handy although we missed having tea making facilities.
whereissummer