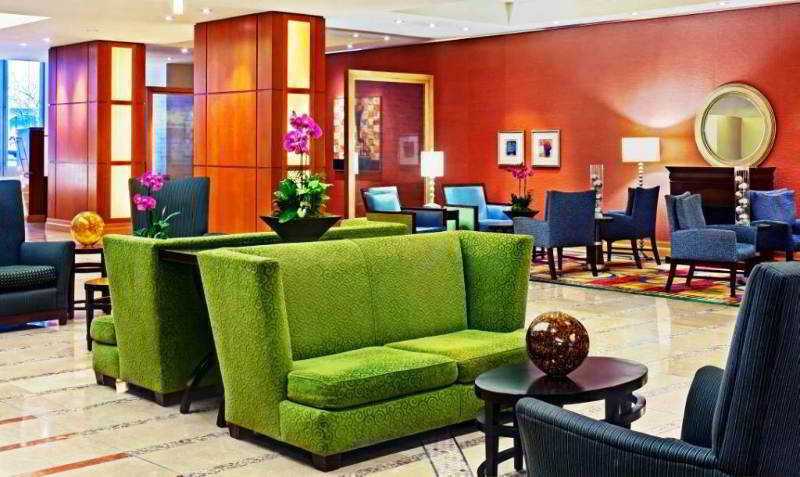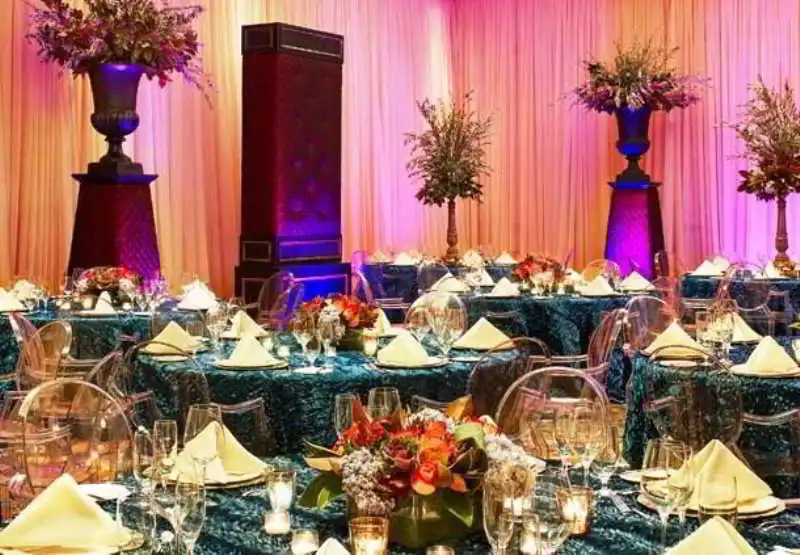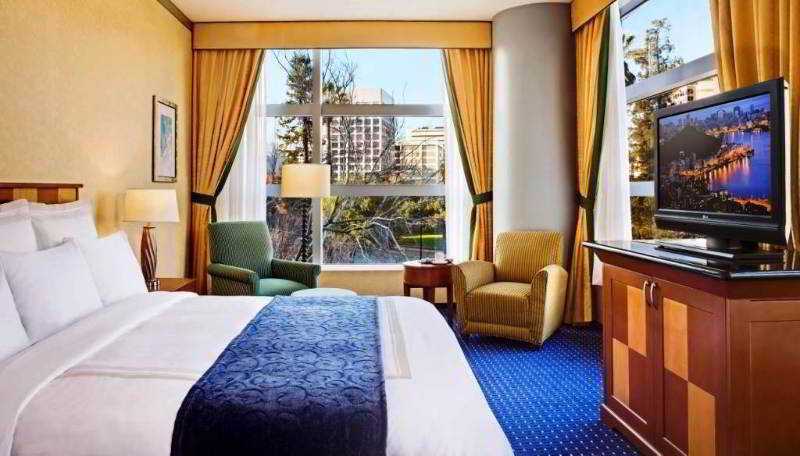 TripAdvisor Review
Based on 1119 review
See all
The hotel is directly connected to the San Jose McEnery Convention Centre and offers 6400 sqm of superbly-designed event space as well as 506 beautifully- appointed guest rooms and suites. This downtown San Jose hotel's meeting space offers quality service, the latest in meeting and presentation tec...
More details
Availability
Select the date of your trip
Select the date of your trip to check room availability.
Property Info
The hotel is directly connected to the San Jose McEnery Convention Centre and offers 6400 sqm of superbly-designed event space as well as 506 beautifully- appointed guest rooms and suites. This downtown San Jose hotel's meeting space offers quality service, the latest in meeting and presentation technology and a superb conference staff, providing the ultimate facility for world-class conventions. This world-class hotel's long list of amenities also includes easy access to all three of the Bay Area's major airports and abundance of area attractions.
Check-in starts at: 15:00
Check-out ends at: 11:00
Property Amenities
Reception services
Concierge
Guest rating
TripAdvisor
Travelers rating
Excellent

435

Very Good

410

Good

160

Reasonable

64

Bad

50
Travelers profile
Business

637

Couples

114

Solo travel

63

Family

158

Friends getaway

67
Scores Summary
Cleanliness

Location

Rooms

Service

Sleep Quality

Value
Taller is Better
Reviewed 28 october, 2021
John Southwest, the GM has operated this Parathion of Marriott almost akin to a JW Marriott. Four, not three elevators cater to your morning needs. Attention ladies the bathrooms with tubs are the largest anywhere outside of a suite. Two light switches control one over the bathing tub, the other the general area. Simple up and down, not the tricky push in type. Television remote too. A simple touch,no need to push down hard. No need to carry water bottles upstairs either as they are in house. Rooms are very, very quiet. This is the newest hotel property around. The Hilton the oldest and it shows it. Three elevators, one broken for weeks. Remodeling going on, noise and ugly black plastic covering. Glass doors are left open as they are broken to close. They are suppose to open and close automatically. At the Hilton, meals are sky high in price, where as The Marriott are served at a fully open bar, seating area or take to your room. The lighting is perfect too. Airline crew stay here, not at the Hilton. Wonder why? The Marriott is situated on a corner, which is always better than mid block. The convention center is next door. Convenient street car direct to the football stadium is but steps away. The pantry or Country Store is the largest out of LA. Everything you could possibly need. Clothing, toiletries, souvenirs, wine (and a good selection at that, especially on the wall) Imported chocolate bars along with the regular variety will keep your dentist happy. Starbucks is present during daytime hours. Three attendants see to your every need. I could almost describe it as a market with a hotel with a hotel in the back! The main post office is the next streetcar stop away. Everything of interest see is within walking district. Ladies rest assured this section of town is safe at night. Hotel only needs one security person at night, no need for any more. Whole Foods is but a short walk from where the streetcar let's you off at the train station. A delightful beer garden is on the second landing. A sort Uber ride away. Halloween spirit is alive with decorations galore as you enter. The place feels alive as the Hilton feels dead. At the Marriott everyone knows his station and does a great job doing his job. The ambience signals the modern era of Silicon Valley. Yet simple pleasures such as the largest bath towels around, individual bathing toiletries, two rolls of toilet tissue hung side by side spell out what other hotels do not. Full size American breakfast too. Staff seems to bend over to help you. Believe hotel has the highest rate of return visitors as overheard a group of business ladies speak of past stays. Any hotel can get guests for a single stay, the Marriott, multiple.
jfkson1
Location great, rooms average, signage and service needs improving...
Reviewed 31 july, 2021
We booked the SJ Marriott purely based on location, price and reviews. While the hotel itself is your average Marriott and they are doing the best under the COVID circumstances - their overall guest experience and lack of signage/communication is terrible. We arrived at the hotel around 3:30pm - I knew from past experience at the Convention Center that there was dedicated Marriott guest parking in the Convention Center garage. We approached the designate area and aside from a sign noting Marriott Valet and an access gate there was no way to access the area. Now trying to save ourselves an extra step I figured park, check-in, tell them I am self parking and done. Nope - first I called the hotel to ask about the parking situation - after an unusually long number of prompts and rings I get a hotel staff member who is not understanding my question (and this was not due to a language barrier). I ask how we are to access the guest parking in the self park area and I am told it's full. Ummmm excuse me I am parked right outside the self park area and I see dozens of empty spaces. So I say where am I supposed to park - she says anywhere in the convention center parking garage that is open. Ummmm again I am trying to save myself from walking miles with luggage. I then decide to head back up to the main entrance where I find a doorman and a security guard. There is still no obvious signage about checking-in or parking. All I know is from the website the valet service is not open at this time. I ask the security guard what we do to access parking and he says oh here park right there (mind you illegally and likely blocking myself in with other guests) and check-in. So I do this - and leave my husband with the keys. I check-in and express my frustration to the front desk at the lack of signage and direction on how guest parking works. The women essentially shrugs me off. Finally explains to me that I need a key card and there is a charge of $23/night plus a $50 key card deposit for self parking. FINE - but again if you had shared this via some signage or your website it would save EVERYONE - staff, guests, security a lot of frustration. When we returned to the parking garage we found at least 2-3 more cars attempting exactly what we did - to access the self park area. There's no intercom and no signage. A simple sign - please check-in at main entrance, or something in the email that is sent prior to arrival would go a long way! Further more better signage in the parking garage elevator and just outside the elevator directing you to the Marriott area would help. SIGNAGE, SIGNAGE, SIGNAGE...really not hard and well worth the money. After calming down I tried to chalk this all up to the fact they are a convention hotel where the average guest does not park/drive - but these are not average times so I recommend management walk the guest's path and think about it as a guest would - assume nothing and over communicate.
850tristaa
Beautiful hotel
Reviewed 30 june, 2021
Stayed here for 5 nights while visiting the grand kids. The hotel staff was helpful and friendly. The room was comfortable and clean. We used the pool and gym and everything was kept sanitized (thank you Covid). Unfortunately, a lot of the downtown area has been negatively impacted by Covid and the homelessness and closed restaurants and businesses kept us in the hotel. Having a Starbucks in the lobby along with a decent restaurant for a quick bite (nothing fancy) was a plus. I did have Uber-eats twice because it was late and everything was closed. Super busy lobby with flight crews coming and going. Great view of the foothills from our 11th floor room. Would definitely stay here again.
P9239EVsandram
DISGUISTING! RUDE! DIRTY!
Reviewed 24 june, 2021
I have been a Marriott Gold member for years. Upon checking into the Marriott room I immediately noticed all the dust in the room and the divider in between the bed and sitting area had dust and something "brown" that looked awful. I called down to get extra towels and a rollaway, and asked to have housekeeping clean the room and the MOD - Stephanie - was so RUDE! And dismissive and just put me down and cut me off. Completely UNACCEPTABLE! SHE NEEDS TO GO BACK TO MARRIOTT School ! After being told we could NOT HAVE EXTRA TOWELS or a roll away, and that no one was going to come clean the room - we immediately checked out! Such a disappointment and totally grossed out. With COVID in the rear mirror you'd think cleanliness and kindness would be a priority. Clearly I was wrong. DON'T STAY HERE! Gross👎🏻👎🏻👎🏻
Wanis05
'FURTHER CONFUSION 2021' - Room 1200 Was Simply Breathtaking!!! Thank You, 'Zandy'
Reviewed 22 january, 2021
Sadly, Due to the Coronavirus Pandemic (2020-2021) affecting ALL Travel and especially Conventions, hotels like San Jose Marriott are hurting so badly. In July, Further Confusion opted to replace it's 'in-person' convention (held next door at San Jose Convention Center) for an online 'virtual' convention for the safety of its attendees. While it was nice to have this event, it was devastating because the hotel would lose revenue and occupancy. I wanted to support the hotel this past weekend of 'virtual' FC to come up north and help the hotel and local restaurants that cater to the Furries annually. I could also fursuit in a safe manner, outside while following social distancing guidelines. I drove up to the hotel on Friday, January 15th, 2021 and security allowed me in. Signs were everywhere, and clear partitions were at the front desk area. My good friend 'Zandy' checked me in again (She checked me in the previous two years of FC in 2019 and 2020!) She could've provided my room 623 from last year, but I didn't have five furries to share the room with!! So, Zandy upgraded me to a corner suite Room 1200, with a King Bed and breathtaking views of downtown San Jose. She really missed our physical presence this year, as she admitted she loved all the fursuiters roaming around the place. Unlike last year. Where it took forever to get an elevator, it was no problem this year - because there was nobody else around!! (I did see some PG&E workers staying and certain Airline crew staff, but that's it.) The room was the BEST I've had in my fourth year coming to Further Confusion!! I was able to set up my virtual FC link with the VERY STRONG Enhanced Wi-Fi provided for Bonvoy Gold members at no charge. I was able to enjoy the con online, while fursuiting down at the lobby and outside the SJCC patio. It felt I was 'home' at FC, and truly experienced the convention though we couldn't congregate in the thousands as in years past. Pics to follow. Check out on Monday was a cinch, and valet parking in the garage was very safe. Thanks to Rolando in security, and the other guard I forgot his name. As California gets vaccinated throughout 2021, I'm hoping and Praying we can have thousands of fluffs milling in the lobby and all around downtown San Jose next January. Zandy, I'll be calling ya before I come back for FC 2022!! FIVE CLAWS UP HIGH!!! Exceptional in all categories!! Thanks again and see ya next year!!! Joe G. Bear - Redondo Beach, CA
goriajk