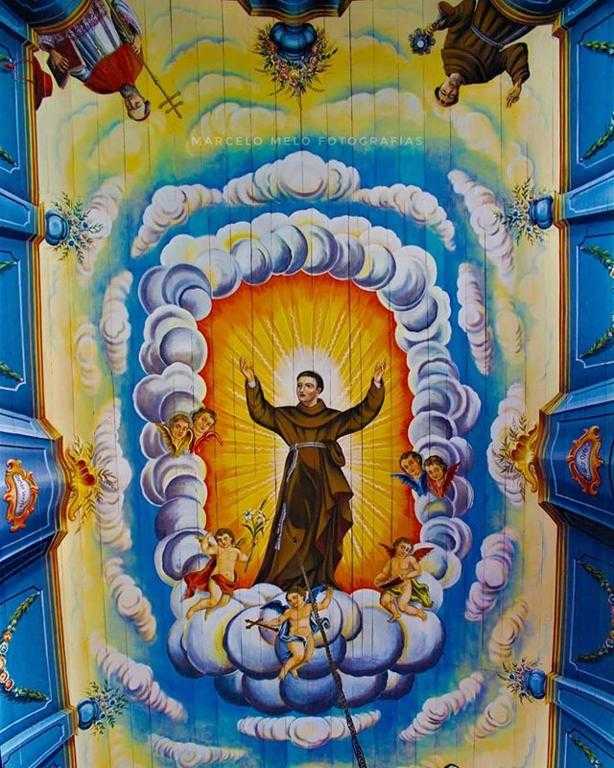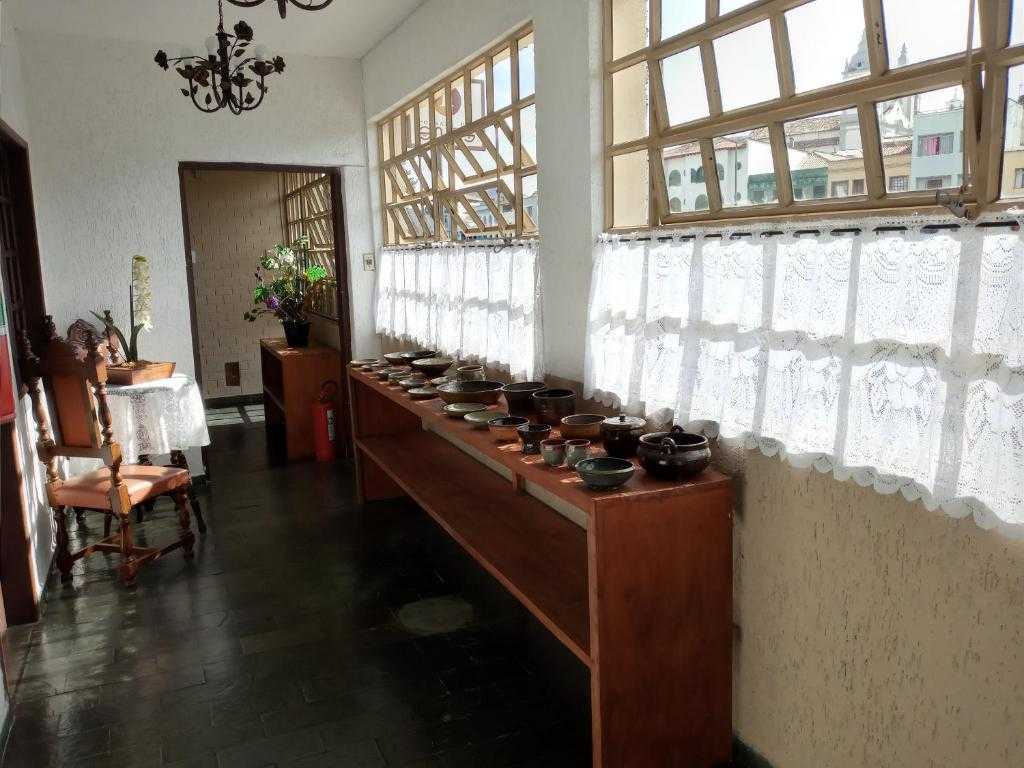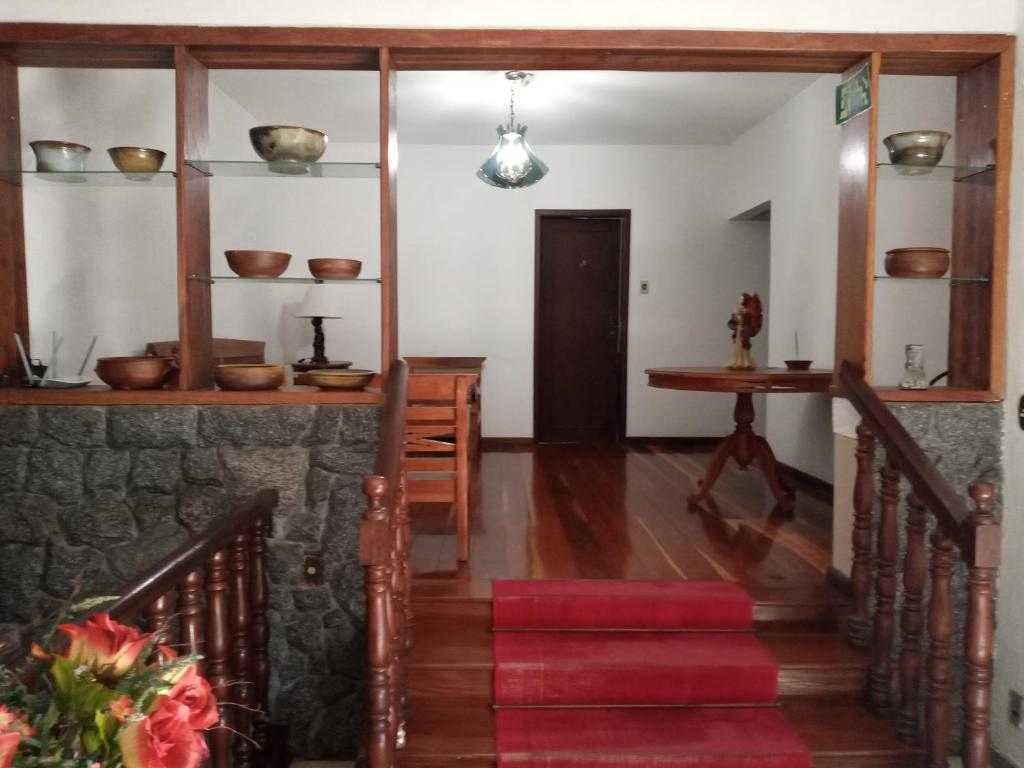 TripAdvisor Review
Based on 43 review
See all
A Pousada dos Sinos tem a melhor localização de São João Del Rei, situada bem no centro histórico da cidade, donde tudo se pode fazer à pé. Próxima de todo o comércio e dos principais pontos turísticos, oferece excelente buffet de café-da-manhã com iguarias regionais, recepção 24 horas, estacionamen...
More details
Availability
Select the date of your trip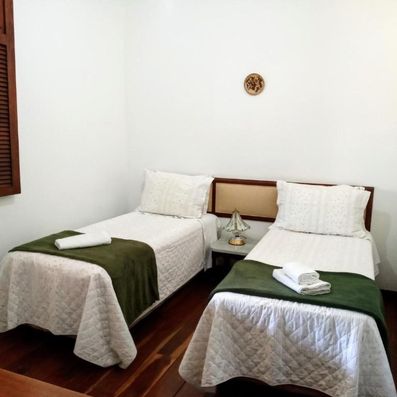 Quarto Duplo Standard
Standard Double Room This room features a TV, minibar, ceiling fan, and very spacious private bathroom. Some rooms of this type have a balco...
See more details
Cancellation Policy
Amenities in this room: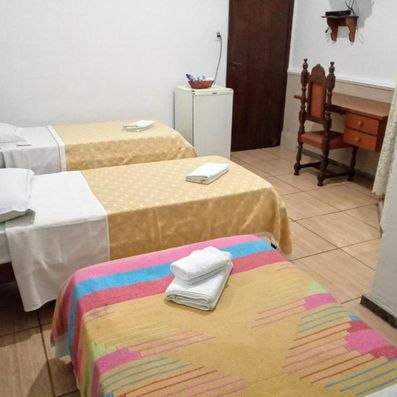 Quarto Triplo
Triple room This room features a TV, minibar, ceiling fan and a spacious private bathroom. Some rooms of this type have a balcony.\n\nPlease...
See more details
Cancellation Policy
Amenities in this room: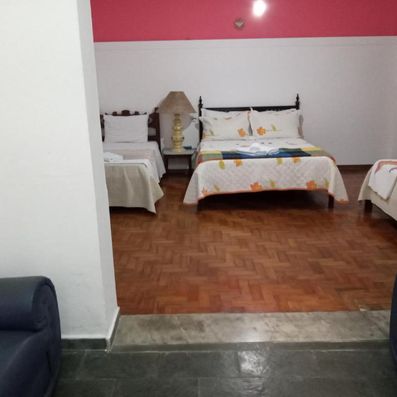 Quarto Quádruplo
Quadruple Room This quadruple room offers 4 single beds or 2 single beds and 1 double and also features a living room and/or conservatory, a...
See more details
Cancellation Policy
Amenities in this room: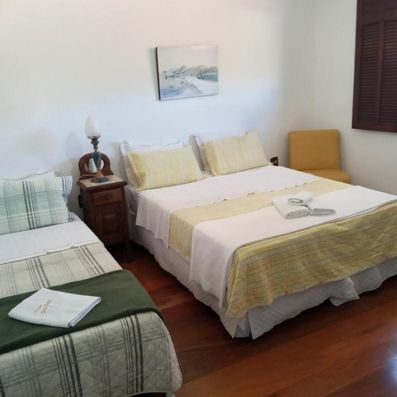 Apartamento Luxo
Luxury Apartment This type of room has a king-size bed + 01 single bed, spacious private bathroom, Wi-Fi, minibar, ceiling fan, and a deligh...
See more details
Cancellation Policy
Amenities in this room:
Max 3 adults
Max 2 children -
by 3 years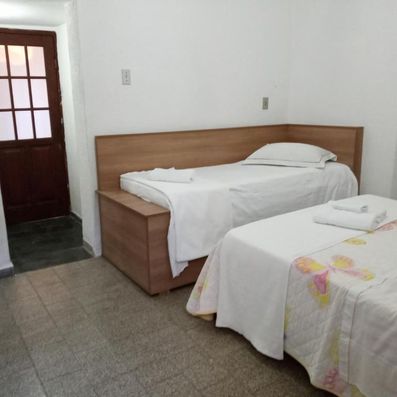 Quarto Quíntuplo
Quintuple Room Occupation: Adults 5 | Children 3 | Total 5...
See more details
Cancellation Policy
Amenities in this room:
Max 5 adults
Max 3 children -
by 3 years
Property Info
A Pousada dos Sinos tem a melhor localização de São João Del Rei, situada bem no centro histórico da cidade, donde tudo se pode fazer à pé. Próxima de todo o comércio e dos principais pontos turísticos, oferece excelente buffet de café-da-manhã com iguarias regionais, recepção 24 horas, estacionamento privativo, Wi-Fi e atendimento pet-friendly. Todos os quartos apresentam uma decoração sóbria e rústica, equipados com TV, frigobar, banheiro privativo e ventilador de teto. Além disso, alguns contam com varanda. A Pousada dos Sinos fica em frente ao Museu Regional, em meio às 5 principais Igreja...
More details
Check-in starts at: 14:00
Check-out ends at: 12:00
Property Amenities
Guest rating
TripAdvisor
Travelers rating
Excellent

19

Very Good

20

Good

3

Reasonable

1

Bad

0
Travelers profile
Business

3

Couples

12

Solo travel

1

Family

18

Friends getaway

7
Scores Summary
Cleanliness

Location

Rooms

Service

Sleep Quality

Value
Charming place held back by small problems.
Reviewed 19 june, 2016
Pousada dos Sinos was the first hotel that I personally stayed at in Sao Joao del Rei. And while at first it is a very nice place, eventually you'll come across various small problems that hold this otherwise nice hotel back. You're greeted by a friendly yet inconsistent reception. By friendly I mean that they're welcoming, helpful, and also patient with even non-Portuguese-speaking foreigners like myself. By inconsistent I mean that there could be anyone from the owners, who are an older couple who are not afraid to use a translator-app to communicate, to someone who might speak enough English or someone who might not at all and doesn't even want to use a tool to communicate. Another inconsistency I've experienced is that at one point I was supposed to talk to the reception in the morning, but there was nobody at the hotel except for the maid. Who then had to deal with me and call someone who worked there to figure things out, even though they told me to come to them in the morning. She was very nice and helpful, but this was not her job. Anyway, on to the hotel itself. First of all it's not the most typical hotel, but more like a big house. There are one or two rooms on the first floor, and then there are stairs to the second floor with about 4 more rooms. There is an area upstairs that kind of looks like a living-room, with a table and some couches, and then there's a kitchen or sitting area where you could eat or drink something. Do note that there's just coffee and no breakfast, which personally I don't mind, but for the price it should be included like at most hotels. I'll be reviewing my experience with what I believe was room 3. I have seen one or two other rooms, but they weren't as nice as the one I stayed in (just a bit darker etc.). In my room there was a fairly nice double bed, albeit a bit older and rather short. Note that I'm only about 1.70M/5'7", and the bed is only slightly longer. So if you're significantly taller and you want to lay straight, you might need to let your feet hang over the edge. There is, however, a board with cushions mounted to the wall so that you won't bump your head. Also, the designs on the sheets are quite old-fashioned and could use an update, but these flower-designs seem rather common around here. They do smell clean and fresh, however. Other than the bed there's also a "half size" fridge that's pretty clean, but noisy when it refrigerates. They stock it with a few beverages like water, cola, and juice, as well as a few snacks like some bags of chips and a quinoa bar on top of the fridge. But they did not included a pricing-chart. However, they don't charge too much I think. Then there's also a fairly spacious wall-mounted desk with a small bench/throne (no chair), with two night-stands (one on each side of the bed), and a coathanger. Then there's an attached private bathroom that's fairly nice, pretty clean, with a sink with plenty of space to put things around, a pretty standard toilet, and a decent shower. One thing to note, however, is that I found bugs in the bathroom. And before you get disgusted, after visiting two more hotels, I think I came to the conclusion that they're ants. And they seem to like to be around sinks and toilets for some reason. But while they're harmless and probably just looking for crumbs and sweet stuff, they're there and there can be many of them (which wasn't the case here), and hotel-runners don't seem to notice. I'm not sure if it's because of the colder time of the year (in June) or something like that, but it is an issue. Perhaps I could invest in one of those ant-boxes myself, but I shouldn't have to. One of the first problems I encountered in this room is that, even though I brought a powerplug-adapter that supposedly works in 150 countries, it wouldn't fit in the sockets in any configuration. Luckily the nice people of the hotel thought of this and can provide you with a simple adapter that will also take a variety of plugs. The way it hangs in the socket becomes a bit dodgy, but it works. There is also a smaller LCD-TV on the wall, which works but only provides about a dozen distorted channels. So there's not much to that, but perhaps it has the potential to be used as a monitor for something like a laptop, tablet, or phone. Like in most places there is also free wi-fi, but while the connection was pretty solid, it was also pretty slow. It was enough to look up some information, but things like video became a bit harder to receive. There is one big window in the room I was in, but unfortunately it looks out to the "patio" with the tables to eat at, so the glass is actually blinded. There are also big wooden doors in front of the window to keep it relatively dark. But, there was yet again a problem, and that is that the window was stuck open. I had asked about the window being open, and they came to try and close it but they found it could not. The next day the nice owners of the hotel apologized and provided me with an extra blanket. But while the lower temperature was quite alright with me, it didn't do anything for the noise from outside. And that's another problem. The noise from the roads outside and the city in general goes through everywhere. That might not be so much the hotel to blame. But then there are also people who work and stay at the hotel right outside the window, and despite the window having a sign that says "silence" on the outside, there were still people talking loudly, sometimes even very early in the morning (say 6-7). This is not really acceptable if you're housing people who come here for some rest and vacation. I was not upset about it, but I thought some of the noise was a bit annoying and obnoxious. It also did wake me up at some points. For the rest the hotel is quite nice and comfortable. But, I still had to leave for things like the cold and the noise, and the fact that the price was a bit too high for that. It did get pretty cold in the room at night and in the morning, and there's no type of air-conditioning at all. Besides, my clothes started to become humid by the time I left, so that was not so good. Overall, I think this hotel simply needs some updates. Fix things like the window, update the bedsheets, consider installing some straightforward air-conditioning appropriate for the rooms, make sure the reception is more consistent, and include breakfast (even if simple) for the price. Because other than these issues, it is a fairly charming place, but unfortunately it's just held back. I can't exactly recommend against staying here, if you can make a good deal, but it's also not my first choice.
MichaelAHP
Very friendly hosts and staff who made a special effort to make us feel welcome
Reviewed 12 july, 2011
The rooms are clean and simply furnished, ours had balcony overlooking the canal. Breakfast was amazing (and included in the price) - there were such lovely fresh cakes and pastries every day plus the usual fruit and great coffee. The hosts spoke no English but were so friendly and really made an effort with us and seemed to enjoy our attempts to speak broken Portuguese! We ended up staying an extra 2 nights because we liked it so much. The hotel is well located, a 2 minute walk from resuarants including an amazing Pizza place, called Pizza Razo where we went 3 nights (very unlike us!). We took the steam train to Tiradentes which was nice and caught the bus back to keep costs lower as we are on a tight budget. This hotel is not a ´modern chique boutique´ but is clean warm and friendly and i´d stay here any time!
Joliday
a reasonable pousada at a reasonable price
Reviewed 23 june, 2009
We wound up in Sao Joao Del Rei late in the afternoon to be able to take the train the next day to Tiradentes - which is a very nice little trip that was recommended to us by a brasilian couple we met in the bus station. Always up for a lark we decided to do it, and would also recommend it to others. We found the rooms to be reasonably clean, although a bit small. The staff were quite accomodating, one of them even walking with us to a local restaurant to make certain that we found it as it was not on a main street, but was a very good, simple comida a kilo type of restaurant with almost exclusively locals there. The town seems to have a lot of festivals - as related to us by the staff, but we were there during a calm time. If you are going to take the train, this is a decent option at this end of the line.
travellingshoes2009
Localização privilegiada
Reviewed 2 june, 2021
Gostamos da localização, pois pudemos fazer vários passeios de a pé. O quarto que ficamos era bem simples, porém a vista muito bonita (para uma das igrejas históricas da cidade). Consideramos o café da manhã básico, porém seguindo as regras de distanciamento e higiene. Possui convênio com um estacionamento bem próximo. Uma sugestão seria que o quarto tivesse mais entradas de luz para que se pudesse carregar os aparelhos como celular e computador.
candida_larentis
Muito boa
Reviewed 10 january, 2021
Adoramos a pousada, o atendimento do início ao fim foi excepcional. Como os restaurantes não estavam abertos fizemos nossas refeições pedindo via delivery na área do café com a mesa sempre posta de forma que excepcional. Quartos limpos e café da manhã delicioso.
cintiaschulze