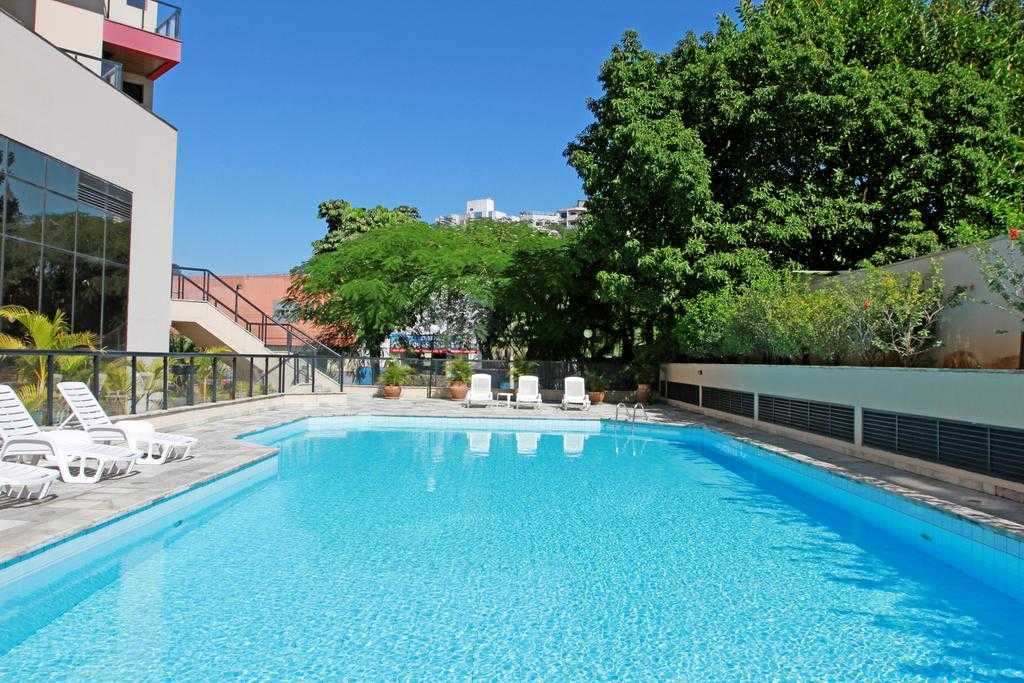 TripAdvisor Review
Based on 197 review
See all
O SAN DIEGO RESIDENCE SÃO JOSÉ DOS CAMPOS é um flat residencial com serviços hoteleiros, com premiada e reconhecida arquitetura, tem a melhor localização da cidade, na principal avenida de São José dos Campos, a 400 metros do Centervale Shopping e próximo via Dutra, que dá acesso as principais empre...
More details
Availability
Select the date of your trip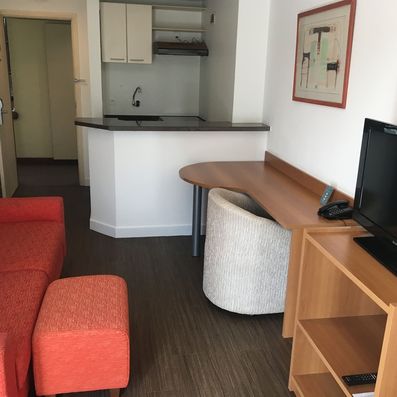 Superior Duplo
This room offers air conditioning, a double box bed, cable TV, wifi, minibar and private bathroom. Child will be accommodated with parents i...
See more details
Cancellation Policy
Amenities in this room:
Max 2 adults
Max 1 child -
by 5 years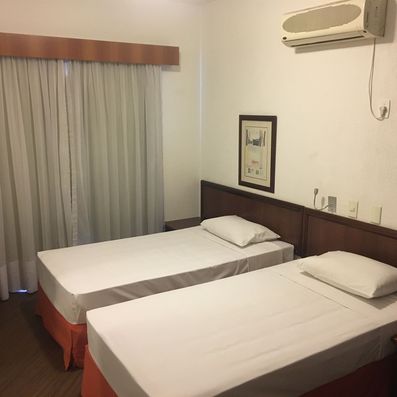 Superior Twin
This room has 2 single beds, is equipped with air conditioning, cable TV, minibar and private bathroom....
See more details
Cancellation Policy
Amenities in this room:
Property Info
O SAN DIEGO RESIDENCE SÃO JOSÉ DOS CAMPOS é um flat residencial com serviços hoteleiros, com premiada e reconhecida arquitetura, tem a melhor localização da cidade, na principal avenida de São José dos Campos, a 400 metros do Centervale Shopping e próximo via Dutra, que dá acesso as principais empresas da região. Fácil acesso aos principais restaurantes, bares, bancos, hospitais, e a 2 km do centro da cidade. Os apartamentos são os maiores da cidade, de 36m a 52 m2, com 3 ambientes: quarto, sala e cozinha americana. Ideal para longa permanência, com estrutura de uma residência completa. Os ap...
More details
Check-in starts at: 14:00
Check-out ends at: 12:00
Property Amenities
Reception services
Terrace
Food & Beverage
Public Restaurant
Transport options
Spa
Towels and bed linen
Guest rating
TripAdvisor
Travelers rating
Excellent

70

Very Good

88

Good

24

Reasonable

11

Bad

4
Travelers profile
Business

111

Couples

21

Solo travel

13

Family

37

Friends getaway

7
Scores Summary
Cleanliness

Location

Rooms

Service

Sleep Quality

Value
OK
Reviewed 29 january, 2016
This place leaves me with mixed feelings. It is a bit old, could use a refurb. I stayed in the peak of summer and my airco didn't work so I was moved into a room where it did. Unfortunately, they only have airco in the BEDROOM so nothing in the bathroom nor living area. Not very convenient at a time when it was 42C outside! The place is basic, I don't think I'd stay there again. But the staff were extremely nice and polite and went out of their way to help. The hotel is close to a good shopping mall (ca. 500m). HUGE NEGATIVE: Upon checking in, I left my personal email. BIG MISTAKE. I am constantly spammed by the Travel Inn chain. If you attempt to unsubscribe, it won't work. The emails will keep coming. This is in itself enough to make me never want to stay in any of their hotels.
Julian F
Excellent place for self-catering business travelers
Reviewed 21 july, 2013
I needed an apartment near CTA in Sao Jose dos Campos for a stay of 6 weeks. Since I am a vegetarian, it had to be self-catering. I am really glad that I chose this place. It has not only met, but far exceeded all my expectations. The rooms are well appointed, with a nice cooking area, with a four stove burner. They provided me with a microwave as soon as I requested for it. They also gave me some extra cutlery (like knive) for cooking. Since I cook lunch and dinner, its nice to get the dishes and the cooking area cleaned everyday, and the entire room done up. The maid are very well behaved and efficient; I never had any complaint. The reception staff is very co-operative and know English, which is very helpful ! The entire hotel has strong wireless, and they also gave me a cable for a LAN connection, which is very fast. The breakfast spread is quite good, though there is limited choice for vegetarians; but I have no reason to complaint. They have a good spread of fruits and cornflakes and breads, so I can very well manage. The location is extremely convenient, just off the Dutra that connects Sao Paulo to Rio, there is an EXTRA superstore (open 8 am to 11 pm) just across the hotel, and Centervale Mall is just five minutes by foot. There is a 24 hour taxi stand just outside the hotel, and the bus stop is only a five minutes' drive. I could not have asked for a better location ! There are two TVs, one is the bedroom, and another in the living room, which is a 32 inch SONY Bravia. By connecting an HDMI cable to the TV from my laptop, I have been able to go online and watch many movies and other programs. They have an excellent gym on top floor, a room for any get-togethers/parties, as well as two open terraces, where one can get some fresh air, and a wonderful 360 degree views of the city. The night view of the lights at the airport across the Dutra is mind blowing, especially if you can catch some night landings ! Due to a long duration stay, I also got nearly 50% discount on the rack rate. I will strongly recommend this place for people who have requirements similar to mine.
rspant
Close to the mall
Reviewed 31 july, 2008
Nice place to stay for business. The best advantage is a short walk distance to the Mall, where you can have dinner.
Macaense
Too hot + too much noise
Reviewed 8 may, 2005
I stayed in the hotel for 4 days in April 2005. The hotel looks beautiful on the outside and the entrance is quite impressive. The hotel staff was very friendly and the cleaning of the rooms was thorough (but forgot to replace soap and toilet paper one morning). Breakfast has large selection and has fresh food and juices. That is all that is positive about the hotel. Where shall I start with the negatives? The room has two partitions. A living room+kitchenette and a bedroom+bathroom. The air conditioning is only in the bedroom and is brand new. I tried many different options and even asked for help, but I could not figure out to keep the room a decent temperature. The (very noisy) thing would go on and you would freeze in minutes. The problem is that the windows are not very well isolated. Not only does it not keep the sound of the Dutra (old highway that connects Sao Paulo with Rio) out of the room but also lets air in. So it would warm up quickly and I would be too hot (and I was there in the fall; I can only imagine how it would be in the summer). In the meantime the living room area would be too hot all the time. Noise is not as bad as those windows are sealed pretty well. In the four days, each elevator did not work in two consequtive days. As it is pretty busy in the morning the elevator passed me twice without stopping causing me to be 10 minutes late one morning. They have in-room internet. I should not complain I guess (beause it is free) but between 7PM and 10PM I could not connect to my companies VPN due to time-outs. Only could connect in the morning and late night. Oh tought of one more positive. The hotel is very near CTA and Embraer entrances and is close to old downtown (and red light district for those that are interested!). I did not good night rests so next time I will stay somewhere else...
walter_sch
Ótima localização e Wifi temeroso
Reviewed 6 november, 2018
Muito bem.localizado. Ótimos quartos. Wifi não funciona bem nunca, já estive diversas vezes aqui. O atendimento é sempre cortes com equipe muito bem treinada e sempre dispostos a ajudar. Café da manhã mediano, pois o café solúvel servido é muito ruim, e não possuem café convencional.
James T