Sunis Evren Beach Resort Hotel & Spa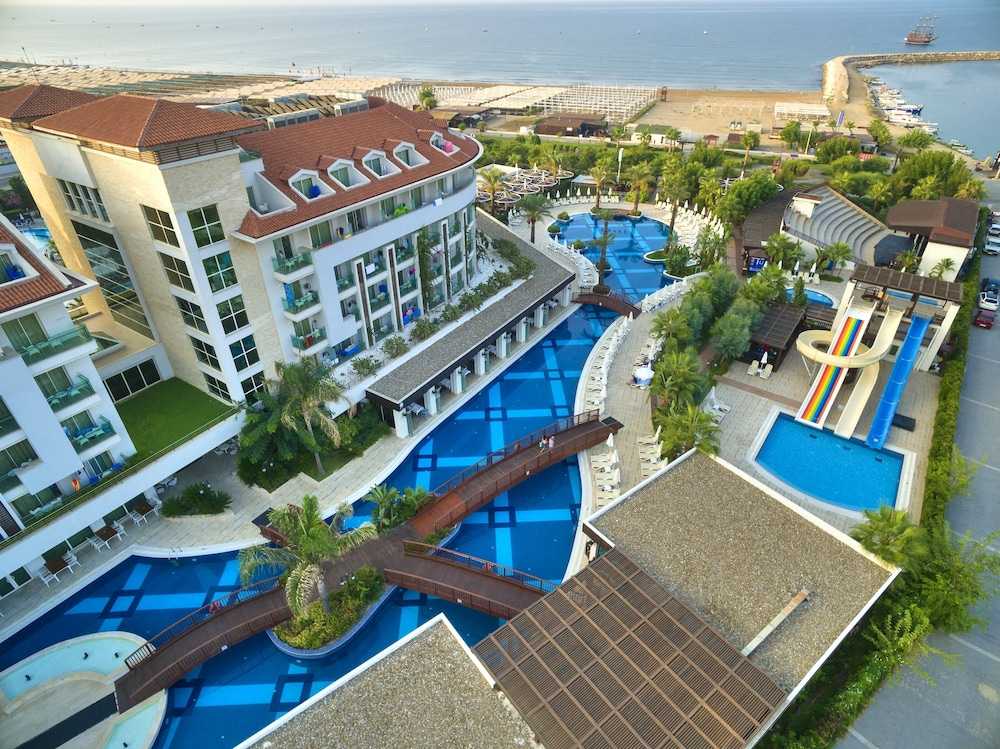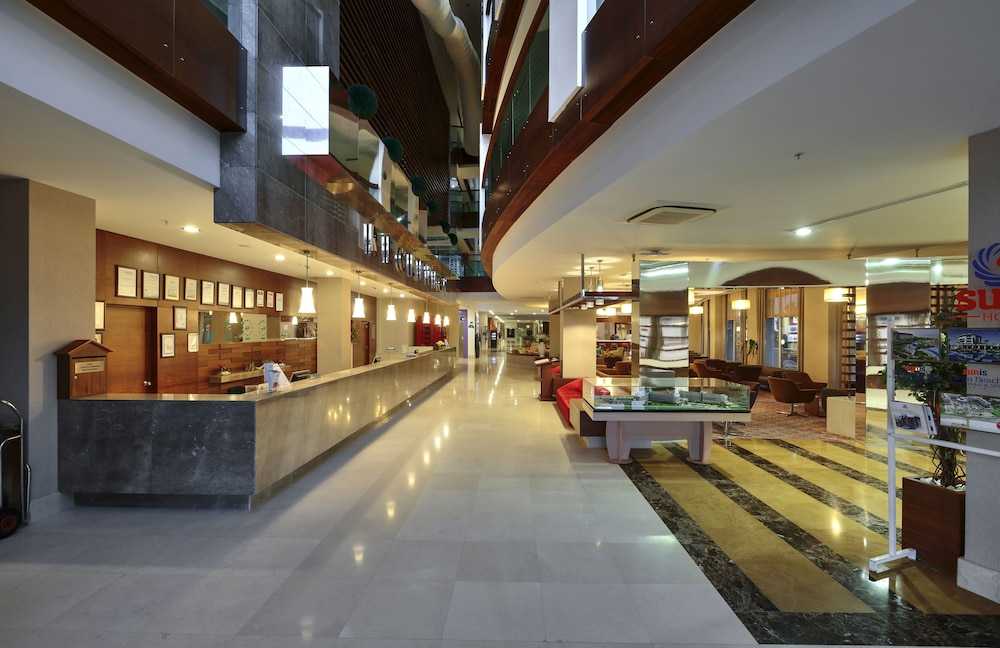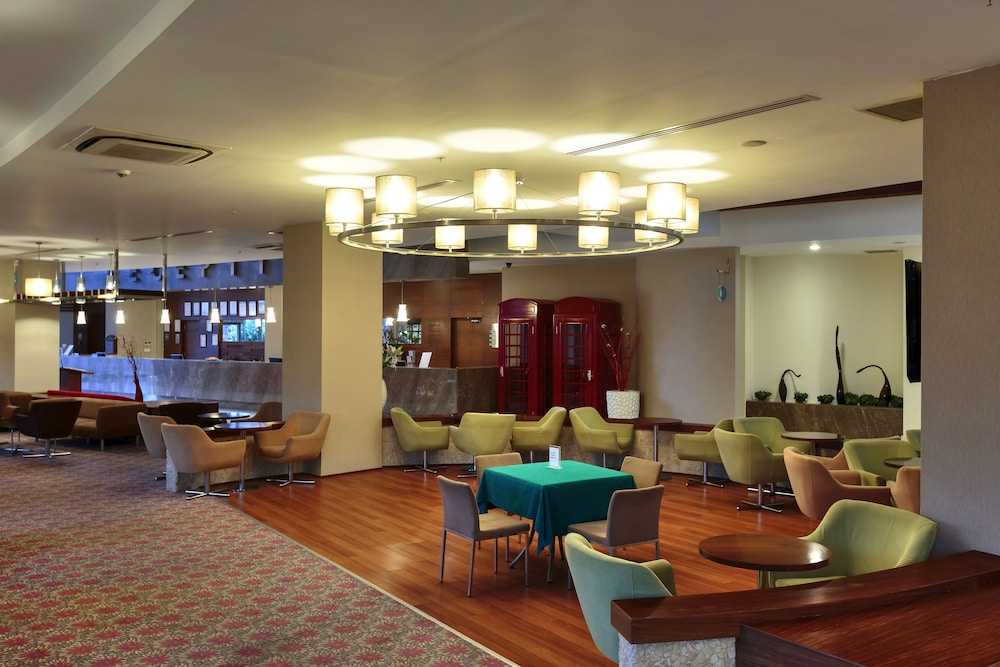 TripAdvisor Review
Based on 289 review
See all
Located in a quiet area, directly on the beach, the hotel is 70 km from Antalya's city centre. Decorated in an attractive, bright style, the hotel has pleasant, spacious public areas offering many facilities and services, including a restaurant with smoking area and WLAN Internet access. Younger one...
More details
Availability
Select the date of your trip
Select the date of your trip to check room availability.
Property Info
Located in a quiet area, directly on the beach, the hotel is 70 km from Antalya's city centre. Decorated in an attractive, bright style, the hotel has pleasant, spacious public areas offering many facilities and services, including a restaurant with smoking area and WLAN Internet access. Younger ones can make use of the kids' club, and guests can enjoy their favourite drinks in the bar, pub and disco. The hotel's many facilities include a number of pools and 4 water slides, as well as a poolside snack bar and parasols. Guests may also take advantage of the SPA centre and massage service. Water...
More details
Check-in starts at: 15:00
Check-out ends at: 11:00
Property Amenities
Pool and wellness facilities
.
Reception services
Luggage storage
Guest rating
TripAdvisor
Travelers rating
Excellent

187

Very Good

67

Good

23

Reasonable

5

Bad

7
Travelers profile
Business

3

Couples

69

Solo travel

11

Family

160

Friends getaway

15
Scores Summary
Cleanliness

Location

Rooms

Service

Sleep Quality

Value
unused opportunities
Reviewed 6 july, 2021
Very nice hotel, rather intimate with lots of greenery, nice swimming pool and great beach. The presence of hotel guests is not felt. You will always find a place on a deckchair. Regarding the guests, unfortunately, the hotel focused only on Germans and Russians. Virtually none of the staff speaks English. Apart from the fact that no one of the staff understands anything, bartenders cannot prepare the simplest drink if they do not have it on their short list. Some cannot even make coffee with milk, there is only a cappuccino option. The Mexican restaurant, apart from guacamole, has nothing to do with Mexican cuisine, it is lethargic, distasteful and guarantees 2 hours of waiting for meals in a poorly air-conditioned room. I recommend the main restaurants instead of the themed ones. It turns out that the lady is preparing gözleme in the snack bar, but you have to order it. The question is how to order it if she speaks only Turkish. It is a great pity that such a beautiful hotel has such poor staff and prefers only German and Russian language, My rating for Russians and Germans is 5+, for the rest of the guests unfortunately 4 -. It is a pity for these unused opportunities. If look for somebody who speaks English , ask for Remzi ( a very nice animation guy) Can you imagine that there is no onion and paprika to eat?
TomaszPN
Hey picky folks - you should peek into this gem
Reviewed 6 september, 2019
I have been to this resort with a big group of family and friends (10 in total). From start to finish I couldn't find anything that needs improvement. The rooms were spotlessly clean, there were tons of different foods and drinks, the pool was very clean with enough number of sunbeds, and most importantly it is located by the sea. My 10-year old daughter loved the sand beach, no rocks, nothing in the sea. The staff was amazingly hardworking and friendly. They seemed to have a great management team as they all looked happy 24/7. Special thanks go to Gonul, Sumeyya, Burak, Mehmet, Veysel, and all of the other members of staff who made our holiday so great!
101fundae
The best room ever. Amazing pool & beach, satisified with everything (but those cuisine fusions?)
Reviewed 5 september, 2019
When we arrived, we were greeted by refreshing towels and a welcome non-alcoholic drink. That was an amazing refreshment after the tiring bus trip to get there. You get to wear a fabric bracelet to distinguish between all the hotels that are nearby. Those plastic ends can get annoying, so bring scissors! The room was A M A Z I N G. Very spacious, smelled amazing, the bathroom was big enough for several people and you get to choose from shower or a bath. I missed having actual shower gel, shampoo and conditioner as is a standard in other hotels. But we did get spa robes so there's that. The pool was very warm for the first few days and then, after the foam party the water went cold - which I guess is understandable if lots of it was changed over? It's not a hotel's fault but kids in the pool get very annoying but then again, the pool is enormous so you should be able to find a quiet place for yourself. Do get up to reserve a sunbed if you want to stay by the pool, otherwise you won't be able to get any. The pool bar is great with not only trail mix but also nachos and popcorn to choose from if you feel like your diner wasn't big enough. Lots of coctails though mojitos are pre-prepared, so if you want it non-alcoholic, you're out of luck. High quiality fruit juices with a choice of 100% and even the rest was all Cappy, so nice. Soft drinks were branded as well and included in all inclusive is even imported alcohol, which was unexpected. Pool snack bar was amazing with a rich choice of baked and stuffed potato, pizza, hamburgers, gözleme, waffles, ice cream, salads, fruits, ... The beach snack bar was great too though we've only seen the grilled tuna once, so it's best if you figure out when is that served if you don't want to miss it. The staff is very German prone, even if you speak English to them, they like to answer in German, so get ready for that. Animations are on the calmer side with yoga, aqua gym, darts, beach volley, water polo and possibly boccia and evening programmes, but the animation team is great, particularly the main animator called Max I think? Lot of choice for breakfast though throughout the days the choices don't vary much but if you wanted you'd be able to eat different meal every day of your stay. I loved those custard & chocolate pastries! Freshly pressed orange juice (do it yourself, though) and carrot juice (try it at least once) available, as well as all hot drinks and all the juices. DON'T eat gözleme at breakfast, though, as that is pre-prepared, wait for the lunchtime/afternoon gözleme done in the snack bar! Lunch was good as well but we preferred eating outside because why would you get dressed if you can stay in your beachwear? Dinners were crowded but always delicious. This is me saying hi to the cook that always made sure to give me stuff freshly from the grill, going so far as to garnish it with condiments! But sometimes there were cultural blends that don't sit well with me - sushi with sardines, spring onions, cooked tuna & salmon... Wasabi wasn't that good either. Spring rolls with cheese and dill? But the rest was delicious, watermelon and melon usually amazingly sweet. I loved the roasted carrots, duck, chicken, seafood, .... There's a sort of pool service when a very nice waitress gives out frozen aromatic towels that are the best refreshment you can imagine. Sometimes in the morning you can get coffee straight on your sunbed. Sometimes in the afternoon watermelon, ayran, bottled water, fruit cocktails,... Amazing. The beach is usually clear, sea warm. Seashells if you bother to look (and I always do). But because it's so great, the sea is very crowded. Sometimes big waves (love that). Sunbeds here are usually only half taken, so don't worry about space there! Loved the hotel's attitude towards cats. I'd recommend going to see tortoises after breakfast to a bridge that is right next to the hotel close to the beach. Also, probably one of the cleanest hotels I've ever seen with rooms always smelling nicely, cleaners cleaning the OUTSIDE of balconies, beach walk being getting rid from sand regularly...
petkazm
Best vacation ever
Reviewed 20 august, 2019
Where to start.. After a so-so vacation in Antalya last year, we gave the Turkish Riviera another try. This time at Sunis Evren Beach Resort & Spa near Side. It was the best choice we ever made!It's a beautiful 5-star hotel (albeit in need of some renovations). Not too big, but big enough to give the guests enough space to enjoy themselves. The staff is mostly very friendly (a few exceptions sadly). We were welcomed with cocktails and sweets and got checked in, in a knick of time. The rooms (we had a family room) are good but need some attention (door of the bathroom with some water damage underneath). Airconditioning works perfectly and keeps the room very cool (if you want to). The mini bar gets refilled daily (softdrinks, water and beer). There's ample storage space for your clothes and also a safe for your valuables. They're a bit noisy though. You could hear... "sounds" from other rooms. A family we met had quite a few sleepless nights due to a baby crying all night long while her parents were fighting all through the night. Not really relaxing. We were lucky though to have nice and quiet neighbors. Loved the food! The buffet restaurant offers great and varied food catering to the tastes of the different visiting nationalities. Never had a bad meal there. We tried the Mexican and Italian a la carte and the BBQ dinner. Food is abundant with 5 courses to choose from. We couldn't finish all the courses so we limited our order to 4 courses. The BBQ wat our favorite though! Each table gets one BBQ with is ready to go when you arrive. Great selection of meats and chicken. Great side dishes. When we managed to finish the meat, the waiter offered to put another plate of meat for us! Talk about service! The beach is nice with warm waters (in August) but the sands get HOT from midday on. There are a lot of lounges underneath sunshades. The beach bar is also very good and offers drinks and food, so you don't have to walk back to the hotel for lunch. The pool area is very nice with a lot of palmtrees around. Due to the free form, there one area where the animation team does its stuff without the rest of the pool being bothered by the waterplay or music. The team of very friendly and do great stuff with the kids. But they're not abundantly present and aren't pushy for you to participate. Our kids enjoyed the 5 waterslides and played there daily. The lifeguards should do a better job at guiding people when going off the larger slides. I've seen many incidents where little kids got hit by others coming down the slide (from up in the tower you can't really see if the pool area in the "landing zone" has been cleared). There isn't a run on the lounge chairs but some people do reserve chairs by the pool (at around 6:30 am) although it isn't allowed. But you could still get good lounges after 9 o clock in the morning. The bars offer great cocktails, ice coffee (coffee with ice cream), tea, alcohol-free cocktails for the kids. Good service. The pool restaurant offers hamburgers, hotdogs, pizza, half chickens, baked potatoes and salads for lunch. And you can also get Turkish style pizza and pancakes with your choice of filling. The lobby bar is opened 24 hours a day. There's a huge lounge area around it and it's nicely crowded in the evening. There are some shops which sell fake namebrand clothing and accessories. And a shop which sells beach stuff, snacks, souvenirs and fake electronics. The only thing we didn't like, was the photographer walking around the pool and pushing his services. He had a monkey with which you could pose but he treated him quite roughly. There were enough people annoyed by this. But hey if you like badly photoshopped vacation pictures, go ahead.... The crowd is mostly German, Russian/Eastern bloc and Dutch. Staff speaks Turkish, German and Russian and some English. The surrounding area consists of bazaars where all articles are fake. Over and over the same fake brands. The same shops with Turkish delights and spices. And everywhere pushy shop owners. All in all it was the best vacation we had as a family. We'll definitely return next year for another two weeks!
Francois_Paris51175
2018 Summer Vacation in Antalya
Reviewed 29 september, 2018
It's suitable for families have children and elderly people. Because places in the hotel is very accessible and close to each other. Beach is full-sand, clean and safe. We didn't get in pool but it was looking quite clean. The hotel was offering wide selection of food. You can find food anytime and wherever you are in the hotel. We visited Fish Restaurant for a dinner. It was cosy and has high quality of both service and food. Most of the guests were from Germany and Russia. Hotel staff has good skills of language. However some of them, especially in the main restaurant were unnecessarily sincere. We thank Ramazan Arslan and Ibrahim Yildiz for their kind service at restaurants. Beach bar service is excellent but lobby bar is weak. Rooms are well-furnished and clean. We stayed sea view room with one double and one single bed. The room was small with 3 people. Night shows weren't "entertaining". Maybe due to the date of stay. Thank You Sunis Family for unforgettable vacation.
jennieja