The Reef Playacar Resort and Spa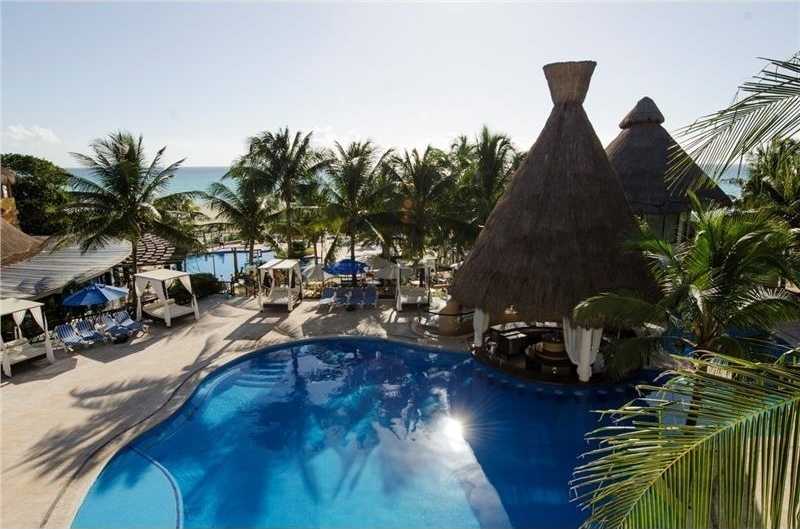 TripAdvisor Review
Based on 6595 review
See all
The Reef Playacar is an all-inclusive beach front hotel that has 196 guest rooms scattered in 18 charming villas that dot the resort's lushly landscaped beachfront setting. All rooms are equipped with one king size or 2 double beds, a furnished balcony or terrace, private bath room with hairdryer an...
More details
Availability
Select the date of your trip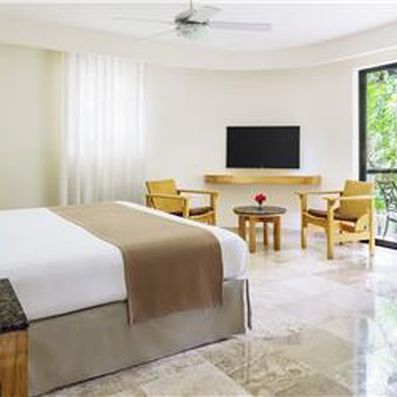 Habitación Superior con Desayuno
Room with king size bed or double beds, air conditioning, private bath, hair dryer, bath spill, TV, telephone, minibar (no rellenable) alarm...
See more details
Cancellation Policy
Amenities in this room:
Max 3 adults
Max 2 children -
by 3 years
Property Info
The Reef Playacar is an all-inclusive beach front hotel that has 196 guest rooms scattered in 18 charming villas that dot the resort's lushly landscaped beachfront setting. All rooms are equipped with one king size or 2 double beds, a furnished balcony or terrace, private bath room with hairdryer and vanity mirror, iron & iron board, air conditioning, ceiling fan, TV, telephone, an alarm clock and safety deposit box. Wooden pathways meander throughout the resort, past tropical gardens, waterfalls and cenotes, connecting guest rooms to the resort's restaurants, bars, the beach and Reef Spa.
Check-in starts at: 15:00
Check-out ends at: 12:00
Property Amenities
Free Wifi
Butler
Spa
Wedding Service
Butler
Jacuzzi
Reception services
Exchange
Terrace
Tourist Office
Cleaning / Laundry Services
Laundry / Dry Cleaning
Business Facilities / Facilities
Photocopies
Con una piscina al aire libre y muchas otras instalaciones recreativas a tu disposición, no te quedará ni un minuto libre. Se ofrece también conexión a Internet wifi gratis y una zona para barbacoas.
Food & Beverage
restaurant
Public Restaurant
Buffet Restaurant
Cyber Point
Transport options
Pets not allowed
Bicycle rental
Wellness facilities
Servicio de lavandería
Con una piscina al aire libre y muchas otras instalaciones recreativas a tu disposición, no te quedará ni un minuto libre. Tienes también una terraza y jardín donde sentarte a contemplar el paisaje. S
Babysitting on Request
Direct beach access
several
Special diet menus (on request)
Stores
Gift Shop
Hairdresser on request
Shops / Shopping
Family entertainment and services
Coffee/Tea Maker
Playground
Guest rating
TripAdvisor
Travelers rating
Excellent

2347

Very Good

2349

Good

1043

Reasonable

492

Bad

364
Travelers profile
Business

31

Couples

2539

Solo travel

147

Family

2115

Friends getaway

910
Scores Summary
Cleanliness

Location

Rooms

Service

Sleep Quality

Value
Paradise Beach in the Jungle!
Reviewed 23 january, 2022
We absolutely LOVE this resort. It's not too big, not too small. The vibe is relaxed, the beach is incredible, and the grounds make you forget all about the city. The employees are amazing....some have been there for 20+ years....and they really care about making your vacation special. The location is great--a short walk or taxi into Playa del Carmen; but why leave the resort--it's amazing!
Paula F
Disappointing Experience
Reviewed 21 january, 2022
We have been coming to the Reef for 8 years (as members of the vacation club) and for the most part, we love it but had a very disappointing experience this year. The rooms are comfortable and the grounds are beautiful. We are always treated very well by the staff. Many of them we have known for years like Fernando and Jesus and Tyler (Bell man) at the front desk who always go out of their way to accommodate any request, and others like Humberto at the lobby Bar, Felix at the Nico's Bar, Mary and Paulino in the buffet area, Santiago in the Italian and Mexican Restaurants and the Fernando the Restaurant Manager who always provide exceptional service and go out of their way to make us welcome. There were also a number of newer employees who we would like to acknowledge like Octavio and Emiliano in the Italian and Mexican Restaurant, Caesar in the pool bar, Alfredo in the Papo's bar and Manuel at the Nico's bar who provided great service. Our housekeeper Nora did an amazing job keeping our room neat, tidy, freshly stocked and made amazing towel animals on our bed each and every day!! We also want to give a shout out to Alan the Entertainment Manager who has done an excellent job improving the overall entertainment and music in the resort and Chris with the entertainment group who was always interacting with everyone to make it a fun environment. We also want to make special mention to Maia at the concierge/guest services who was extremely friendly and went above and beyond daily to help us out with our requests. I also want to acknowledge that the new fiber optic WIFI recently installed in the resort has been a significant improvement and improved our overall stay by being connected throughout the resort. Great job! The biggest irritant we had which significantly impacted our overall experience this year was the fact that a large group (15+) family members of the owners basically took over the resort and the VIP area and pushed out all of the paying VIP members and guests which was totally unacceptable. What kind of "owners" push out and negatively impact their loyal, paying guests for their own comfort and enjoyment? They monopolized 70+% of the Nico's VIP area and the staff waited on them constantly setting up food tables full of shrimp, lobster, fish, etc. and were brought trays of specialty food, drinks and other high end amenities right in front of your nose which was very hard to watch as clearly, we (as VIP members) do not get that type of food and service!! After complaining, the guest services area did move in more lounge chairs but they were in front of the VIP area and on the edge of the beach volleyball court so not very relaxing dodging volleyballs when you are trying to enjoy the VIP area. We even had several occasions where the bartenders would stop in the middle of making your drink and serve the "family" if they walked up to the bar. Totally unacceptable. They overtook the nicest areas of the buffet seating area and had huge tables set up at each of the specialty restaurants and were served like kings while impacting the service levels of the paying guests. We spoke to several of the other VIP guests who were equally as upset about this situation but because they were "special guests" of the family, there was clearly no solution to the problem. This situation got even worse at New years, when the group of 15+ people expanded into over 30+ people who totally took over the VIP area and made it next to impossible to be served or relax in this area so we moved to a different part of the resort just so that we didn't have to have this in our face. Our only "solution" to this problem that we can see is not to book during Christmas and New Years when the "family" decide to move in and take over the resort. We will never return to the resort during this time as it was a huge irritant. We will stay somewhere else and come either before or after Christmas/New Years which is disappointing as the food and entertainment is much better during this time period. We hope that these concerns are raised to the owners and that they understand how their actions have impacted paying guests which is totally unacceptable. We will return to The Reef Playacar again as the resort and staff make it a great place but if we have another experience like this year, we will definitely check out, ask for a refund and stay somewhere else.
Barry_and_Jacqui
Community of FUN in the SUN!
Reviewed 21 january, 2022
Friends and I came to Playa to celebrate and escape! We relaxed on their quiet and beautiful beach, watched others build sand castles, and enjoyed good food and plentiful drinks. But the best things about our experience at Playacar was the activities. Chris, their handsome and fun activities director, motivated us to take dance lessons and do Zumba with him. We laughed and played and had SO much FUN! Then, locals welcomed us all to play volleyball and cheer them on. We made friends with locals and travelers from around the world. It was a blast! I'm back in the Midwest, where it's 4 degrees, and yet I feel warm and happy recalling all the fun memories! Thanks Chris and Moises!
MamaMayer
Great location - when you stay just a couple of days....
Reviewed 17 january, 2022
Was long thinking about whether that is 3, 4 or 5* review - but afterthinking and when considering for whom this place is - i think it is well worth the stay. First of all, we stayed there just for a couple of nights to see Playa del Carmen and its closeby attractions. If i'd be searching for a place to spend a 1+ week beach holiday - go somewhere else. Here's why: The Pro's - LOCATION: the hotel is in a guarded community in walking distance to the nightlife of PdC, so when you go out you'll have everything closeby and a nice stroll. but you won't hear the hammering beats of bars & clubs at night. The ferry pier is also just around the corner. - The setting is lush green and the gardens are beautifully maintained with old vegation all around - Rooms can be a hit & miss, but we ended up in a very nice room (after getting upgrade 2 times due to complaints about the rooms we were assigned to) - beach access and friendlines of personnel - Food is good when taking into account thats its an all inclusive resort. Breakfast was sumptious. The CONs - the first room we got was literally the worst possible, next to staff accomodation worn out furniture, dark, not very nice. Only after compaining we got upgraded - the average guest is mid-age american tourist staying there for a booze vacation starting to drink just after breakfast on the swim up bars. - Beach chairs are so limited that not everyone will get a spot not even mentioning an umbrella. There is an extra section for so called "platinum guests" that we were chased off from the day we didnt get a sunbed in the "normal guest" area. not so guest friendly. - on fridays and saturdays there will be some american couple getting married on the beacht, half the bars will then be closed to other guests. - all bars close at 11 pm For our purpose, the hotel did the job, if it does for you too, one must decide for yourself.
Thorsten27
Amazing hospitality
Reviewed 15 january, 2022
Really enjoyed our whole experience. What stood out was the customer service from all the staff especially Chris C. He helped us get a reservation last minute for an Italian dinner so my wife and I could enjoy a relaxing date. Thank you Chris C.!
Zburley