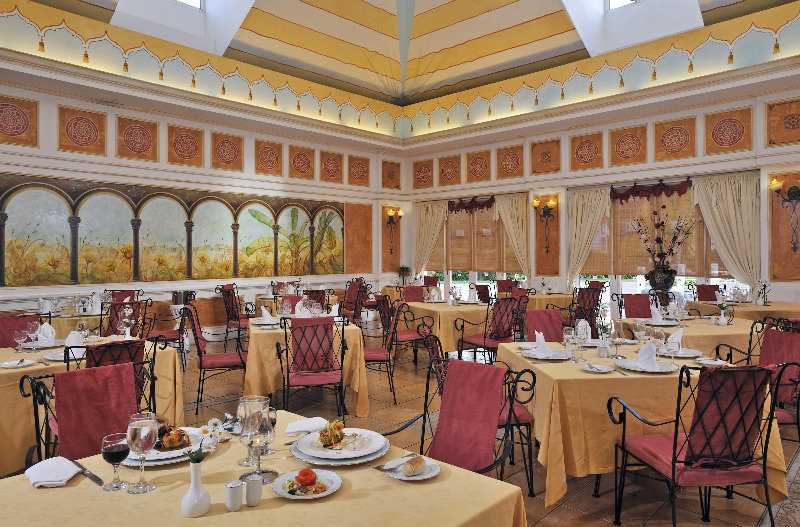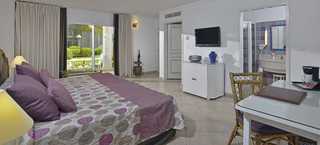 TripAdvisor Review
Based on 6465 review
See all
Its circular lobby with natural light and 3 panoramic levels with views of the artificial lake and beautiful hanging gardens is a main attraction of this five star all inclusive holiday resort located between Las Americas Resort, Meliá Las Americas and Sol Palmeras and a few metres from Varadero Gol...
More details
Availability
Select the date of your trip
Select the date of your trip to check room availability.
Property Info
Its circular lobby with natural light and 3 panoramic levels with views of the artificial lake and beautiful hanging gardens is a main attraction of this five star all inclusive holiday resort located between Las Americas Resort, Meliá Las Americas and Sol Palmeras and a few metres from Varadero Golf Club and next to Plaza America Convention Centre.
Check-in starts at: 15:00
Check-out ends at: 11:00
Property Amenities
Guest rating
TripAdvisor
Travelers rating
Excellent

2208

Very Good

1955

Good

1151

Reasonable

671

Bad

480
Travelers profile
Business

46

Couples

2116

Solo travel

128

Family

2440

Friends getaway

889
Scores Summary
Cleanliness

Location

Rooms

Service

Sleep Quality

Value
My favourite place, dancing on the 5 star beach, beautiful people, room and music!c
Reviewed 25 november, 2021
I cannot wait to return soon! I look forward to the friendly staff, the great music, the shows, the spacious and clean and quiet room, the good food and service. I love the Cuban coffee at sunrise by the pool. I will book a massage and dance on the beach with Lily!!! The whole entertainment team makes my stay so much fun!!! I've been there twice before and haven't travelled since 2020, pre-pandemic. December.... 2021... Melia Peninsula... here I come!
tonisA7403PL
Horrible overall, but turning things around, maybe.
Reviewed 21 november, 2021
Cooking and bartending staff need to be trained more fully. This was our 6th time in Cuba, and we don't go expecting amazing food, and yet somehow this still fell far below expectations. We were told that it was due to the availability of ingredients in Cuba. I know supplies are certainly limited, but judging by the food that was served, a better job could be done with what was available. Also, in speaking with guests staying at other resorts at the same time, they weren't experiencing the same issues. Also more variety was needed. The spread at the buffet for lunch was the same every day. If that weren't tedious enough, the spread for dinner was the same as lunch as well. For the first five days I ate almost nothing but bread and a little bit of undercooked pasta with runny, flavourless sauces of varying colours. Additionally, nobody seemed to know what the steam trays were for at the buffet. They didn't use they, so the food was always cold before it went on your plate. Not only gross but a serious food safety issue, and one which they were obviously aware of, as they had signs posted that hot food must be served at a minimum of 64 degrees Celsius. We were also told at times that there was no butter at the resort, or no mayonnaise, only to find out that there actually was, but apparently the person asked couldn't be bothered to actually check. One morning as I went to grab toast for my wife and I, the person making the toast was reaching into a half-full basket of bread to grab my bread when another employee came and took the basket away. I was told that it was being refilled, but after waiting about ten minutes for the refilled bread baskets to be returned, I was told that there was no more bread. The bartenders also need training on how to make mixed drinks properly and consistently, as well as how to operate an ice maker possibly. I ordered an margarita and got salty water with tequila. I ordered a strawberry daiquiri and got slush with rum and blue curaçao. When I questioned it and said that was not a daiquiri, I was told it was the same thing. Multiple times we were told that there was no ice available. Also the pool was murky and had algae. Our friends were bribed to remove their poor TripAdvisor review. We were given massages, lobster dinners and a late checkout, and asked to sign a waiver promising not to sue.
SeabassJay
The overall experience was fine
Reviewed 19 november, 2021
I stayed at the hotel from Nov 7th to Nov 13th I booked this hotel after comparing it with many other hotels in Varadero. I will start with positive comments : 1st Its a big resort and there are many pools and many activities it has direct access to the beach and security are all the time there so you don't have to worry about your belongs while swimming or going away for a walk. 2nd Price wise very much affordable 3rd Many options for dinning Now Negative comments : 1st WIFI was horrible internet is limited they just give 3/4 hrs. and it gets expired and every time you have to call front desk to get more hours. 2nd Electricity kept on cutting off many time during the day along with AC 3rd Communication problem many employees can't understand simple words in English. 4th One day I had to leave to Havana at 7:45am for 12hrs long day so I decided to have breakfast prior leaving and I had PCR test at 7:30am so at 7:20am I asked waitress If I can get something from the restaurant because they open at 7:30am I was expecting to get any thing prior leaving she told me she will check, she went inside and never got back to me and at the end the doctor didn't show up at 7:30am so I ended up without breakfast and without PCR test that day. Prior to my trip I tried hard to book activities and confirm everything before I leave but the travel agent I contacted could not help and I sent 2 emails to the hotel no reply even when I was there front desk wasn't able to help to arrange activities I had to walk to Marina look for someone who can help and I went to other hotels. 5* Hotel concierge service is a must. I work in the hotel industry and I can tell the hotel service was as 3* not 5* One thing I have to say the hotel is doing well in term of covid 19 precautions.
ayoubh682
Unbelievable great service and attention, beautiful room and a great food lineup!
Reviewed 13 november, 2021
Been here for 1 week of 2. Big thanks to MOAD AND ANGELO & all the hotel staff. These guys have gone beyond great service. The attention to detail is unquestionably the best we have ever experienced in cuba! Thats right in 30 years of visits this is by far the BEST. These two gentleman truly care about the visitor experience. If your looking for the number 1 five star resort then this is the place to come. The housekeeping daily in the rooms is fantastic, Bar selection is over the charts whiskeys, rums, tequila, champagne, wine, and the very best Pina Coladas we have ever had not to forget the mojitos. We are so happy with this resort ! Food selections and restaurants are great, Japanese restaurant was such a fun evening with great food and people. We were very honoured to have come here after all the covid lockdowns for the past two years, all staff are always masked indoors and out and always cleaning they adhere to all covid protocols and it makes you feel very safe. Thank you to all at the Melia peninsula Varadaro for making this comeback so memorable. Thank you, thank you, thank you!
John B
Peaceful paradise
Reviewed 13 november, 2021
I past three wonderful days. Excellent service, a peaceful place. But food no so good, it may be better. The beach is awesome, pools to. Rooms are not excellent but good. Is quite and close to nature.
jezsdaniel