Presidente Intercontinental Guadalajara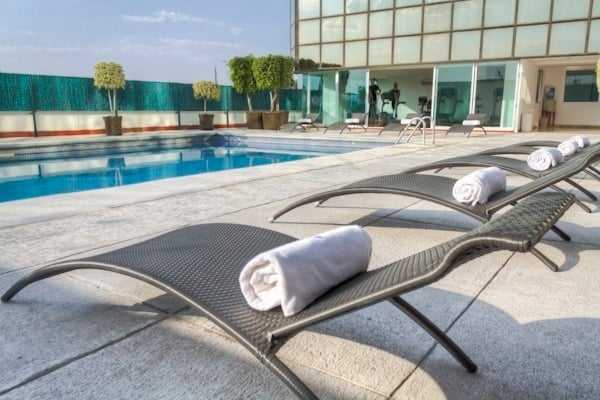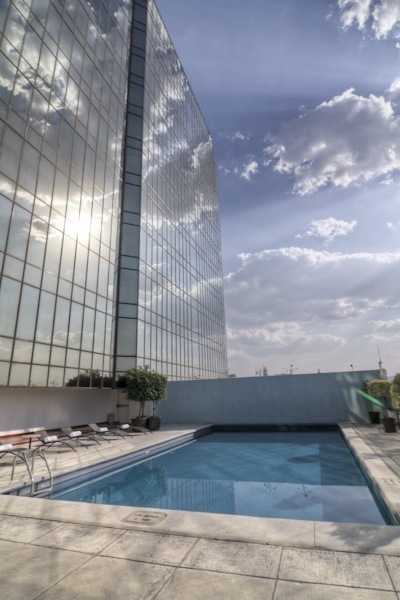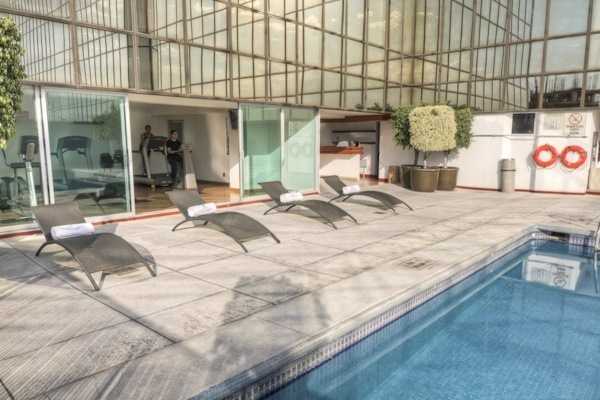 TripAdvisor Review
Based on 849 review
See all
Presidente InterContinental® Guadalajara features iconic architecture within the city, famous for its spectacular 14-story pyramid-shaped structure and mirrored façade, reflecting a unique blend of history, tradition and contemporary style. The hotel offers a strategic location, connected with key p...
More details
Availability
Select the date of your trip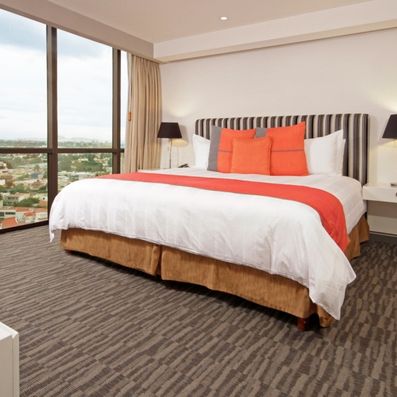 Estándar
Our standard rooms are equipped with a modern office, LCD TV with cable, high speed internet, coffee shop, minibar and safe box. We also hav...
See more details
Cancellation Policy
Amenities in this room:
Max 3 adults
Max 2 children -
Clube
See more details
Cancellation Policy
Amenities in this room:
Max 3 adults
Max 2 children -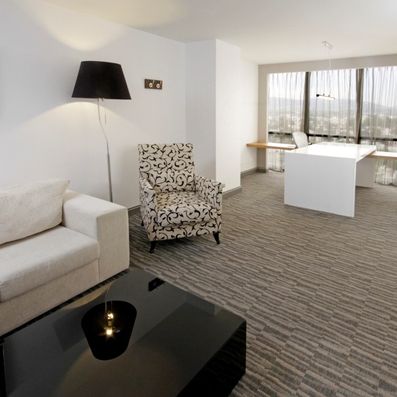 Suíte
See more details
Cancellation Policy
Amenities in this room:
Max 3 adults
Max 2 children -
Property Info
Presidente InterContinental® Guadalajara features iconic architecture within the city, famous for its spectacular 14-story pyramid-shaped structure and mirrored façade, reflecting a unique blend of history, tradition and contemporary style. The hotel offers a strategic location, connected with key points within the city through fast access routes, just minutes from Expo Guadalajara, corporate and business centers, a few steps from departmental stores, restaurants, bars, theaters, casinos and entertainment centers. Ideally designed to meet the current needs of the business man for his standards...
More details
Check-in starts at: 15:00
Check-out ends at: 12:00
Property Amenities
Reception services
Services / Luggage Storage
Free Wifi
Free Wifi
Accepts major credit cards
Polyglot Team
Bus parking
TV
Stage
Spa
Wedding Service
Bus parking
Playground
Cleaning / Laundry Services
Laundry / Dry Cleaning
Online check-in
several
Broadband Internet
Special diet menus (on request)
Wheelchair Accessibility
Smoking area
Business Facilities / Facilities
Balcón
Con una piscina al aire libre y muchas otras instalaciones recreativas a tu disposición, no te quedará ni un minuto libre. Se ofrece también conexión a Internet wifi gratis y una zona para barbacoas.
Conference Center
Coffee/Tea Maker
Accommodation
24-hour room service
Food & Beverage
Bar
restaurant
Public Restaurant
Buffet Restaurant
24-hour room service
Wellness facilities
Servicio de lavandería
Con una piscina al aire libre y muchas otras instalaciones recreativas a tu disposición, no te quedará ni un minuto libre. Tienes también una terraza y jardín donde sentarte a contemplar el paisaje. S
Free fitness center
Transport options
Spa
Valet Parking
Guest rating
TripAdvisor
Travelers rating
Excellent

395

Very Good

266

Good

103

Reasonable

47

Bad

38
Travelers profile
Business

514

Couples

102

Solo travel

41

Family

105

Friends getaway

39
Scores Summary
Cleanliness

Location

Rooms

Service

Sleep Quality

Value
Beautiful but Boring
Reviewed 12 november, 2021
We only came here because we stayed an extra night and the Hard Rock was already sold out. This hotel is beautiful. The staff truly is top notch. This is a very upscale and incredible hotel. It is extremely conservative for me, they don't offer free waters in the room, there's only a French restaurant and there's no live music. We are only staying the night, so I didn't really tour it. If you want peace and quiet, this is definitely your hotel. If you want live, upbeat and people to meet, I'd suggest Hard Rock.
jessicamarieg2018
Good hotel but 'fake' upgrades'.
Reviewed 20 october, 2021
Good hotel, good service. Careful if you are a frequent traveler with IHG,. I was given a triple upgrade where I had to wait 4 hours to get it since it was not ready but I ended up in a king room on the Club floor but no benefit. Like giving a first class upgrade in tourist class. Ask for what you deserve otherwise it is just smoke. The Westin is better in term of upgrade and it is in the same area.
Steph1073
TERRIBLE EXPERIENCE BAIT N SWITCH!
Reviewed 18 march, 2021
Negative Five Stars if I could This hotel was advertised as supposedly being the best in Guadalajara, and by the looks of the pictures, I decided to book it. It was my first-time visiting Guadalajara and so I was unfamiliar with the area that this hotel is situated on. I should've informed myself better. As soon as I arrived, I quickly noticed that this perhaps was not the best area that Guadalajara had to offer to its visitors. The area surrounding the hotel is filled with seedy people and it immediately made me feel unsafe. There was nobody in the supposed valet area to welcome me, and so I chose the self-park option and feared I'd be mugged for the BMW I was driving. It was very confusing getting to the hotel lobby from the self-parking. When I finally arrived at the hotel lobby, I was immediately disappointed as I saw no people except restaurant staff standing in front of empty restaurants. It was like walking into a ghost town with few unwelcoming locals. As I arrived in the lobby, I could see that this hotel was dilapidated and in a state of disrepair. I could immediately see cracks on the walls near the elevator that run several floors high which might be indicative of structural damage. Just by standing in the empty and cold lobby, I felt as If I was in a hotel that was abandoned long ago. The check in process was easy as I am fluent in Spanish. I had booked a two-night stay in what supposedly was a terrace/balcony view suite similarly priced in comparison to the other big hotels in the city. At this point, I was willing to overlook the aforementioned factors and give this hotel a chance since I had booked what I believed was a suite that I would be comfortable doing work in, and since I had a vehicle, I thought I could circumnavigate the dangerous areas surrounding the hotel. As the bellman escorted me to my suite, as soon as I got off on my floor, I could see how dirty and old the rug and how poorly lit the hallways were. As I approached my room, there was two housekeeping carts blocking my path because an adjacent room was being "cleaned" … The housekeepers saw me attempting to squeeze on by and they neither attempted to make way for me nor acknowledged me. When I arrived at my suite, the bellman did the best he could to show me around in the poorly lit room and as he was showing me around, I could see what terrible condition this room was in. The only thing that was done right was the sheets. The sheets appeared white and neatly pressed, and the bed was well made. I began to walk around to make a thorough inspection like I've been trained to do so. The first thing that I noticed was that the furniture was old, cracked and peeling. I also noticed that the glass on top of the work desk in which I planned to do my work in was cracked (could present a liability if a guest gets cut). On the old and cracked nightstand there was a note with the IHG promise to service, cleanliness, etc. Right around that note on the nightstand there were unknown yellow stains. On the black lampshade from the lamp above the nightstand had not been cleaned in ages because dust is fairly visibly on the color black. What a great start for somebody with both asthma and allergies! Next to the window on the side of the bed, there was a long work desk with a phone that was full of dust. How does Intercontinental intend to protect their guests from Covid-19 if they can't even clean the phones? The long work desk had some old crusty white stains that I wouldn't want to speculate what they were. As I looked up, I could see that the paint was old and cracking. As I looked below, I could see the carpet was torn along a crack on the window where insects could crawl in, and this area back there had not been vacuumed in years. I found another table with a coffee maker that had never been cleaned due to the obvious coffee cup stains from the previous guest. The carpet was completely deteriorated throughout the room and the room's walls had several cracks on them while the roof had evidence of recent water damage. I could see that the water damage was recently painted over with cheap paint that does not correspond in a hotel room. When I stepped in the bathroom, I could see that everything had been swept to the door leading to the terrace and never picked up. I swiped my fingers on the bathtub, and my fingers were immediately filled with white crusty chemicals. I'm guessing the chemicals left in the bathtub were probably left behind to enhance my skin, instead of negligence. As I stepped onto what was supposed to be my private terrace. It wasn't very private because I could easily jump over to the other suite's terrace. The terrace area was full of discolored tiles and the divider wall that divided the other terrace was full of some black substance that appeared to be mold. The lounge chairs were stained and dirty and literally falling apart, they were so badly damaged that if I would've sat, I probably would've fallen through. I walked back in to gather up my belongings to leave this nightmare when I observed more cracked paint and rotting wood at the bottom of one of the pillars. I never unpacked, I called and asked to speak to the hotel's GM. They asked me what was the reason that I wanted to speak to the GM, and they told me that the GM was not available but that the reservations manager would be contacting me. Of course, not even the hotel's GM can come out and speak to the guest because they're too embarrassed, I'm assuming they know how terrible their hotel is. I was called back by the Reservations Manager and I invited him to come in person and do a walkthrough inspection of the room with me. I showed him each and every issue with the room, he did not say much and did not even appeared slightly remorseful nor embarrassed. He just kept on trying to upgrade me for the same price and wouldn't stop like a pushy salesperson. At this point, not even an upgrade would've been adequate compensation for this nightmare. Apart from the housekeepers cutting corners, maintenance was non-existent on this room. I advised him that I was leaving and that I wanted to cancel my reservation. I had my reservation cancelled and I left without not knowing where I was going to spend the night. I booked a room at the Hyatt Regency Andrades which turned out to be a real four-star hotel that met my expectations for about the same price as the Intercontinental Presidente. I'm not sure if even the President of the poorest country in the world would ever stay there. I have been to the Intercontinental in San Francisco and the Intercontinental in Downtown Los Angeles which are true four-star properties, not unlike this property in Guadalajara. This property should be stripped of their name and not be allowed to be part of the IHG brand. I have stayed at Forbes five-star properties and I wouldn't even consider this place to even possess one single star. I have seen the crackhead filled motels in seedy areas of Los Angeles that were in better condition than this hotel. I'm a Hospitality major in one of the best Hospitality programs. I will definitely use my pictures and my nightmare as a learning experience to share with students and professors in the industry. This hotel is a disservice to hospitality. Perhaps it once was something in the early 90's. But not in the present. I will never recommend this place and never return. I'd rather sleep on a bus bench. Not a four-star hotel by a longshot… Now I await the textbook response from management if they dare respond.
THEHRMGUY
Excellent service and amazing food !
Reviewed 6 february, 2021
We went to Cafe Urbano for breakfast and told our waiter, Moises, that we were hoping to have a traditional Mexican breakfast. He and the chef turned what would have been a good breakfast into a great and memorable experience ! Vacations are about making memories, and unexpected delights are memorable. Thank you Moises, and thank you Hotel El Presidente Guadlajara !
kathysJ8374BW
Most excellent stay!
Reviewed 5 march, 2020
Have stayed in other InterContinental properties and must say I am very pleased! Front desk team very efficient and friendly, room was excellent with a great view of the city. Enjoyed the buffet...really enjoyed the stay here!
574jimc